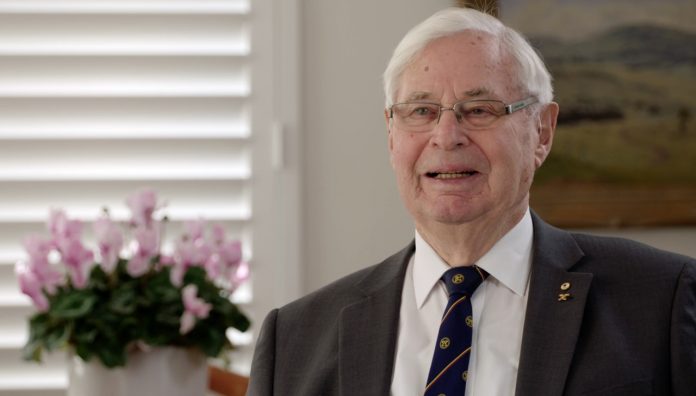 The 'founder', 'prime innovator' and 'driving force' behind the establishment of the PSA, Ross Brown FPS, has been honoured with the association's Lifetime Achievement Award.
Mr Brown has dedicated almost 70 years of his life to pharmacy, in a career which began in the 1950s delivering prescriptions by boat on his lunch break.
In the intervening years Mr Brown's contributions have been many and varied, said PSA National President Dr Shane Jackson.
'He is widely recognised as one of the greatest modern contributors to the combined development of pharmacy professional services, corporate pharmacy, military pharmacy and academic pharmacy in New South Wales and Australia,' he said.
Mr Brown pioneered the use of computers in Australian pharmacy when he oversaw the installation of the country's second ever IBM 360 computer at Australian Pharmaceutical Industries Limited.
'I found computing extraordinarily interesting and became wedded to it basically. I never had any doubts,' he said.
Mr Brown helped to introduce a system which enabled pharmacists to order stock via computer for the first time. He also helped develop a computer program to provide patients with individualised, comprehensive and understandable drug information when they received their scripts.
'I made sure that we weren't behind. In fact, some pharmacists from the United States were coming to us to see how we were using computers,' he recalled.
Mr Brown, however, considers that his greatest achievement was helping to establish a national representative body for pharmacy.
'The most satisfying was to see the creation of the Pharmaceutical Society of Australia,' he said.
'It was a big step forward to get a national body that had far better resources, was better organised and had more credibility when it came to making some pretty strong recommendations to the federal government on the utilisation of pharmacists.'
Mr Brown served as the PSA National President from 1979 to 1980 in worthy recognition of his pivotal role, Dr Jackson said.
'While PSA today represents the work and effort of many, it is generally recognised that the vision, leadership and energy of Ross Brown were the initial motivating forces integral to the development of the goodwill necessary for the establishment of the national professional body,' he said.
Mr Brown has also given over 40 years of service and support to the University of Sydney and the Faculty of Pharmacy.
'He has been passionately committed to research in professional pharmacy to maintain, develop and enhance the competency of practising pharmacists,' Dr Jackson said.