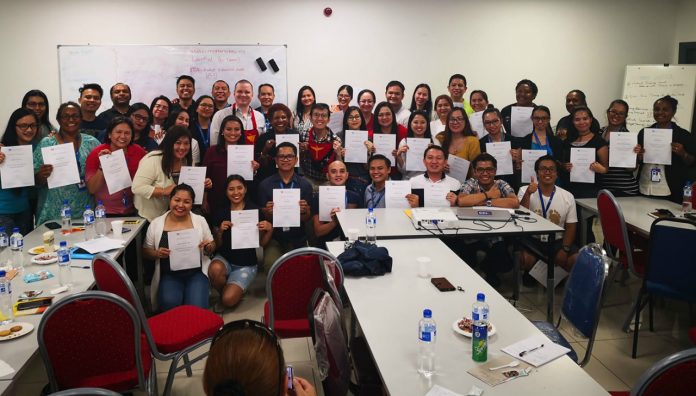 PSA pharmacists share their clinical skills on diabetes, dengue fever and malaria.
In an innovative initiative that bodes well for future collaboration between pharmacists in Australia and Papua New Guinea (PNG), two pharmacists delivered an education session on behalf of PSA to community pharmacists in Port Moresby last month.
The initiative began when PSA agreed to deliver workshops for City Pharmacy Limited (CPL). CPL pharmacists are international members of PSA.
Requested topics pertinent to PNG health conditions were: diabetes, hypertension, cardiovascular disease, malaria, dengue fever, tuberculosis (TB) and human immunodeficiency virus (HIV).
At a weekend workshop in August the topics covered were diabetes, dengue fever and malaria.
Sam Keitaapnaa, the South Australia/Northern Territory PSA Branch Vice President and Long Nguyen, an early career pharmacist (ECP) with Priceline Pharmacy Bendigo presented. Another workshop is planned for October.
With the local pharmacy school producing about 20 pharmacists each year who subsequently work for the government, the majority of PNG pharmacists, including those at CPL, are from the Philippines. 
According to Sam, community pharmacy practice in PNG is very different to Australia. While pharmacists in PNG are registered and there are laws around how healthcare is delivered, regulations and standards are very different from Australia's strict poisons legislation and professional standards. 
Sam said: 'PNG faces some significant challenges familiar to some of us; high disease burden in some groups, low health literacy, significant social disadvantage and the difficulties of managing the doctor-pharmacist relationship. In PNG these challenges are dialled up to 11.' 
'There is no national wholesaler for medicines, so the group must order from a combination of countries AND keep the price low enough so that medicine access is not compromised,' he said. 
'[Getting to] many of the remote outstations involves a series of flights and drives from the larger cities. In some cases, it can take over a month from the medicines arriving in PNG until they reach the pharmacy. While we often complain about our missed deliveries, I can't imagine forward ordering over two months with no chance of getting a credit!' 
Long added that the cost of transportation is high, reducing the viability of daily or weekly stock resupply. The cost of medicines and food is also high in PNG.
The experience for Long was eye-opening and humbling. Participants told him that while dengue fever is on the increase, malaria is the major focus. One pharmacist succumbed to dengue fever herself and was lucky to survive solely because of her awareness of symptoms and insistence on going to hospital. She later recognised the symptoms in a customer, whom she sent straight to hospital. 
Her story highlights the lack of awareness, training and resources available in remote areas of PNG, as well as the potentially life-threatening risk and challenges for pharmacists due to the natural presence/endemicity of several tropical diseases, Long noted.
It also underscores the significant role pharmacists play in primary health care in remote areas. Long echoed the pharmacists' plea to their government for more action on detection and treatment of dengue fever.
In a sign of inter-professional collaborative care, Long described the close-knit relationship between pharmacists and nurses working in the CPL group. Each pharmacy is stationed with at least one registered nurse and they work closely together.
One hindrance to up-to-date practice is the lack of current clinical resources, according to Long. References are outdated and out of touch with current practice. He reflected on the fundraising possibilities for Australian pharmacists to support their PNG colleagues. 
The good work CPL pharmacists are doing with so little, was a key take away for Sam and Long during the workshop. Despite little access to CPD and to each other, the pharmacists work outside the box to meet the needs of their communities and be the best pharmacists they can be. The group had taken on themselves to use the PSA Professional Standards to self-assess their practice as individuals and as a wider group. Of course, that is the purpose of the Standards but as Sam reflected, their purpose is 'one that we often simply take for granted as its already part of our professional culture here'. 
'This focus on being the best pharmacist possible and supporting their community in managing their health is to me what being a pharmacist really is, and the PNG pharmacists we met were the quintessence of that idea,' said Sam.
Similarly, Long admired the resilience of these pharmacists in the face of colossal challenges. 
'I also admire how dedicated they are to their community and [that they] have stuck around in difficult times, even risking their lives in the process, and have gained prominent trust from the community. As such, I feel there is so much potential for them to implement significant changes and public health initiatives that could transform the lives of the PNG people at the grass-root level.'
Long added: 'I am now keen to see how PSA continues to support [its] international members and the opportunities for Australian pharmacists to support our colleagues in our closest neighbours. I know for one this trip gave me many ideas on collaboration that would benefit all parties and hopefully help PNG more broadly address some of its biggest challenges.'