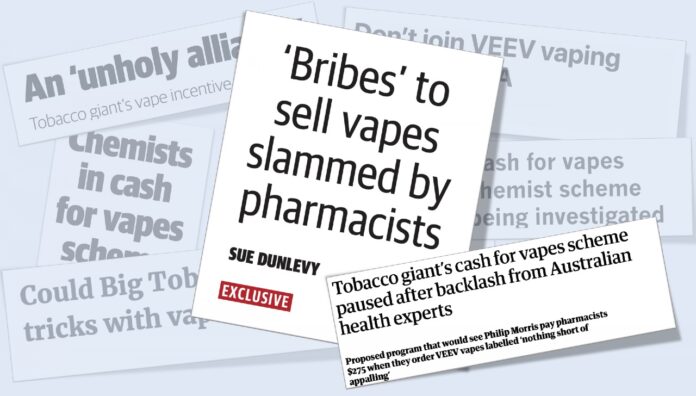 The proposal was set to offer cash incentives to pharmacists for stocking, dispensing, and recommending nicotine vapes in community pharmacies. The PSA National President Dr Fei Sim did not hold back in her criticism of the proposal, saying that 'Big Tobacco cannot be trusted with the health of Australians'.
The VEEV Pharmacy Program, facilitated by pharmacy IT solutions company PharmaPrograms, proposed to pay pharmacists a 'readiness payment' of $275 for ordering $250 worth of the Philip Morris International (PMI) VEEV vaping products and other PMI-supported devices.
Further proposals reported by NewsLimited included a $5 fee for referring patients to a GP for a vaping prescription, $10 for patient education relating to VEEV devices and $5 for every new vaping script dispensed.
No nicotine vaping products have been registered as therapeutic goods by the Therapeutic Goods Administration (TGA) and they remain unregulated in Australia. But in October 2021, nicotine-containing vaping products, such as nicotine e-cigarettes, nicotine pods and liquid nicotine, were rescheduled as Prescription Only Medicines and imports without a prescription were banned.
With growing concerns around increasing vape use in young Australians, the measures were introduced to restrict access to these products.
Outcry and denials
Health organisations, including PSA, were quick to slam the PharmaPrograms vaping program, however.
PSA National President Dr Fei Sim came out swinging for the profession in a series of published statements featured in publications including the Herald Sun, The Australian and newsGP.
'PMI's offer of financial kickbacks shows clear contempt for our profession and our dedication to the health and wellbeing of our communities. 
'It's galling PMI are promoting these products while they remain unregulated and unregistered.'
Royal Australian College of General Practitioners (RACGP) President Adjunct Professor Karen Price told the Telegraph: 'Tobacco companies are nothing short of inventive when it comes to attracting new nicotine users.'
Dr Sarah White, QUIT Victoria Director, told Nine News: 'I think we see the Pharmacy Guild, the Pharmaceutical Society of Australia – which is the professional peak … the RACGP, the Australian Medical Association – everybody is coming out and condemning this.'
Chemist Warehouse founder and chairman Jack Gance similarly condemned the deal, saying he rejected a proposition by PMI to exclusively stock its vapes in 2020.
Calling the proposal 'unethical if not illegal', Mr Gance told the Telegraph in a follow-up article on 4 August: 'Rebates, training, advertising, promotion, anything I wanted, I mean, they were desperate – [offering] anything I wanted to get our business.
'(But) why would I support Big Tobacco? I mean they're our enemy,' he said.
Leading the backlash
Strongly rejecting the program, Dr Sim urged pharmacists not to participate in the proposed scheme.
'No healthcare professional should accept financial incentives or support from a tobacco company. Big Tobacco cannot, and should not, be trusted with the health of Australians,' Dr Sim said.
No company should be advertising unregulated products to Australian healthcare professionals, Dr Sim warned.
'Do not confuse a commercially motivated decision from a large multinational tobacco company as a decision of Australian pharmacists,' she said.
'It is not the role of health professionals, including pharmacists, to recommend unregulated therapeutic goods to patients, and PSA calls on any healthcare organisations that have financial agreements with Big Tobacco to terminate these agreements immediately.'
The PSA also told the Guardian that pharmacists do not receive personal incentives to sell medicines.
'Patient support programs to help people use newly prescribed medicines are rare and subject to significant compliance obligations contained in the Medicines Australia Code of Conduct.'
Good to speak to @andy_park on @RNDrive about big tobacco infiltrating healthcare and @PSA_National position on PharmaPrograms incentives to stock vaping products and referral program to GPs. Program should never have been proposed. These proposed incentives don't pass pub test.

— Shane Jackson (@ShaneJacks) August 4, 2022
Nicotine proposal shelved
After this outright public rejection of the deal, PharmaPrograms announced that the VEEV Pharmacy Program has been postponed.
'Following recent advice, PharmaPrograms has taken the decision to postpone the launch whilst a review of all components of the program are being completed,' PharmaPrograms said in a statement.
'The intent of the proposed program was to support appropriate use for the approved patients, who have been prescribed nicotine vaping products by an authorised prescriber. As well as provide pharmacists with information about the unique regulatory requirements for prescribing and supplying vaping products.'
While welcoming the postponement, Dr Sim called for the program to be disbanded entirely.
While I welcome the delay of the program, it must be rescinded completely. Big tobacco's attempt at financial kickbacks shows clear contempt for our profession and our dedication to the health and wellbeing of our communities. https://t.co/Vw2gDWrtI8

— Dr Fei Sim FPS (@DrFeiSim) August 3, 2022
The path to smoking cessation
The clinical trial evidence for electronic cigarettes and their effectiveness in smoking cessation is very limited, Dr White said.
'[The] TGA has provided clear advice to pharmacists and the health sector – nicotine vaping does not provide substantial benefits to patients as a smoking cessation tool, and nicotine vaping products are not a first-line option for smoking cessation,' Dr Sim added. 
The PSA provides support and professional practice guidelines and training for Australian pharmacists to provide smoking cessation support. 
Pharmacists can access: PSA's Guidelines for pharmacists providing smoking cessation support
For further training about smoking cessation and nicotine vaping products, pharmacists can complete the following PSA education modules: