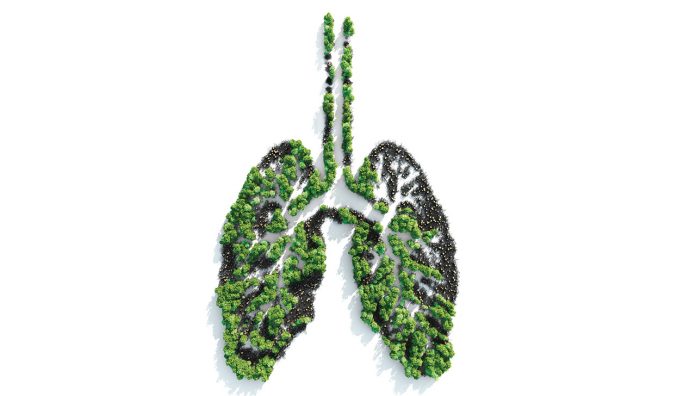 COPD flare-up is a deterioration of symptom control in an otherwise stable patient, often involving a bacterial infection. Haemophilus influenzae, Streptococcus pneumoniae and Moraxella catarrhalis are primarily responsible (and sometimes Mycoplasma pneumoniae and Chlamydia pneumoniae).1
But when is it appropriate to use antibiotics, and when should patients be redirected to their doctor?
Smother the flare, but the bacteria is always there
Early initiation of an antibiotic for a COPD flare-up can prevent further damage to the airways, prevent hospitalisation, reduce the risk of further exacerbations, and allow people to regain symptom control.1,2
Antibiotic treatment aims to hasten recovery rather than eradicate the colonising organism, because most patients have persistent airway colonisation.2
Therefore, lower doses of antibiotics are used for treating fl are-ups of COPD than are used in community-acquired pneumonia.
Treatment is focused on improving the response to bronchodilator medicines rather than eradication.2
When should flare-ups be treated?
Antibiotics for COPD exacerbations are reserved for patients with all three of the following clinical features, which are suggestive of bacterial infection2:
increased sputum purulence
increased sputum volume or a change in sputum colour
fever.
Flare-up first-line: amoxicillin or doxycycline?
Amoxicillin or doxycycline are the first-line antibiotics for COPD exacerbations caused by bacterial infections.1,2
Prevention? Go for low-dose macrolides
Prophylactic antibiotics reduce COPD exacerbations for up to 3 years and may be appropriate for patients with recurrent infections and hospitalisations.1
Low-dose, long-term macrolides are preferred for preventive treatment.
Therapy should be reviewed after 6–12 months, and after each flare-up.1,2
CAL D? Yes! Five days is (usually) best
Five days of antibiotic treatment for flareups is recommended,2 although in practice this may vary according to bronchodilator response.1 Duration of antibiotics for patients should be established during counselling or by contacting the prescriber.3 Cautionary advisory label (CAL) D should be endorsed with the length of treatment and added to the labelling to reinforce essential treatment advice provided in counselling.
Review symptoms for post-dated prescriptions
Flare-ups can be community-managed according to a plan between the patient and prescriber; postdated antibiotic prescriptions can allow rapid treatment in the event of flare-up caused by bacteria.4
Delayed prescribing of antibiotics has been shown to reduce antibiotic use and resistance, and empowers the patient to be involved in their treatment.5,6
Pharmacists should review patient symptoms prior to supply. This will help pharmacists exercise professional judgement – based on knowledge and guidelines – to determine if supply (and/or referral) is appropriate.
References
Lung Foundation Australia. Antibiotics for treatment of exacerbations. The COPD-X Plan. Milton. 2021.
TG complete. Melbourne. Therapeutic Guidelines;2021.
Pharmaceutical Society of Australia. Australian Pharmaceutical Formulary. 2021. At: www.psa.org.au/media-publications/australian-pharmaceuticalformulary/
Fogleman CD. Prophylactic antibiotics for the prevention of COPD exacerbation. Am Fam Physician 2014,:89(11):870
Everts R, Aroll B. Delayed antibiotic prescriptions for respiratory tract infections: does the strategy work? BPAC NZ 2015:(68)14–18.
Shaughnessy AF. Delayed prescription strategies decrease antibiotic use. Am Fam Physician 2014;90(2):110.
ANDREW KRICH MPS is a Professional Practice Pharmacist in PSA's NSW office.
Lodge your own question or advice at editorial@australianpharmacist.com.au