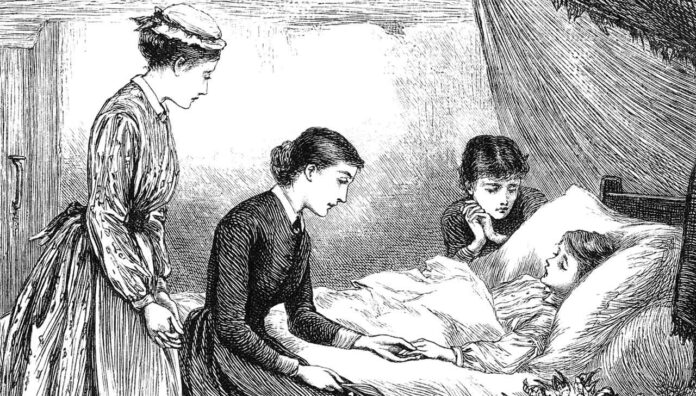 Vicks VapoRub has been flying off chemists' shelves for over 125 years – and it's all thanks to a 19th century croup.
In the late 1890s, Lunsford Richardson's second son, Smith Richardson, developed a life-threating croup. What to do? Since Richardson ran a pharmacy in Greensboro, North Carolina, the answer quickly became clear: concoct a menthol-laced ointment. When rubbed on Smith's chest, the salve would release congestion-zapping vapours.1,2
Richardson cannot take credit for identifying the pharmaceutical potential of menthol, a compound extracted from peppermint oil. That goes to French pharmacist Jules Bengué. He created Ben-Gay as a topical treatment for sore muscles. Richardson sold Ben-Gay and customers had commented on its ability to also clear nasal passages.2
Smith soon recovered and Richardson's business had a new product: Richardson's Croup Pneumonia Cure Salve. Recognising that the name was not terribly memorable, in 1894 Richardson renamed the potion Vick's Magic Croup Salve after his brother-in-law Dr Joshua Vick. In a final family twist, Smith Richardson changed the name in 1911 to Vicks Vapo-Rub.1–3
What is Vicks VapoRub?
Today, the active ingredients in Richardson's balm include camphor, eucalyptus oil and menthol. Their job is to suppress coughs, while also relieving sore muscles. Inactive ingredients include the petroleum base and fragrant components: cedar leaf oil, nutmeg oil, thymol and turpentine oil.4
Vicks' tricks
In order to relieve sore muscles, the camphor and menthol create a distracting cooling sensation. But VapoRub does not relieve nasal congestion. 
Instead, it 'triggers receptors that make the brain believe that your nose is more open and it is easier to breath', says Dr Bruce Rubin, now with Virginia Commonwealth University School of Medicine in Richmond.5–7
Worse, research conducted by Rubin and colleagues at Wake Forest University, North Carolina, supports observations that when put under the nose, the ointment can actually make it harder to breathe. 
Why? Well, in their 2009 paper, they found VapoRub increased mucus and congestion in ferrets.5,8
Therein lies the rub. Products containing menthol are not recommended for people coping with upper respiratory tract COVID-19 symptoms. They may underestimate the severity of their condition.7,9
The baby debate
Given VapoRub's tricks, it's not surprising that questions emerged about its use with babies. Camphor, for instance, is highly toxic. In 1983, the US Food and Drug Administration restricted the amount of camphor in over-the-counter products to 11% because evidence suggested consuming 5 mL of camphor oil could kill a child.5,6,10
More recent evidence indicates that VapoRub should not be used on children younger than 2 years. Camphor can trigger seizures in children. Menthol can cause skin irritation.5,10
To its credit, the product's current manufacturer, Procter & Gamble, has developed Vicks BabyRub, a camphor and menthol-free version for babies 3 months and older.11
Uses today
In addition to soothing sore muscles and easing coughs and congestion, new uses for VapoRub are being touted, most without scientific backing. It may reduce fungal infections in toenails and repel mosquitoes and urinating pets, but is unlikely to treat acne or fade stretch marks.7
Still, a Google search reveals that VapoRub has been described as a buzz-inducing hit at rave parties. 
References
Vicks. Our Story. 2022.
Schwarcz J. Dr Joe & what you didn't know: 177 fascinating questions & answers about the chemistry of everyday life. Toronto: ECW Press; 2003. p. 142.
Vicks. Heritage of Care & Trust. 2022.
Allarakha S. What is Vicks VapoRub good for? MedicineNet. 2021.
Vann MR. The Vicks VapoRub debate. Everyday Health. 2009.
Hoecker JL. Vicks VapoRub: An effective nasal decongestant? Mayo Clinic. 2021.
Stanborough RJ. 10 Uses for Vicks VapoRub and the science (or lack of science) behind them. Healthline. 2021.
Abanses JC, Arima S, Rubin BK. Vicks VapoRub Induces mucin secretion, decreases ciliary beat frequency, and increases tracheal mucus transport in the ferret trachea. Chest 2009;135(1)143–8.
Valussi M, Antonelli M, Donelli D, et al. Appropriate use of essential oils and their components in the management of upper respiratory tract symptoms in patients with COVID-19. J Herb Med 2021;28:100451.
Science Direct. 2022.
Vicks. Children's products.