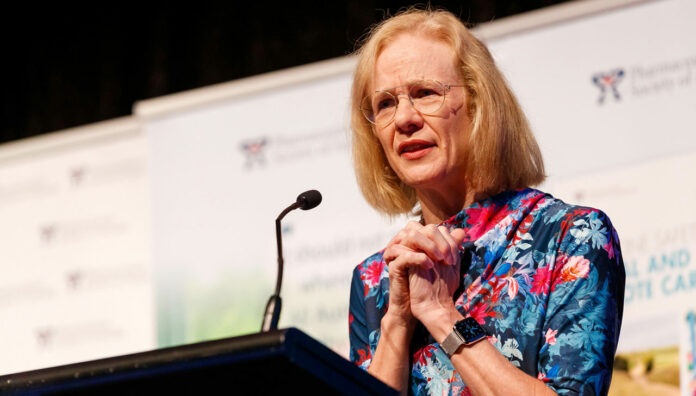 Attendees at PSA's 2021 Queensland Annual Therapeutic Update last weekend (20–21 March) were treated to a packed program, including an address from Queensland's Chief Health Officer, who said the state has 'the best pharmacy vaccination program in the country'.
Speaking on Saturday, Dr Jeannette Young took the audience on a deep dive into the COVID-19 pandemic in Queensland, noting the impact that stock shortages and regulation changes had on pharmacists.
'At one stage, salbutamol inhalers were to pharmacies what toilet paper was to supermarkets,' she joked.
As the burden of COVID-19 eases, Dr Young said she hoped some regulation changes, such as continued dispensing and digital image prescriptions, would continue in the long term. 
She said pharmacists were 'critical' to the COVID-19 vaccination rollout, particularly for people without a regular GP.
'I said very early on … I wanted pharmacists to be prepared to roll out the vaccine when it arrived,' she said.
'You've already got … your accreditation process, you've got all of your systems for training, all in place … We've got the best pharmacy vaccination program in the country.'
Getting the message out
Dr Young became a familiar face to Queenslanders and many Australians interstate during the pandemic, which she said was a conscious decision.
'The population needed to get information that they actually could trust,' she said.
'We had to try and get the message out to people … I wanted to be the spokesperson when we were in a world of extreme uncertainty.'
"You've got to go early and fast. That gives people confidence. The health advice has absolutely been at the centre of all decision making [during the pandemic]."@qldhealthnews CHO, Dr Jeanette Young#ATU21PSA pic.twitter.com/WKL6e6wdhV

— PSA (@PSA_National) March 19, 2021
Now Australia has begun vaccinating, the message is much simpler, she said, and it is important that pharmacists – and all health professionals – are involved in communicating it.
'We've got two vaccines currently in Australia, they're brilliant vaccines, they both work, they're safe and we've got the system in place to make sure we're monitoring for any reactions,' she said.
'Any misleading information about anything, including vaccines, is a threat to the whole population. It just erodes trust.'
As of 20 March, Dr Young said Queensland had vaccinated 36,704 people across the state in its phase 1a rollout. This was in addition to residents in aged care facilities who had been vaccinated through the federal Government's program.
Saying no to help is never a good idea – health leading the coordinated response was key to QLD response.

You have to go early and fast and keep looking to the future. #ATU21PSA pic.twitter.com/QrOtStSD9G

— Chris Campbell (@Chris_Camp6ell) March 19, 2021
'We expect to have a total of 125,000 people vaccinated by the end of phase 1a … Then we move into phase 1b, with 1.049 million,' she said.
'Then we go to 2a, with 1.255 million Queenslanders. That's when some of you [in community pharmacies] will be rolling out the vaccine.' 
Dr Young urged everyone to get a COVID-19 vaccination when it became available to them, noting 'this is the vaccine to be selfish about'.
'For this vaccine, herd immunity isn't good enough,' she said.
'For this vaccine, you need personal immunity.'
Other highlights
Attendees also received the latest clinical information and evidence on a range of practice areas, including migraines, dementia, osteoporosis, palliative care, UTIs, smoking cessation and Queensland's real-time prescription monitoring system (RTPM), QScript.
During her presentation on QScript, Dr Felicity Jensen, Assistant to the Chief Health Officer at Queensland Health, said RTPM was an important tool for pharmacists and their patients.
'We need to look at how we monitor medication, how we improve regulations and frameworks around particular medicines, and improve policies and practice guidelines,' she said.
'At the individual level, [it's about how to] safely prescribe to people who need the medication and provide tailored care … This is part of the overall challenge to help reduce preventable deaths.'
From #QScript RTPM, to expansion of vaccination, to COVID-19 health response to pilot programs; @ShanePMacDonald highlights some of the big things happening in Queensland to PSA members at #ATU21PSA this morning. pic.twitter.com/Y22p1Dl1WT

— PSA (@PSA_National) March 19, 2021
PSA Senior Pharmacist – Consulting Jarrod McMaugh MPS also provided an update on smoking cessation in a vaping landscape.
'The most important thing to understand about vaping … is there's a lot of hype, both positive and negative,' he said.
'There is a very long history of this in smoking.'
He said it was important to recommend the smoking cessation product you believe is the most effective for the person in front of you based on the evidence and what you've read, and based on their feedback to you about how they want to quit.
Award winners
Another program highlight was the announcement of Queensland's PSA Excellence Awards, which were revealed at an event on Saturday night. 
They were: 
Pharmacist of the Year (legacy Bowl of Hygeia Award), Bridget Totterman MPS

Early Career Pharmacist of the Year, Hannah Knowles MPS

Lifetime Achievement Award (legacy Gold Medal Award), Gilbert Yeates MPS

Professor James Dare Graduate of the Year Award, Joshua Clements (Griffith University)
Check out some highlights in our 2021 Queensland Annual Therapeutic Update photo galley: