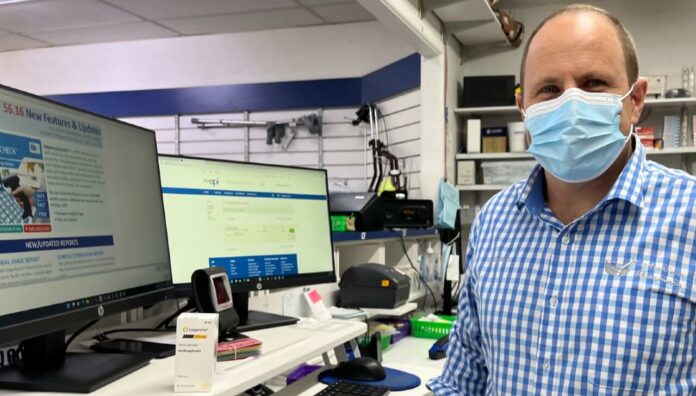 What happens to vulnerable patients when there are no prescribers in town? This pharmacist found out the hard way during a recent wave of COVID-19, and is concerned other areas may face a similar crisis.
Like many regional, rural and remote areas of Australia, Merriwa, in the far west of New South Wales' Hunter region, has seen an influx of new residents in recent years, said owner of Merriwa Pharmacy Robert Smith MPS.
'People are moving here [from] the Central Coast, Sydney and Newcastle because the rents are a bit cheaper,' he said. 'We're getting an increasing number of elderly residents and [those] from a lower socioeconomic [background].'
The community unity recently suffered a setback, however, when Merriwa was hit by a wave of COVID-19 that mostly impacted its elderly residents, many of whom had not had COVID-19 before.
While there are two GP clinics in Merriwa, neither had doctors or locums rostered on at the time – leaving vulnerable patients stranded without access to potentially lifesaving antivirals.
The PSA has strongly advocated for pharmacist initiation of COVID-19 antivirals to ensure high-risk patients could access the medicines when they need them.
'We cannot sit and wait for infections and hospitalisations to rise further – governments must act now,' said PSA National President Dr Fei Sim in July 2022.
While COVID-19 antivirals were downscheduled to 'Pharmacist Only' medicines across the pond in New Zealand, PSA's calls went unheeded – leaving Merriwa on the precipice of a looming health crisis.
Nowhere to turn
Taking change of the situation, Mr Smith did everything in his power to help his patients – including running an ad hoc rapid antigen test (RAT) clinic in his pharmacy for those with low health literacy.
'We had a number of elderly patients who didn't know how to do RAT tests,' he said.
'We weren't charging for it, but [we thought] "We need to get this sorted and find out whether they're positive or not".' 
'We know our patients very well, so there are circumstances where it would have been far easier for us to prescribe.'

robert smith MPS
Mr Smith also spent hours on the phone with the NSW Health COVID-19 and Flu Care at Home Support Line on behalf of some patients to report positive cases and assess their eligibility for antivirals. 
'When I rang up for one patient, it was very taxing on my time,' he said. 'The phone just dropped out and we had to send that patient to ED.'
Supply of nirmatrelvir/ritonavir and molnupiravir isn't an issue for the pharmacy, with Mr Smith opting to take the financial risk of keeping the medicines constantly in stock.
Yet despite having $4,000 worth of antivirals on the shelf, the lack of GPs to prescribe the medicines led to a significant barrier to access.
With the clock ticking and eligible patients needing to access essential COVID-19 antivirals within the first 5 days of symptom onset, they were left with two options: either use a telehealth service such as InstantScripts to receive a prescription for the medicine, or present to the ED.
'When we referred patients to InstantScripts, they ended up having to pay $50 to get a prescription for antivirals,' he said. 'A lot of [patients] can't afford that or aren't up to initiating telehealth calls, so they were pushed on to the hospital system.'
For the most part, Mr Smith's patients were eventually able to access the medicines.
'However, it took a lot of effort,' he said. 'The EDs out here are [also] flat chat and they really don't need to have COVID-19 positive patients presenting to get antivirals.'
We need a better solution
Now that the holiday season is over, the GPs are back in action in Merriwa's medical clinics. But it's only a matter of time before patients are left in the lurch again, or the same scenario plays out in other nearby towns, said Mr Smith.
'If we don't have doctors for any period of time, and patients who require antivirals are not able to navigate the telehealth system, then I'm very conscious of the load we will place on our EDs,' he said.
Mr Smith is also concerned that some vulnerable patients will miss out on treatment altogether.
'In the bush, if [patients] can't access the doctor, they just don't,' he said. 'We also had several patients who were quite reluctant to go to ED. There's an inbuilt stoicism, especially in that elderly population, where they're afraid of getting charged, being a burden, or even getting admitted.'
The issue of access is further compounded in rural and remote settings, which are currently in the grip of staggering GP shortages and overburdened hospitals.
'We don't have an active acute care patient system at our hospital,' said Mr Smith. 'If someone gets [severe] COVID-19 symptoms out here, they'd be transferred to one of the next big towns such as Muswellbrook or Maitland, so you're tying up all those resources as well.' 
In Mr Smith's opinion, patients in rural and remote areas need far better access to COVID-19 antivirals, and pharmacists should be a part of the solution.
'We know our patients very well, so there are circumstances where it would have been far easier for us to prescribe,' he said.
'If we can address these things early, we wouldn't need to push them onto the hospital system.'