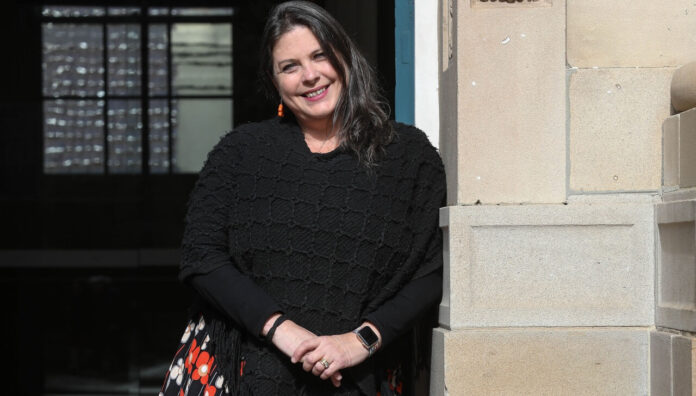 Professor Rebekah Moles FPS also juggles academia, family and plays her Flea edition pink Fender bass guitar in two fun bands.
Why do you do what you do (as a pharmacist and academic)?
Everything I do is to ultimately help patients get the most out of their medicines. This passion drives me to help students learn as much as they can at uni and get them to put their knowledge into practice in the classroom setting, before going out into the "real world".
This passion also drives my research in medicine safety, always aiming to improve the role pharmacists play to help patients.
Why did you involve yourself with FIP while an academic?
I went to my first FIP conferences back in 1998 and 1999 as an early career pharmacist and researcher. I just loved being in an environment where pharmacists from all parts of the profession and all corners of the world came together to share knowledge and learn from each other.
In 2002 I got more involved with the Young Pharmacists Group, then served as Vice President of the western Pacific region on the Hospital Pharmacy Section of FIP, and later became Secretary.
What are some of your FIP achievements?
I was there at the beginning when we wrote the Basel statements – 65 of them – for the future of hospital pharmacy, which have had an impact around the world. Ratified by leaders of hospital pharmacy globally in 2008, they serve as guidelines, especially in developing countries, in areas like prescribing, procurement and workforce development.
Through my FIP work combining research with the task of statement dissemination, it allowed me to mentor three higher degree research students in this field. I am now a Director of the FIP Foundation, raising funds to support FIP initiatives such as early career research and leadership. Currently, I'm also helping to revise the Nanjing statement on worldwide pharmacy education.
How extensive is your FIP contribution?
Within the FIP Hospital Section, I served on the section ExCo from 2004 to 2021. These roles did take up a large amount of time after hours, usually a few hours per week. Monthly video calls, which unfortunately for us Aussies usually means they occur very, very late at night, were a pretty large commitment – often times they began at midnight.
Currently, as a Foundation Director, we meet every couple of months, so the schedule is lighter, and thankfully so far the latest meetings have finished at midnight. I dedicate 1–2 hours a week at the moment.
What do you see next in your career?
I am very fortunate to be in a role that I love, where I am able to fulfil my passion to teach and to do research. I don't really see me moving out of this academic field of pharmacy in the near future.
I am, however, super excited about watching the profession expand and seeing pharmacists starting to work to their full scope. And I am excited about teaching my students about the new roles in aged care, in drug and alcohol services and in general practice, to name just a few areas that weren't around before.
As a member of the PSA's NSW Branch Committee and involved in various largely volunteer committees, how do you manage your time?
Having my academic role allows me flexibility to move from one task to the next and back again. I never get bored and can manage many things at once.
Having amazing research students and staff also allows me to have a team that ensures the jobs get done. As Vice-President of PSA's NSW Branch Committee I can keep a closer eye on the profession and use project management skills in a different capacity.
Sometimes I do feel a bit overstretched, and don't ask me how many unread emails I have! So if you need to get in touch with me and I haven't answered an email, please send it again – or pick up the phone.
What advice do you have for ECPs?
Stick with the profession. There is soooo much to do and so many areas of pharmacy, so if you don't like something, give something else a go.
Take all the opportunities that come your way. And don't forget why you do what you do. Patients need us pharmacists, so remember every task you do should be for the benefit of patients in the long run.
A day in the life of Professor Rebekah Moles FPS, academic, University of Sydney, NSW.
6.30am

Up and away!
Breakfast, make two children's lunches, feed dog and get dropped at USyd by husband.

8.00am

Pile of emails
Catch up on many unread emails from students, colleagues, FIP, PSA and others.

9.00am

Teaching time
Lots of simulation and role playing while moving between Masters of Pharmacy tutorials assessing students every 30 minutes for 3 hours in groups of community and hospital pharmacy scenarios. These can include first-aid inquiries, counselling, history-taking on hospital admission, discharge summaries and solving clinical problems.

12.00pm

Curriculum meeting
These are regular. I am in charge of the curriculums of all the degrees in pharmacy offered at the Sydney Pharmacy School and their teaching and learning.

2–6pm

Osteoporosis research meeting
Lots of simulation and role playing while moving between Masters of #stop studyresearch meeting involves research assistants from seven hospitals. Home Medicines Reviews are the intervention in the study, which is about decreasing falls risks and therefore fractures from osteoporosis. Give video interview on my vote for The Voice (yes!) for USyd media, reply to more emails, prepare teaching materials and leave, at last.
9–10.30 pm
FIP meeting for Nanjing statements
These statements we create help to shape pharmacist and pharmaceutical education for university providers, largely. Other FIP meetings often start later and go for longer. PSA meetings are earlier and shorter! Sleep.

Sometimes

Guitar practice
I may, in a spare half hour, practice the bass guitar at night or weekends. I've only been playing my shell pink Fender bass guitar for 3 years, with our band Parallel Processing. Also, I play very spasmodic gigs with other Sydney Pharmacy School academics. In a band called Active Ingredients. Of course.