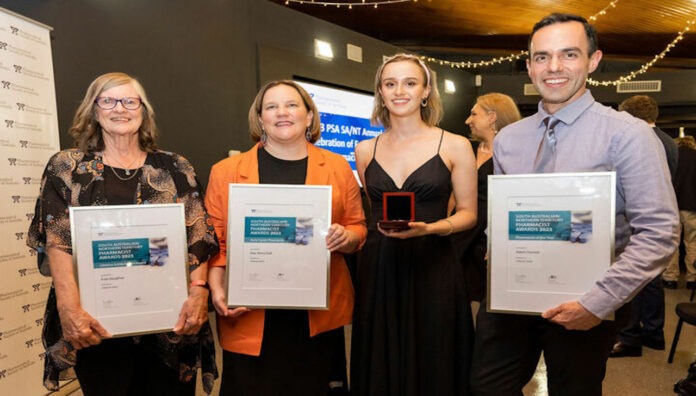 A pharmacist who dedicated decades to enhancing the quality use of medicines within Aboriginal and Torres Strait Islander communities, a community pharmacy mentor, and a pioneer in a non-traditional pharmacist aged care role received Excellence Awards at PSA's SA/NT annual awards night.
At last Friday's (3 March) awards, the South Australian Minister for Health and Wellbeing Chris Picton made joint presentations with PSA SA/NT Branch President Veronika Seda MPS.
Others present included PSA National Board Members Andrew Sluggett and Deanna Mill, the state's Chief Pharmacist Naomi Burgess and Deputy Chief Pharmacist Vaughn Eaton and Professor Libby Roughhead, Research Professor at the University of South Australia's Sansom Institute.
Meet the award winners
Fran Vaughan MPS, a previous Chief Pharmacist at the Alice Springs Hospital, and pharmacist advisor to the National Aboriginal Community Controlled Health Organisation (NACCHO) was awarded the Lifetime Achievement Award.
Ms Seda described Ms Vaughan as 'humble', never boasting or seeking praise after a lengthy career devoted to improving the health of Aboriginal and Torres Strait Islander peoples, particularly in remote areas in the Northern Territory (with a short stint on Thursday Island) and Queensland.
As pharmacist advisor to NACCHO, Ms Vaughan helped facilitate the Integrating Pharmacists with Aboriginal Community Controlled Health Services to Improve Chronic Disease Management (IPAC), which resulted in the integration of pharmacists into 18 Aboriginal Community Controlled Health Services throughout the trial.
A prime example of a 'deadly' pharmacist, she has been a clinician, an academic educator at the Centre for Remote Health at Flinders University, an NPS educator, both a community and accredited pharmacist, and most recently undertook projects that trialled novel models of practice.
Ms Vaughan additionally played a key role in the development of the Remote Primary Health Care Manuals, which guide healthcare delivery in remote areas and also led the initial development of the Medicines Book for Aboriginal and Torres Strait Islander Health Practitioners, which presents information about commonly used medicines in simple language with illustrations.
Photo gallery – did we capture you?
The Pharmacist of the Year for 2023 is Adam Forrest MPS, Pharmacist Manager at Terry White Chemmart Christies Guild in Adelaide.
A preceptor to numerous interns and mentor to students, his philosophy is that by helping pharmacists reach their potential, as well as the expectations of consumers and other pharmacists, the standard of the profession is lifted.
As well as driving chronic disease management programs in diabetes and asthma, Mr Forrest has led his pharmacy in becoming a dementia-friendly practice and has built trusted relationships with neighbouring medical practitioners.
He sits on the Adelaide Primary Health Network Clinical Council, assesses intern oral exams and tutors at the University of South Australia pharmacy program.
Dee-Anne Hull MPS, the 2023 SA/NT Early Career Pharmacist of the Year used her cover of a maternity leave position for the Pharmacists in Aged care Project, a PSA–Country SA Primary Health Network project to propel her into multidisciplinary team work.
Now the Quality and Clinical Specialist for Southern Cross care, a non-traditional pharmacist role within a multidisciplinary leadership team, she has launched the Aged Care Pharmacist–Australia Facebook page.
Its more than 250 members share research and discussion while Ms Hull continues to advocate for the vital connection that onsite aged care pharmacists will build with community pharmacies that already dispense medicines for aged care residents.
The SA Gold Medal (not given every year due to stringent criteria) was awarded to Layla McDougall, who recently completed a double degree – Bachelor of Pharmacy and Pharmaceutical Science at the University of South Australia.
She surpassed the entry criteria with the highest grade point average above 6.25 after at least 3 years of full-time study in a pharmacy program.
Her medal was presented by Emeritus Professor Lloyd Sansom AO FPS. Ms McDougall is currently completing her internship year at the Royal Adelaide and Queen Elizabeth Hospitals and is interested in chronic disease medication management and working with patients.