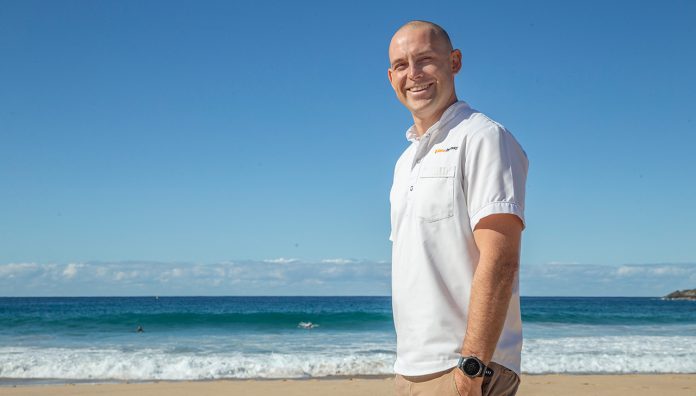 Todd Marion MPS, in Kiama, New South Wales, has been on the front line during the COVID-19 pandemic. He is also a specialist in sleep services.
Was pharmacy your goal?
Growing up, I thought I would do sport science. My career adviser and a pharmacist neighbour convinced me otherwise. I didn't understand a pharmacist's role until I went to university. But once I did, it was a perfect fit.
Then it was community pharmacy?
I spent time as a student with some ideal role models and it started my ambition for pharmacy ownership and partnership. Finding a niche in sleep services, compounding and home medication reviews evolved from that ownership. My family history of sleep apnoea was also a big factor.
After university, I interned in a busy community pharmacy in the Illawarra (NSW) and undertook a leadership role in a small Sutherland Shire pharmacy in Sydney. Excellent pharmacy owners fanned my ambitions and a relocation led to a partnership opportunity in Kiama. Community pharmacy has freedom in practice areas, human interaction, team environment, lifestyle and community engagement.
What are the biggest daily challenges?
The unexpected. In my time we have had drastic industry reform in remuneration and increased scope of practice. A massive development next door has led to road closures and traffic congestion. And, of course, the pandemic. The ability to identify risks and opportunities, and adapt accordingly, is important but also fatiguing.
Why do you specialise in sleep devices?
The initial drivers were becoming involved in the pharmacy partnership and my parents' family history. At the same time, industry reform presented the challenge and the opportunity for diversification. The final driver was personal expertise development, which is similar for medication review and compounding.
How does it help patients?
The main benefit for them is access. Sleep services were reasonably new when I started in pharmacy, but not new in health. Rural patients often had limited contact with sleep services and the established model was overwhelmed. Pharmacy presented the ideal platform for sleep. It's totally congruent with standard dispensing. Pharmacy has always been an excellent screening platform. Once a person is diagnosed with sleep apnoea a pharmacist can supply treatment, advice, support, troubleshooting and follow-up.
The challenges from COVID-19?
Offering expanded services has been difficult. While swamped with patient panic behaviour, we also had unprecedented demand for influenza vaccinations. With social distancing mandates and concerns for staff safety, we have temporarily delayed sleep services for anything but urgent/severe cases and limit face-to-face interaction for them. Medication reviews were put on hold and compounding was mostly done out of hours.
To cope, but also to set up a long-term course of action, we set up a patient checkpoint to screen for symptoms with a one way route through the store, increased our home delivery capacity, utilised technology such as MedAdvisor and online flu bookings and gave patients numerous communication channels such as email, social media, voice messaging and an after hours prescription dropbox.
Your tips for early career pharmacists?
Observe as many different people in different scenarios as you can. Identify their admirable traits, behaviours and habits and use them. Get safely out of your comfort zone to gain different experiences. You will soon start to learn what you like and what you are good at. Then start finding a niche.
What's next?
Sleep, compounding and medication review are all works in progress and, I feel, will always be. I have an ever-changing opinion of how they will need to look in the future and keeping up with that is a pathway in itself.
I think more formal further education and credentials within these disciplines is required. The post COVID-19 period will also mean dramatic change and upheaval.
A DAY IN THE LIFE of Todd Marion, partner pharmacist at Kiama Pharmacy, Kiama, NSW.
 7.30 am – The day begins
Begin usually by compounding medicines, such as melatonin suspension for infant sleep disorders; omeprazole suspension for infant reflux (or for adults too); diltiazem cream for anal fissures. Have also compounded doxycycline, in oral paste form, for horses.
9.00 am – Getting ready
Scan the workplace/stock levels, check for carryover jobs, wear and tear, cleanliness, deliveries, dose administration aid changes, pending prescriptions. Greet staff, formulate what's needed. Delegate jobs.
10.00 am – Paperwork
Conduct services and write medical correspondence. It could be for sleep, home medication review, meds checks, vaccination or blood pressure monitoring.
2.00pm – Back to work after lunch
Conduct services. Keep up with medical correspondence or more compounding.
4.30 pm – Getting set for sleep
Set up a sleep study – about 30 minutes. Recently, a man in his late 30s presented after years of poor sleep with erratic breathing and snoring. General sleepiness had affected his career. After a type 2 sleep study, a sleep physician discovered he had erratic breathing 85 times an hour, with severe oxygen desaturation and hypertension. After taking the sleep device overnight the patient reported an immediate turnaround – breathing score dropped into normal range and fatigue and work performance improved dramatically. He said his sleep problems would never have been addressed without a service available in his own town.
5.30 pm – Thinking ahead
Check ordering priorities, scan workplace. Then home to the family.
7.00 pm – Homework
Catch up on emails, planning. Complete medication review reporting, monitor potential stock issues. I try to have two full days off each week, limit late nights and ensure I get enough sleep.
Further resources
Want to find out more about different career pathways for pharmacists? Visit www.psa.org.au/careerpathways