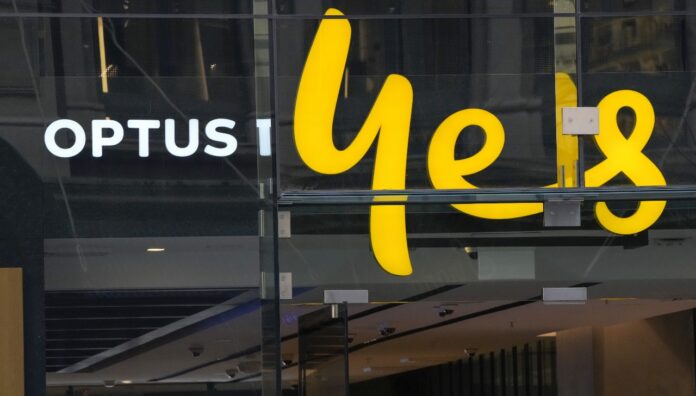 Optus is still trying to resolve a nationwide outage that's left millions of Australian customers and businesses without mobile phone and internet services.
Optus telecommunication networks around the country were disrupted today from 4.00 am AEDT, with internet, mobile and landline services unavailable to customers. These systems began coming back online about 12.30 pm AEDT.
In a sign of the health sector's dependence on mobile networks, a morning of chaos ensued.
A carer called ABC Radio Melbourne this morning that he had difficulty calling an ambulance: 'One of my patients had a cardiac arrest, I couldn't call an ambulance,' he said. 'I had to run out on the street and borrow a phone from someone walking his dog.'
Phone services in and out of many of Australia's hospitals were offline and services such as the Poisons Information Service were unavailable, before a temporary hotline was established.
But as the morning progressed, the real impacts of the outage went further than most would have realised.
Accessing electronic prescriptions from Optus mobiles
Pharmacists and patients reported people with Optus mobile phones couldn't open their electronic prescriptions tokens.
There were reports on social media of problem solving from pharmacists for workarounds, such as making wi-fi available in pharmacies and setting up an Active Script List for the patient to find the existing prescriptions.

'Now that medicine prescriptions are largely texted to me with a QR code, and eftpos isn't working, it was a bit of a struggle this morning to pick up my medications (I can get very unwell if I don't take them on schedule). I had to get cash out and use the pharmacy's wifi so they could access my prescription!'

Lauren, ABC NEWS BLOG
PSA advice urged pharmacists to consider:
Manually typing e-script token details. Details form part of the web address in the link in the message sent to the patient. If the link displays as a shortcut (i.e. not as a full web address), ask the patient to try to copy and paste the link into a text field (e.g. notes app or similar) which may reveal the full web address including token details.

Dispensing the electronic prescription from the repeat tokens on your pharmacy dispensing system

Other options for dispensing if possible, such as considering whether Continued Dispensing is appropriate for the patient. 
No EFTPOS, no phones, no internet
Community pharmacies experienced differing degrees of impairment to operations as a result of the outage with payment, internet and telephone services all hit. Some pharmacists publicised alternate mobile numbers which could be contacted, while other pharmacies had to revert to cash-only operations.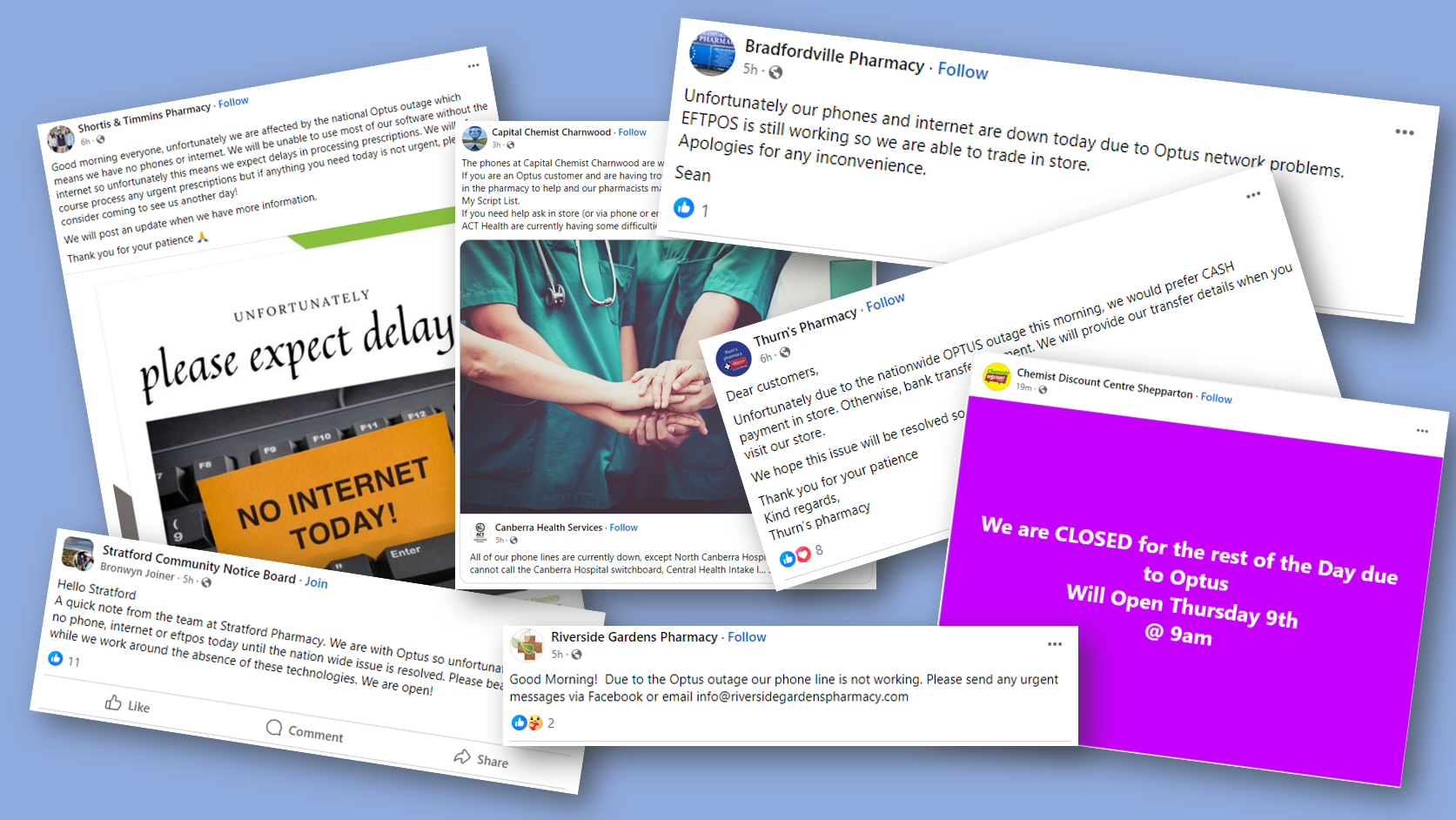 There were isolated reports on social media of pharmacies which closed for the remainder of the day following challenges with service provision caused by the outage.
Problems using two-factor authentication for pharmacy systems
Pharmacists reported difficulty accessing Real Time Prescription Monitoring (RTPM) systems where their nominated Optus mobile phone is required for 2-factor authentication. 
Q-Script issued advice on arrangements pharmacists could follow: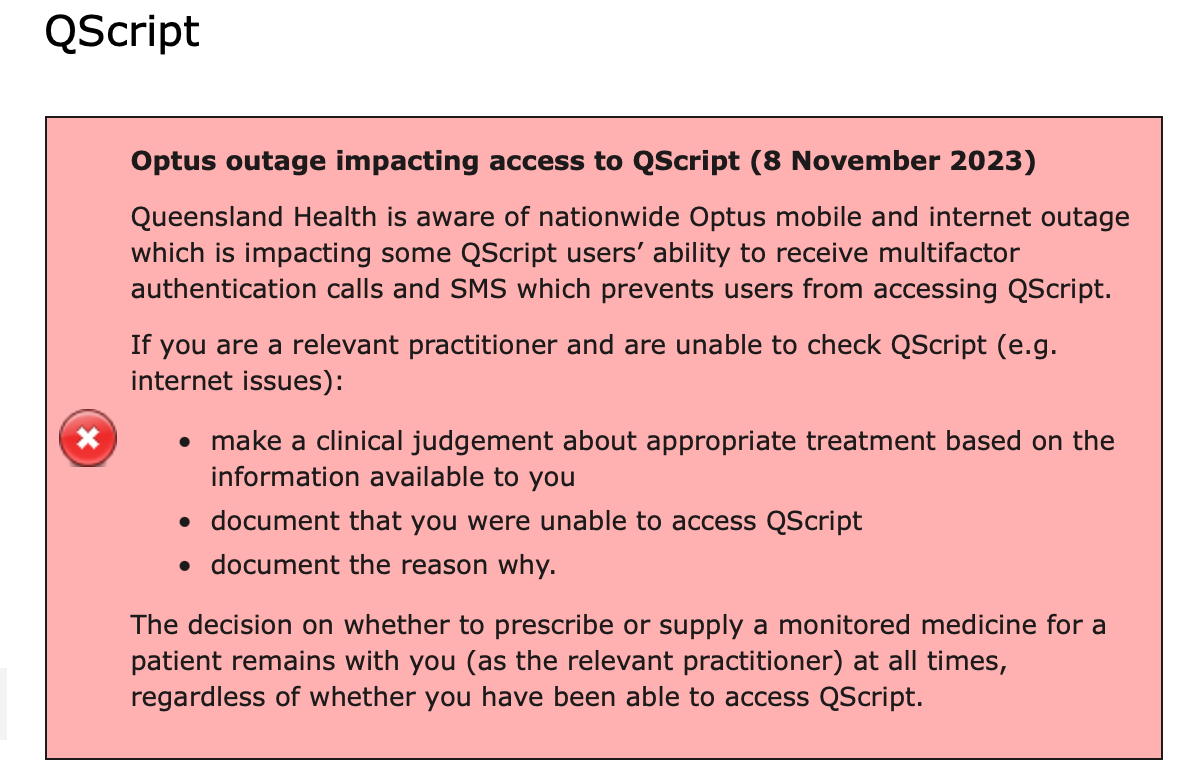 Health systems and governments also impacted
The New South Wales Poisons Information Service was offline for hours this morning, with the state government moving to set up a temporary hotline number for poisons advice. 
The NSW Poisons Information Centre hotline is currently impacted by the nationwide Optus outage. During this time, please call the temporary hotline number on 1300 392 539 for all poisons advice.

In the event of an emergency, call 000.

More info: https://t.co/SO8vM1KAgu pic.twitter.com/f3A1zHLlxj

— NSW Health (@NSWHealth) November 7, 2023
South Australian premier Peter Malinauskas says SA Health has also been affected, but said that there have been no clinical implications due to the outage. Of most concern is the mental health triage service, which has had a 'challenge' with people trying to call in.
Hospitals in Melbourne's Eastern Health, Austin Health and Northern Health districts have not been able to make or receive any phone calls. The outage has also disrupted the Victorian Virtual Emergency Department. 
All ACT Government phone lines have also been down, including ACT Health services.
The 000 lifeline cut for millions of Australians
Individuals with Optus landlines were unable to call 000, while Optus mobile customers were advised the SOS-only functionality should have been able to provide access. In reality, customers reported mixed success.
Optus services slowly being restored
A spokesperson for Optus confirmed just before 2.00 pm AEDT that services were being 'gradually restored'.
'This may take a few hours for all services to come back online and different services may restore at different sites over that time. No action is required and services will be automatically restored,' the spokesperson said.
'We are aware of some mobile phones having issues connecting to triple-0. If Optus customers need to call emergency services, we suggest finding a family member or neighbour with an alternative device.'