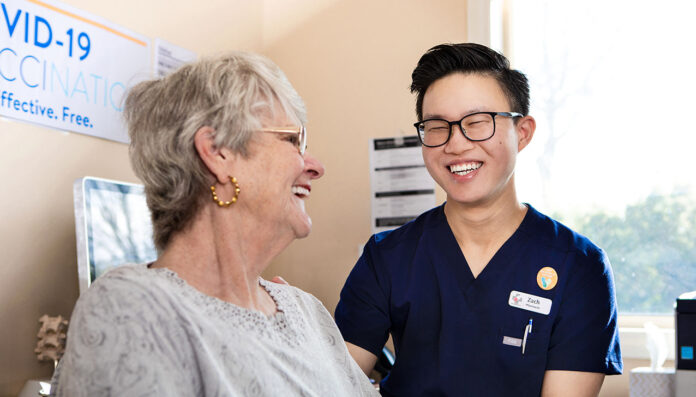 As pharmacists wait to receive their first Pfizer vaccine stock, those who have been administering the vaccine throughout the year share what works best for them.
Ahead of the Pfizer vaccine booster program rollout on 8 November, the Australian Technical Advisory Group on Immunisation (ATAGI) released the following recommendations.
Booster doses are initially prioritised for those who completed their primary vaccine course over 6 months ago, including frontline workers at risk of contracting COVID-19 on the job.
Patients with risk factors for severe COVID-19 are also prioritised, including those over 50 years of age, aged care residents, those with pre-existing conditions, and Aboriginal and Torres Strait Islander adults.
Perfect your Pfizer vaccine preparation
Ensure a separate time or location is dedicated to preparing and administering the Pfizer vaccine from other COVID-19 vaccines.

Check the expiry date of the vaccine vial and sodium chloride ampoule.

When at room temperature, gently invert the vial 10 times and check that it is white to off-white in colour.

Using aseptic technique, attach a 3 mL syringe directly to the 0.9% sodium chloride ampoule and withdraw 1.8 mL. Have a second staff member check the volume before the reconstitution process. 

Before removing the needle from the vial, ensure the tip is in the air space above the diluent. Withdraw 1.8 mL of air to equalise the pressure. 

Strongly encourage other people to double-check your dilution and find ways to avoid doing a second dilution by mistake, such as ensuring only one multi-dose vial is accessed at a time.

Invert the vial, which should now contain 2.25 mL, a further 10 times and ensure the mixture is an off-white colour with no particles. Discard shaken, particle-laden or discoloured vials.

Withdraw 0.3 mL of vaccine using a 25-gauge 1-inch needle on a 1 mL syringe. Resheath the needle and ensure the lid is secure. Repeat until the vial is empty. 

Keep the vial with the syringes until they have been checked and labelled with expiry times.
Booster doses are not currently recommended by ATAGI for patients under 18 years of age, as severe disease is uncommon and the primary vaccine course generates a sufficient immune response. 
Pfizer vaccine booster doses can be co-administered with influenza vaccines.
While it should be prioritised for booster doses, the Pfizer vaccine can be used for first and second doses, provided Moderna stock does not go to waste.
Pfizer vaccine preparation
While the Moderna and AstraZeneca vaccines come in pre-prepared vials, the Pfizer vaccine needs to be reconstituted using aseptic technique, said Melbourne-based GP pharmacist Zachary Sum MPS, who has been administering the vaccine since May.
'[Pfizer] comes in as defrosted or thawed vaccine vials,' he said. 'We then [draw up] 1.8 mL of saline and mix it in.'
Andrew Johnson MPS, who has been administering the Pfizer vaccine for the Royal Flying Doctor Service South Eastern Section (RFDSSE) and Aboriginal Health Service Maari Ma, said this step requires close attention.
'You have to gently mix it up,' he said. 'Because the mRNA technology is quite delicate, it's easy to damage.'
When reconstituting the vaccine, the pressure in the vial needs to be equalised.
'When you put the syringe in, you have to make sure you're taking the extra volume of air [1.8 mL] back out again,' Mr Johnson told Australian Pharmacist. 
'Otherwise when you put the next [needle] in, there's pressure in there, and it shoots the fluid back out again.'
Should a leakage of diluent occur during the reconstitution process, the Department of Health advises the vaccine can still be used if most of the saline solution is injected into the vial.
Once the vial is mixed, the 0.3 mL doses can be drawn using a standard stock needle and syringe. The Pfizer vials allow for five doses to be drawn, but it is possible to extract six using low dead space syringes and needles.
Before the Pfizer vaccine is mixed, it will keep for 31 days at 2–8° C in a vaccine fridge.
'Once diluted, the Pfizer [vaccine] can be stored for 6 hours in the vaccine fridge or at room temperature for 1 hour,' Mr Johnson said. 
To ensure the vaccine is used in the correct time frame, Mr Sum said vaccine vials must be labelled with the time they were reconstituted.
Differing volume sizes
For community pharmacists administering the Pfizer vaccine, Mr Sum said the key consideration is the difference in volume size.
'Pfizer is 0.3 mL, and Moderna and AstraZeneca are 0.5 mL,' he said.
'So we need to make sure there are extra checks along the way, because there is a possibility of error in a busy community pharmacy when pharmacists are used to drawing up 0.5 mL.'
To prevent this, Mr Sum recommends finding methods to differentiate between the vaccines.
'Maybe a different coloured syringe or a coloured sticker to differentiate the brand of pre-drawn vaccines, or a different time of day to vaccinate [with other] brands,' he suggested.  
Pharmacists could also place the pre-drawn vaccine syringes in different coloured kidney dishes or baskets in the fridge.
'You need to be very sure of what you're injecting, and labelling your syringes as well,' Mr Sum said. 
For Mr Sum, this includes repeating to the patient what they are receiving while looking into at the syringe and labels.
'For example, [I'll say]: "Madam, today you will be receiving the Pfizer vaccine, it will be 0.3 mL (checks syringe volume and label). Is that correct?"'
Mr Sum said verbally repeating himself out loud in front of the patient provides an extra layer of safety.
'This tip works well for me and I have provided the same advice to other GPs who I work with as well,' he said.
'For community pharmacies that will soon stock three different brands of vaccines, it is imperative to find your own ways to ensure errors are minimised in the process.'
Practice makes perfect
Because there are a few extra steps involved in preparing the Pfizer vaccine, Mr Johnson suggests drawing it up in a space and time where interruptions can be kept to a minimum.
Pharmacists must have checks in place to avoid over-dilution and identify when it occurs. At the Kippa Ring Vaccination Centre in Queensland's Moreton Bay region, for example, an initial review quickly revealed that six patients received an 'ultra-low dose' of the Pfizer vaccine in early August.
The review found one vial was used twice, so the second set of doses drawn were over-diluted. All 66 patients who were vaccinated when the error occurred, which was within 90 minutes of the clinic opening, were contacted and offered a repeat dose.
Reconstituting the Pfizer vaccine also needs to factor into community pharmacists' workflow, Mr Sum said.
'There's extra time needed to prepare the vaccine, so [it] can be prepared ahead of time,' he said. 'But the moment the saline is added into the vials of Pfizer, your countdown begins.' 
Pharmacists therefore need to have processes and adequate staffing in place, to ensure the vaccine can be prepared in a safe and timely manner that minimises wastage. 
Using practice vials in advance is a helpful way to get the pressure equalisation step down pat, Mr Johnson said. 
'I gave them to our intern and another pharmacist who was covering for me at the RFDSSE, so they could have a bit of practice rather than doing it with the [real] vial,' he said.
Practice vials are available to all pharmacists who complete PSA's Multi-dose Vial Training. Pharmacists must also complete the mandatory Pfizer training module before preparing or administering the vaccine. If completed some time ago, it is recommended to undertake the training again as a refresher.
Having three vaccines on the go might sound like a lot to manage, but Mr Johnson isn't fazed.
'We've haven't [administered] AstraZeneca for ages, so even though it will be in the fridge, [we're] down to two [vaccines],' he said. 
Different vial sizes to differentiate the Pfizer vaccine from Moderna and AstraZeneca, coupled with signage and quick tip reminders stuck to the fridge, are important ways to reduce risk. But pharmacists must remain vigilant by ensuring effective checks and balances are in place.