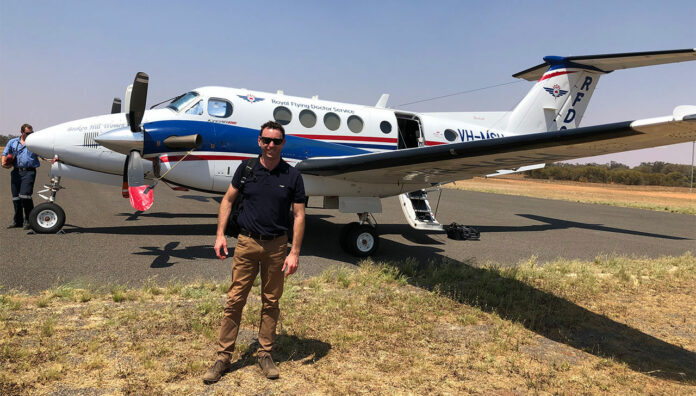 From leaving home for weeks on end to filling in when needed, pharmacists working with the Royal Flying Doctor Service South Eastern Section (RFDSSE) are doing what it takes to vaccinate vulnerable communities in New South Wales.
Orange-based GP pharmacist Tabitha Jones MPS is the RFDSSE's first embedded pharmacist.
Since COVID-19 started spreading across NSW, Ms Jones has been on the road for 3 weeks, with her team administering over 1,200 vaccines in some of the most remote towns in the state's north.
'I've been running [vaccination] clinics all over the place, from Bourke, Enngonia, Walgett, Pilliga to Wee Waa,' Ms Jones told Australian Pharmacist.
'We were just [in] Gulargambone where we vaccinated about 100 people and now I'll be in Jervis Bay vaccinating [patients] all week.'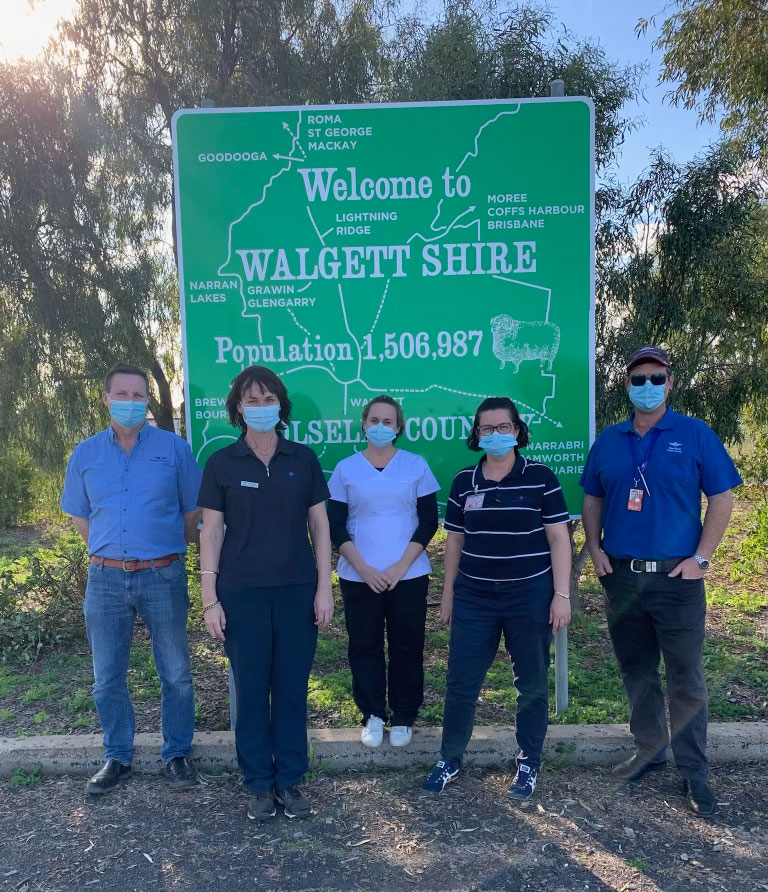 Fly-in fly-out vaccination teams consist of five to six people, including a doctor, nurse, pharmacist and Aboriginal Health worker.
Broken Hill-based pharmacists Alex Page MPS and Andrew Johnson MPS (pictured above) have come on board to help with the effort, along with three other pharmacists recruited with the help of PSA to vaccinate patients in more vulnerable communities in the coming weeks.
The RFDSSE is working with Aboriginal Medical Services (AMS) and Land Councils to get as many Aboriginal and Torres Strait Islander people in these regions vaccinated as possible, including in areas with outbreaks such as Wilcannia.
Vaccinating in a pub
The RFDSSE team has vaccinated patients in some interesting locations, with vaccine doses transported via freezer or fridge in a plane or car.
'We've been everywhere: pubs, shearing sheds and small communities with no facilities,' Ms Jones said.
Consent forms are filled out manually as internet access is often scarce, and the nurse, clinician and pharmacist take on different roles – from vaccinating to making up the vaccines and maintaining cold chain integrity.
'We take eskies with ice and data loggers, so we have contingency plans,' she said. 'We usually take more than one car, so we [have another] power point or cigarette lighter port.'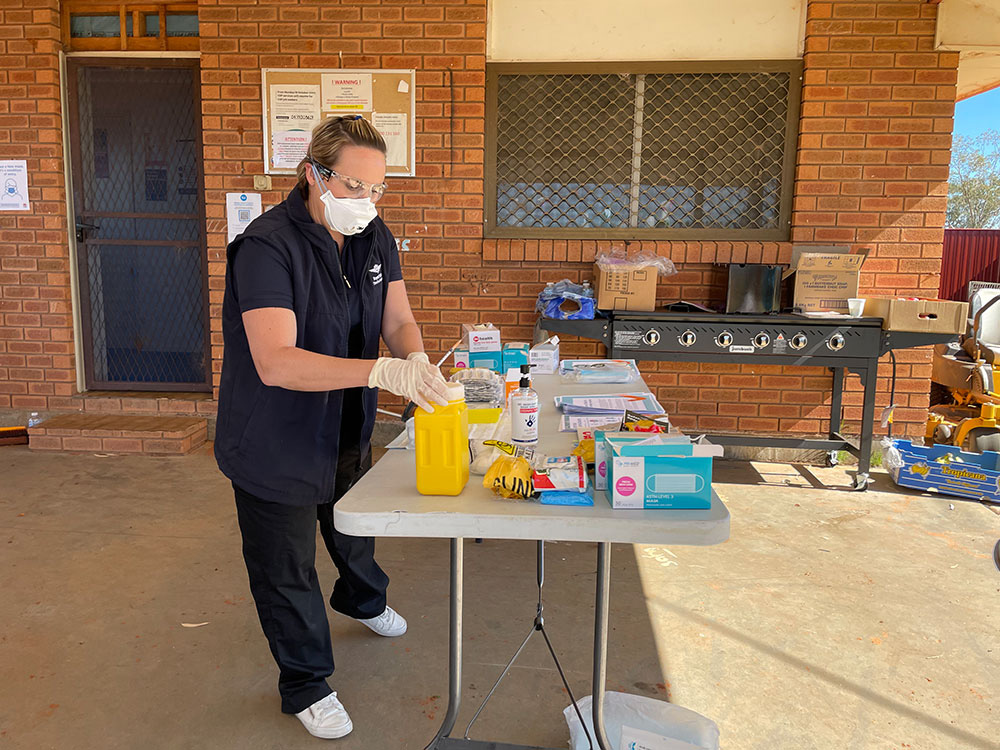 On a recent trip to Enngonia, about 100 kilometres north of Bourke, the team packed vaccines and other supplies into a four-wheel drive and set up shop with the Bourke Aboriginal Medical Centre at the Aboriginal Land Council.
'We literally had a table under the carport that was a pharmacy, a table for the doctor's equipment and socially-distanced chairs dotted around the yard,' Ms Jones said.
The team also vaccinated patients at the Armatree Hotel, which serves as a meeting point between many small communities. Patients could pick up a takeaway meal while they waited and catch up with each other from a distance.
Some of the remote communities the RFDSSE visits don't have a corner shop, let alone a local health service, so they haven't had previous access to the vaccine.
The 'opportunistic' nature of the service means they can reach people who wouldn't have otherwise sought out the vaccine and prevent travel between communities to access vaccination services.
'The closer to home we can keep people right now, the safer it is for everyone,' Ms Jones said.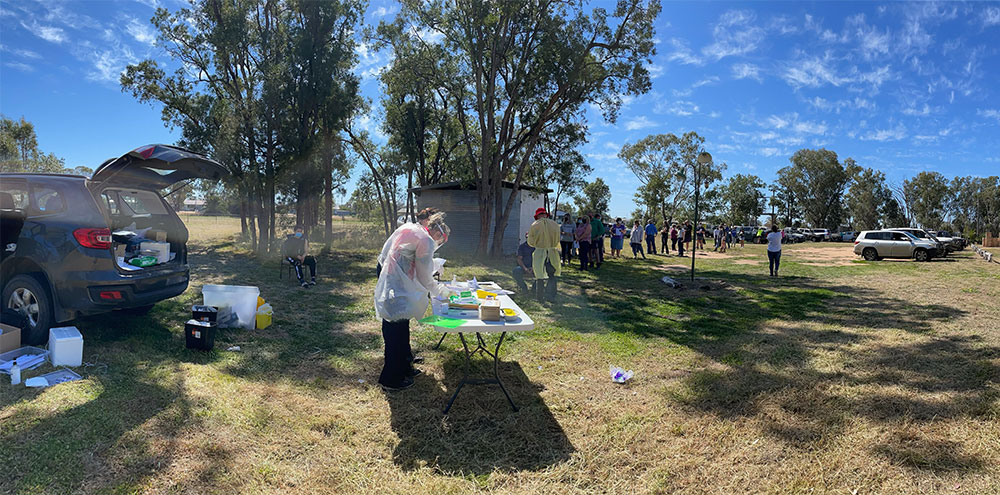 Safety first
For the RFDSSE team, safety is of the utmost importance, particularly when visiting areas where there is a known COVID-19 outbreak. 
When patients are lining up to receive their dose, a patient flow coordinator takes their temperature and tells them what to expect.
'We are careful about screening out anyone with respiratory symptoms,' Ms Jones said. 'We're also really diligent about anyone who should be at home isolating if they've been asked [to take] a test.'
All patients are required to check in, and the team ensures everyone is wearing their mask properly and has sanitised their hands. Staff are decked out in full PPE, despite the heat in some outback locations.
'We're fully vaccinated, because that's another layer of protection,' Ms Jones added. 'And we routinely do staff surveillance.' 
In some areas, the local AMS has access to rapid testing, so the team can get their results within an hour before they head off to the next town.
'We really are putting a lot of effort into both keeping our staff and community safe because it's a two-way street,' Ms Jones said.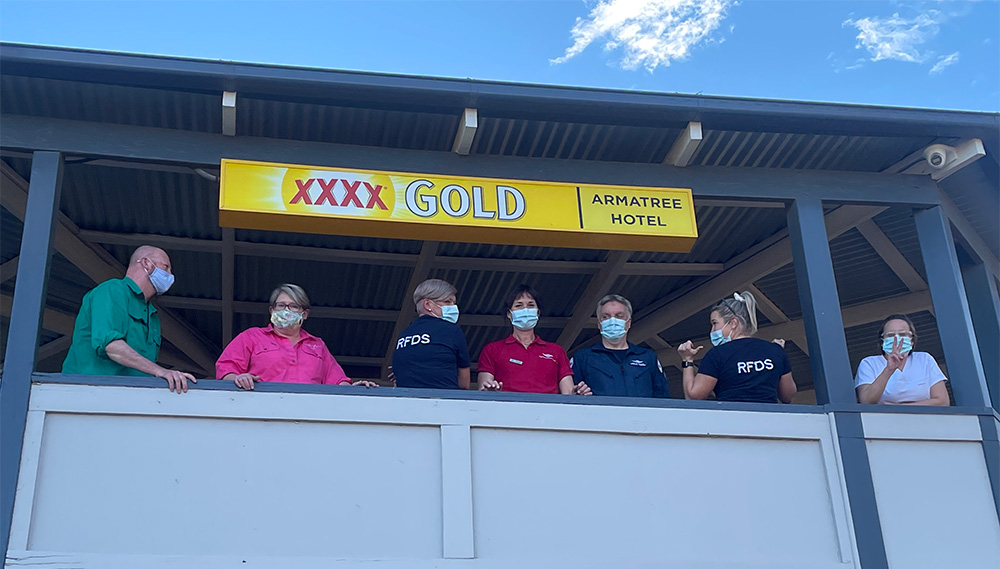 Response to the RFDSSE vaccination team
People have been overwhelmingly receptive and grateful to receive the vaccine, but the team has still been fielding plenty of questions.
Patients who are uncertain about the vaccine for various reasons, including those who are pregnant or who are concerned that they can get vaccinated while their children can't, are often referred to the doctor for a chat.
What helps the team is partnering with Aboriginal Health workers, who can share their stories and the fact that they are vaccinated.
'It's very hard to just waltz into a community and pop up a shop and start vaccinating,' Ms Jones said. 'We really are just going in to bolster the services, they are doing the hard yards every day.'
After being on the road for several weeks, it will soon be time for the team to circle back to where they've been to administer second doses.
'We'll be back,' she said. 'Things [often] go by the wayside, so if we don't make it just as easy to get the second dose as the first, then it's going to be an issue.'
Pharmacists to the rescue
Mr Johnson has been working at the RFDSSE clinic in Broken Hill since May as part of the Primary Health Network General Practice Pharmacist pilot program.
He had a list of patients and started offering medicine reviews, health assessments and care plans when lockdown hit.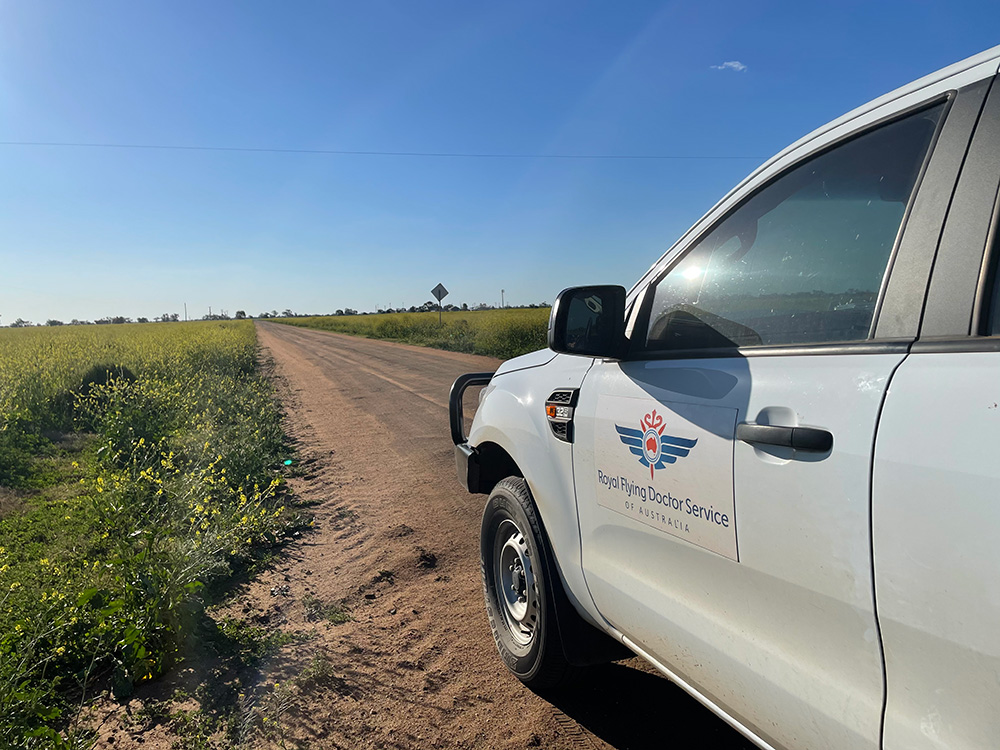 With the focus now on acute rather than chronic care and healthcare services under increasing pressure, Mr Johnson suggested to the RFDSSE Senior Medical Officer that his role shift to vaccinations.
'What [that] shows is having people like pharmacists within GP clinics or organisations like the RFDSSE, increases capacity,' he said.
'You've got people who can do medicine reviews, health assessments and team care arrangements, but [can] then pivot into a role where [they're] doing vaccinations or other things.'
Dealing with vaccine hesitancy
Last Wednesday, Mr Johnson drove to Menindee with a GP to run a RFDSSE vaccination clinic at the local Aboriginal Health Service.
When discussing the benefits of vaccination, Mr Johnson said he makes it clear that protection extends to patients' families as well.
In Menindee, the conversation with one patient who didn't want to get vaccinated revolved around her children. She was informed that the risk of any vaccine complications was small, but the likelihood of hospitalisation due to COVID-19 was much greater, meaning she would be unable to care for her children.
This message was also relayed to an elder who said he didn't trust the vaccine. After it was discussed that getting vaccinated is beneficial for the community, he decided to go ahead.
Like Ms Jones, Mr Johnson knows how important it is to get community leaders on side.
'Once other people can see they've made that decision, they're more likely to think it's an okay thing to do,' he said.
Saving grace in the clinic
The RDFSSE has been beset by staffing shortages of late, with many workers, especially those who have been to Wilcannia, listed as close or casual contacts.
Last week, Mr Johnson filled in at RFDSSE clinic for 3 days, including last-minute shifts when a nurse immuniser was required to isolate.
'I think they would have had to cancel all the appointments for that afternoon if I hadn't been able to go into the clinic,' he said. 
This week, he and two other pharmacists have been at the clinic every day to cover shifts for a nurse immuniser who was unable to come to the region due to border complications.
'I'm not sure what they would have done if we hadn't been able to help out,' he said
Pharmacists who are interested in volunteering for the RFDSSE should contact PSA NSW State Manager Simone Diamandis for further information.