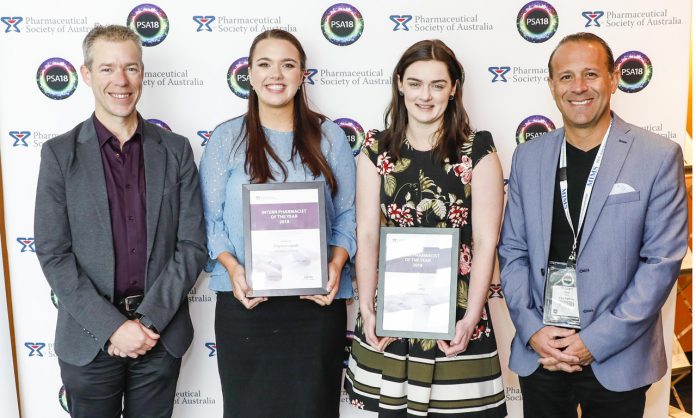 The future of pharmacy is bright, engaged and passionate, the search for the latest PSA MIMS Intern Pharmacist of the Year has revealed.
Judges were unable to separate talented intern pharmacists Angelica Lagoda (Queensland) and Deanna Mill (South Australia), and named them joint national winners of the PSA MIMS Intern Pharmacist of the Year Award.
Ms Mill completed her internship with SA Pharmacy in the Southern Adelaide Local Health Network (SALHN) and was recognised for her contribution to PSA SA/NT Early Career Professional Working Group (ECPWG) initiatives.
She also conducted multiple interdisciplinary practice-based research projects aimed at improving patient outcomes within her intern year.
'One of them was an audit of Parkinson's patients medication errors in hospitals. I was fortunate enough to present the interim results at PSA17,' she said.
'I was also involved in developing an education series for graduate nurses. We found that they didn't have a great understanding of who we hospital pharmacists were and what the pharmacy department did.'
Fellow winner, Ms Lagoda, completed her internship at LiveLife Pharmacy Keppel Bay Plaza in Yeppoon, Central Queensland.
She was recognised for her contribution to mental health services, which included providing regular training for pharmacy staff and developing a formal referral and follow-up program.
'I had always been in awe of the relationships some of my pharmacy assistants and other pharmacists had with our patients, so I wanted to upskill and instil confidence in my team members to be able to recognise potentially at risk patients and refer them onto the pharmacists,' she said.
'I also reached out to local doctors surgeries to see what we could do to best facilitate conversations and encourage patients to see their GPs.'
As a result, Ms Lagoda said the pharmacy had seen a tremendous reduction in stigma within the community and better relationships with patients and local medical centres.
Ms Lagoda also dedicated her intern year to being a representative for the PSA QLD ECP Working Group. She presented at the Rural Pharmacy Special Interest Group Forum at PSA17, and worked with her local council to coordinate activities for Queensland Mental Health Week.
'They completed their internships to an exceptionally high standard, showing great initiative and openness to collaboration,' said PSA National President Dr Shane Jackson.
Robert Best, CEO and Executive Director of MIMS Australia, MIMS New Zealand, eHealthwise and Board Member of the MSIA (Medical Software Industry Association) said, 'MIMS has been and continues to be committed to supporting young healthcare professionals from all parts of the healthcare ecosystem. It is with immense pleasure that we support community and hospital pharmacists and the interns within them by providing world class medications information. '
'Being able to reward excellence to young innovative people is extremely exciting for the team at MIMS. This is the 6th presentation of the MIMS PSA Intern Pharmacist of the Year Award. And, we trust that this year's winner will consider to take advantage of the opportunities this award provides.'