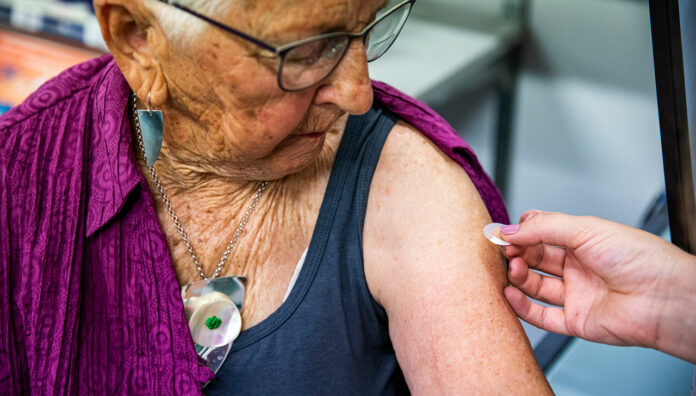 Each week, pharmacists across the country ring PSA's Pharmacist to Pharmacist advice line looking for guidance on everything from practice-related queries to ethical dilemmas. In this series, Australian Pharmacist speaks to the experts and answers some of the most frequently asked questions.
This month Amanda Fairjones MPS, PSA Professional Support Advisor, and Peter Guthrey MPS, Senior Pharmacist – Strategic Policy, answer your questions about COVID-19 vaccine requirements and the new nicotine vaping guidelines.
Have a question of your own? PSA members can call 1300 369 772 to receive professional advice and support.
1. What are the correct dosing intervals for the AstraZeneca and Moderna COVID-19 vaccines?
The AstraZeneca vaccine has an approved interval of 4–12 weeks, with the preferred interval 12 weeks. In an outbreak situation, an interval of 4–8 weeks is preferred (currently Victoria, NSW and ACT).
The Moderna COVID-19 vaccine has an approved interval of 4–6 weeks, with the preferred interval 28 days (4 weeks). An interval of 28 days should be considered the minimum interval.
All pharmacists should check the Australian Immunisation Register (AIR) prior to administering a COVID-19 vaccine. This is a legal requirement in some jurisdictions and an essential safety requirement nationally.
Checking AIR prior to vaccination supports correct patient identification, and confirms correct vaccine and dosing interval. It is additionally strongly recommended to verbally confirm this information, including the name of the patient, date of birth and vaccine to be administered as read off the label on the syringe/vial.
2. Is it mandatory for pharmacists and pharmacy staff to be vaccinated with a COVID-19 vaccine?
This is dependent on the state or territory in which you practice and the nature of the work you do.
AHPPC has recommended mandatory vaccinations for all workers in healthcare settings as a condition of work. Further, AHPPC has also recommended the first dose of a TGA approved COVID-19 vaccine by 30 October 2021 and a second dose by 15 December 2021.
State and territory governments have announced a range of COVID-19 vaccine requirements which affect workplaces where pharmacists work, implementing this agreed AHPPC recommendation.
Currently:
All jurisdictions have introduced mandatory COVID-19 vaccination for access to residential aged care facilities.

Most states have announced mandatory COVID-19 vaccination for health care workers to attend for work in hospitals. 

Victoria, Tasmania, South Australia, Northern Territory and Western Australia have mandated COVID-19 vaccination for primary and community health workers to attend on-site work. This includes all community pharmacy staff.
Deadlines and public health orders vary across Australia. PSA's COVID-19 vaccine microsite provides further information on these occupational COVID-19 vaccine requirements for each state and territory. 
3. What is the eligibility criteria to administer the Moderna vaccine?
The Department of Health (Australian Government) COVID-19 vaccine eligibility criteria was recently expanded, and now all people 12 years and older are eligible to receive mRNA vaccines.  People under 60 years of age should continue to be offered an mRNA vaccine unless there are access constraints, medical precautions or contraindications.
Additionally, ATAGI recently issued advice recommending a third primary dose of COVID-19 vaccines in severely immunocompromised individuals. This third dose is intended to maximise the level of immune response to as close as possible to the general population.
Specifically:
Further recommendations from ATAGI regarding booster doses, including Moderna doses, are expected by the end of the month.
4. I have been presented with a script for a nicotine vaping product, where can I find further information?
From 1 October 2021, a prescription will be required to access liquid nicotine for inhalation (vaping), following a change to scheduling and import restrictions.  In response to this change, the following guidelines and education are available to support pharmacists.
Educational modules to support pharmacists include:
Stay tuned for the Practice Feature, 'So I've got a prescription for nicotine vaping…' in your November Australian Pharmacist.
5. Can a pharmacist issue a medical certificate for vaccination exemption?
No. There are very few situations where a vaccine is contraindicated and as such, medical exemption is expected to be rarely required. 
Services Australia and ATAGI have provided advice, adopted in state and territory public health instruments, that only some medical practitioners are able to grant a medical exemption to vaccination. This includes:
General practice registrars on an approved 3GA training placement

Paediatricians

Public health physicians

Infectious disease physicians

Clinical immunologists

GPs who meet certain criteria.
Once issued, the exemption must be updated in the AIR or by forwarding a form to Services Australia.
Exemptions may be temporary (e.g. during active COVID-19 infection, undergoing major surgery or hospital admission for a serious illness etc.) or permanent. Permanent exemptions can only be granted for: 
Anaphylaxis following a previous dose of a COVID vaccine

Previous anaphylaxis to any component of a COVID vaccine.