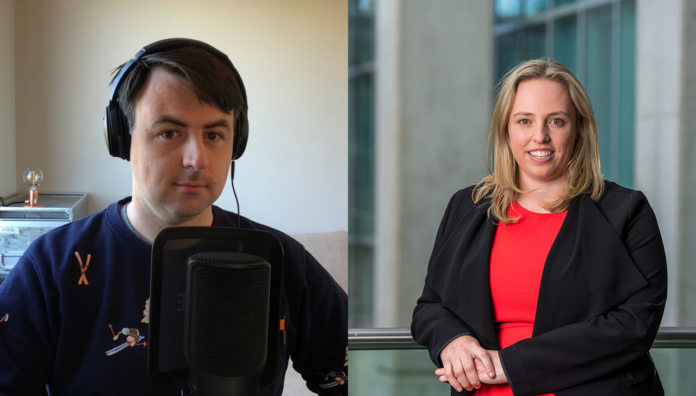 Are you a pharmacist looking for insights, inspiration and interesting conversations? You'll want to subscribe to Pharmacy & Me, a new podcast from PSA.
Hosted by community pharmacist Peter Guthrey MPS and hospital pharmacist Hannah Knowles MPS, Pharmacy & Me explores how pharmacists do the extraordinary things they do. 
Each episode features a pharmacist doing outstanding work. They'll share the highs and lows of their career, what's helped them on their journey so far and how you can put their experience into your practice.
Through candid conversations, Pharmacy & Me shines a light on the work of everyday pharmacists – from the city to the country, newly registered to those with decades of experience and across a wide range of practice areas. 
Topics covered in Season 1 include the rewards of rural pharmacy, what it's really like working as an aged care pharmacist, navigating the exciting-yet-slightly-terrifying transition from intern to registered pharmacist, and practicing to your full potential as a community pharmacist. 
PSA Early Career Pharmacist Board Appointed Director, ECP Community of Specialty Interest Chair and PhD candidate Deanna Mill MPS is one of eight guests in the first season. 
She said the podcast is a great resource for ECPs who want to expand their knowledge, learn from their peers and build their careers – as well as being an enjoyable way to spend 30 minutes.  
'It's like listening to a conversation with your friends,' Ms Mill told Australian Pharmacist. 'The topics have been selected with ECPs in mind, but they will be of interest to any pharmacist looking to learn more about different practice areas. And the conversations don't always go in the direction you expect.'
Sharing stories for success
Mr Guthrey, PSA's Senior Pharmacist – Strategic Policy, and known to many as the provider of valuable updates via PSA's ECP Facebook group, said he was excited to tell the stories of pharmacists across the country.
'It's been a privilege to speak with these outstanding pharmacists and hear about their career journeys,' he said. 'Everyone has a story, and it's by sharing our experiences that we all learn and grow as a profession.'
Born in country New South Wales, Ms Knowles is a Senior Pharmacist at the Royal Brisbane and Women's Hospital. She said the conversation with Taren Gill FPS about life in Maryborough, population 8,000, was particularly close to her heart. 
'It was great to be able to bust some of the myths that exist about a lack of opportunities or support in rural areas,' she said. It was really nice to hear from someone who has made a few moves and is really thriving.
'I have learned many things from our guests and I can't wait for the episodes to be released so we can share the work of these pharmacists with the rest of the profession.'
Look out for Pharmacy & Me, coming soon to a podcast platform near you.