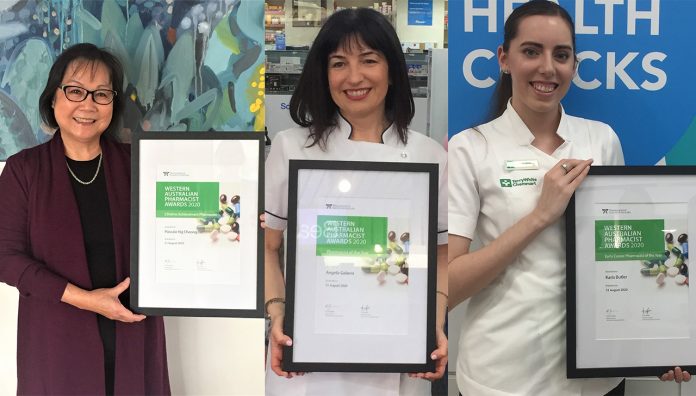 Three Western Australian (WA) pharmacists have been recognised for their high standards, professionalism and commitment to pharmacy in the PSA WA pharmacy awards.
Angela Boyatzis MPS received the Pharmacist of the Year Award, Pascale Ng Cheong Tin FPS was presented with the Lifetime Achievement Award and Karis Butler MPS received Early Career Pharmacist of the Year.
PSA WA President Dr Fei Sim congratulated Ms Boyatzis on her impressive work in the area of sleep management.
'Angela has not only trained extensively in the area of sleep but has also implemented this service in her pharmacy for her patients, and trained colleagues,' she said.
'Over the years, she has strengthened ties with other health professionals, including doctors, physiotherapists and dietitian, and she is driven to provide the best health care to her many patients.'
Ms Boyatzis said she had always wanted to help people find simple and achievable solutions to their health problems.
'In many cases, guiding people through a combination of lifestyle advice, and complementary as well as traditional medicines, can lead to long-lasting and sustainable positive health outcomes,' she told Australian Pharmacist.
Ms Boyatzis worked as a pharmacist in the United Kingdom before returning to Perth to work at St John of God Hospital, in education roles at Curtin University, and for the Pharmaceutical Council of WA.
She returned to retail pharmacy 10 years ago, and is currently an Amcal Community Pharmacy partner, offering screening, diagnosis and support for sleep apnoea.
'Being available for our sleep patients throughout the entire treatment journey, and beyond, is key to success,' she said.
'Communicating with their GP and providing reports and results is also a unique aspect of our treatment model.
'I am proud to say patients (after treatment) have been able to complete a full day of work leading to a job promotion, exercise and lose weight, reduce blood pressure medicines, share a bed with a partner again, and improve their mental health.'
Ms Boyatzis is also an advocate for sustainability, providing a selection of sustainable alternatives to many traditional pharmacy products, and introducing progressive waste management strategies.
Educating future pharmacists
In congratulating Ms Ng on her lifetime achievement award, Dr Sim pointed to her dedication to educating the next generation of pharmacists over more than 30 years.
'Her positive impact has been felt by many and the positive feedback from her students, who are now pharmacists, is testimony to her selfless character and enthusiasm in educating future pharmacists,' Dr Sim said.
'As a longstanding fellow of PSA who keeps giving back to the profession, Pascale is indeed a real asset to pharmacy.'
In 2017, Ms Ng won the prestigious Eric Kirk Memorial Award for an outstanding contribution to the development of professional practice in pharmacy.
'It was a proud moment, and now the lifetime achievement award has made this doubly wonderful,' she told AP.
Ms Ng came to pharmacy later in life, migrating to Perth in 1986 from Mauritius and gaining admittance to the then 3-year Bachelor of Pharmacy degree in 1988 at the age of 33.
She had three boys under 10, two of whom are now themselves pharmacists.
'Pharmacy provided me with the perfect combination of patient, physiology and medicines,' Ms Ng said.
'I owned a small community pharmacy for 10 years in Myaree before I transitioned into education, teaching clinical pharmacy for 12 years at Curtin University.
'When I finished university, I was asked to do a few tutorials and found that devising ways to explain complex concepts was natural to me and students responded to me positively.'
Ms Ng currently lectures part-time at Charles Darwin University and remains passionate about the pharmacy profession.
'I am especially proud when I meet ex-students in pharmacies, and they tell me how my teaching has influenced them in the way they work,' she said.
'When I write lectures, it is not just about the diseases or the treatments, it is also about how the patient is to be understood and respected during the interaction.
'Patients may not remember what you tell them, but they remember how you made them feel.'
Improving burns care
Dr Sim also paid tribute to Early Career Pharmacist of the Year Karis Butler, who has
improved burns management and care provided to patients in her community pharmacy.
'Noticing a gap when it came to burns management, Karis has worked tirelessly towards closing this gap, working closely with the Fiona Wood Foundation and guiding other pharmacists on how to implement important steps when it came to burns management,' Dr Sim said.
Ms Butler, a pharmacist at Terry White Chemmart, told AP she was inspired to start this work after her partner was hospitalised with a burns injury in 2013 and she was put in touch with the foundation.
'I am passionate about early assessment and referral of burn injuries, as I have seen first-hand how this can affect the outcomes,' Ms Butler said.
'I have referred a number of burn injuries where at times the patient was reluctant to go to hospital, but later came back to thank me for [referring them].
'The ultimate goal is to achieve scarless healing.'
A research article Ms Butler worked on has provided a reference tool for pharmacists to use.