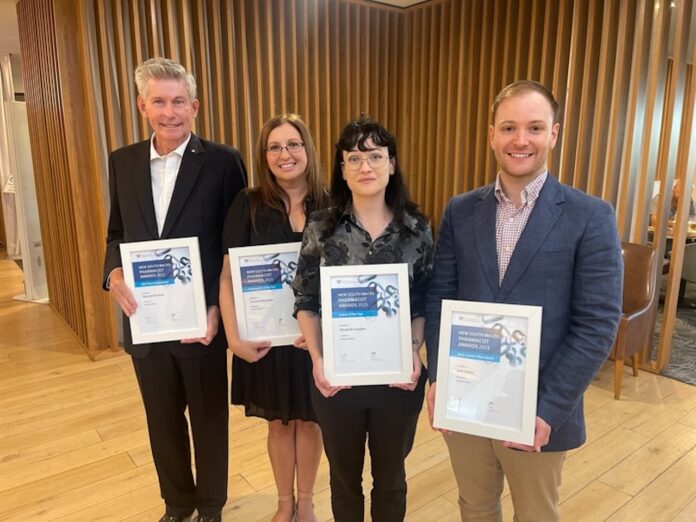 They paved the way for expanded scope of practice for pharmacists, vital programs that advanced the profession, important research and opioid harm minimisation.
Four high achievers were presented with PSA's New South Wales Excellence Awards at the NSW Annual Therapeutic Update held at Port Stephens at the weekend.
Recognising their contributions to a rich and diverse profession, PSA's NSW Immediate Past President Professor Peter Carroll congratulated the winners.
'All of the pharmacists recognised in the NSW Excellence Awards have made significant and lasting contributions to their communities and the pharmacy profession. Excellence in pharmacy means excellence in patient care,' he said.
Here are your winners
Intern of the Year, Elizabeth Langdon was the primary mover in implementing the Opioid Harm Minimisation strategy with the Take Home Naloxone program and Safescript NSW rollout across three pharmacies on the NSW South Coast.
At Priceline Pharmacy Shell Harbour, Amcal North Nowra and Callala Bay Pharmacy, she used excellent communication skills to achieve good patient outcomes, often liaising with consumers, pharmacists and general practitioners as well as undertaking a lot of supervised vaccine injections during the pandemic.
Ms Langdon is believed to be one of only a handful of students who completed her Masters degree in the required 2-year time frame, despite the setbacks of the COVID-19 outbreaks.
For his research in pharmacy practice, which has impacted the profession via improved understanding of the delivery of pharmacy and health services as well as optimisation of medicines management services by community pharmacists, Dr Jack Collins MPS is the 2023 Early Career Pharmacist of the Year.
After being awarded the University Medal when he graduated from the University of Sydney in 2015, he was named 2018 recipient of the International Pharmaceutical Federation's Young Pharmacists Grant for Professional Innovation. In 2020 he completed his PhD in community pharmacy facilitation of consumer self-care and has authored more than 20 peer-reviewed journal articles and several book chapters.
Mr Collins has extensive experience in teaching and curriculum development – particularly in pharmacotherapy for the university's dental degree, for which he is one of few pharmacists involved. He has also tutored students through the Indigenous Tutorial Assistance Scheme at the University of Sydney where he remains an academic.
Can you see yourself here?
Simone Diamandis FPS led pharmacists in NSW throughout the COVID-19 pandemic advocating for regulatory change and the expansion of pharmacist-administered vaccines. In 2022 her advocacy and leadership had a direct impact on the expansion of pharmacist-administered vaccination and state-wide funding for the influenza vaccine program. And, via many extensions to the temporary emergency authority, she was a strong advocate for regulatory change and improved access to medicines for NSW residents.
In her former role as NSW PSA State Manager, she had a significant political impact on state politics, the Department of Health and pharmacist practice to drive policy change and improvements for pharmacists to better support their communities.
She played an integral role in attracting funding for the North Coast PHN trial of pharmacists and minor ailments as well as other projects. These included pharmacist administration of depot buprenorphine, palliative care education for pharmacists and staff, piloting pharmacists screening for hepatitis C and supporting the NSW roll out of real-time prescription monitoring.
Warwick Plunkett AM FPS, a two-time PSA National President, received the Lifetime Achievement Award for his enormous contribution to pharmacists and the profession over 5 decades in a large variety of roles.
These include establishing the Return of Unwanted Medicines (RUM) program, which has reduced potential harm from the presence of out of date or medicines that are no longer useful around people's homes. He also helped develop and introduce the PSA Self Care Program, which assists pharmacists in counselling patients on the appropriate use of their medicines.
And for 47 years, the retiring PSA National Board member has been the Chairman of the PSA OffShore Conference, which, after a pandemic hiatus, will be held in Greece in June this year.
For more information on Warwick Plunkett, read the Member Insight column in the April issue of Australian Pharmacist.