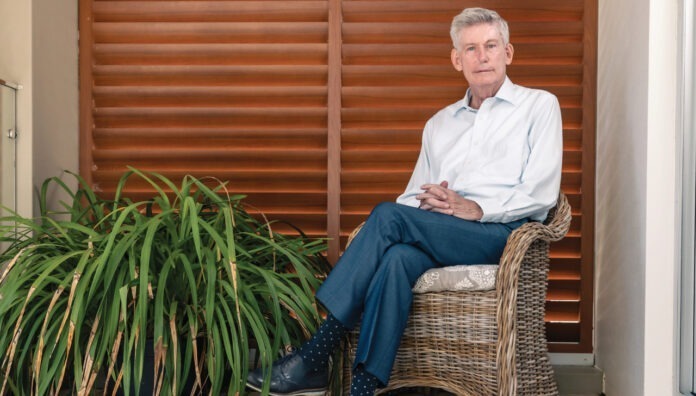 Warwick Plunkett AM, FPS, twice a former National President of PSA, is the NSW Lifetime Achievement Award winner for 2023.
Why choose pharmacy?
Pharmacy started in the family with my great grandfather, who migrated from Scotland in the gold rush period. Although qualified as a doctor, he chose to operate a pharmacy in Forbes, NSW, where it was rumoured he treated local bushrangers at the back door. My father was also a pharmacist. He served on the Council of the Pharmaceutical Society of New South Wales, including a term as President, during which time he was also elected National President of PSA's predecessor, the Pharmaceutical Association of Australia. So, growing up in the back of his Croydon pharmacy and seeing his work in official pharmacy, I believed this would be the best career for me. We are the only father and son to have served as both state and National Presidents of a pharmacy organisation.
How has the profession changed?
I started at the beginning of the university degree course for pharmacy when extemporaneous preparations were replaced by more potent ready-packaged medicines. Compounding and herbal medicines made a comeback 5 decades later. Restriction on pharmacy ownership to pharmacists was introduced back then, with regular advocacy required to keep it in place. When asked when open ownership will arrive here, my answer for the past 50 years has been 'not in my lifetime'. The introduction of the first Community Pharmacy Agreement in 1990 stabilised the industry, and our medicine scheduling system has restricted the sale of most medicines to pharmacies.
The rise of discounters was a major disruptor in this space, leading to a greater interest by many pharmacies in extending their professional services, including vaccinations. The recent COVID-19 pandemic has been the other major disruptor, but this time demonstrating the value of community pharmacy in utilising public accessibility and full scope of practice skills. Increased remuneration and government support for more professional services has resulted in setting up great opportunities for our professional future.
What's your advice to those thinking of nominating for branch elections?
A vision for the profession's future, a passion for what a pharmacist can deliver, and a desire to see our potential achieved are the starting points for seeking election to a PSA Branch Committee.
Your proudest achievement?
My strength was to produce good ideas to enhance PSA and the profession, and then find clever people to help deliver them. In education, this was the introduction of weekend schools, the annual flagship conference and the Offshore Refresher Course; in practice support, it was the Pharmacy Self Care program and the Return Unwanted Medicine program; in communication, it was the NSW Pharmacist magazine, which led to Australian Pharmacist; in recognising our high performing members, it was the PSA Excellence Awards. On my third attempt, I played a major part in the unified PSA and became the first President of the national organisation in 2008.
Interesting areas you influenced?
As a 48-year member of PSA's NSW Branch and serving on the National Board for 25 years, including two separate terms as President on both, the advancement of the profession through the work of PSA has always been my driving force. I am pleased many of my initiatives have been successful and long-lasting, including the Offshore Conference in its 47th year, the Pharmacy Self Care program in its 40th year and the Return Unwanted Medicine program in its 25th year, all supporting the needs of PSA members.
An offshore conference in Greece?
Back this year after a COVID pandemic hiatus, it will be quite an experience, like the experiences of the 150,000 PSA members who attended previous exotic locations, with their intoxicating mixture of high-quality therapeutic education, pharmacist networking and spectacular social functions.
Your advice to ECPs?
Be passionate, proud and positive about being a pharmacist. It is simply the best profession to be in.