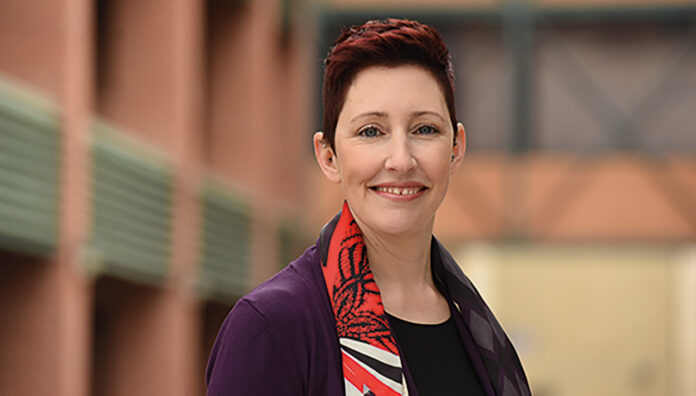 Dr Janet Sluggett MPS is a 2020 Young Tall Poppy of Science and 2017 PSA SA/NT Pharmacist of the Year whose academic research and expert witness testimony at the aged care royal commission last year resulted in recommendations and changes to the RMMR program.
What led you to pharmacy?
I grew up on a farm in country South Australia and my parents always encouraged me to go to university. I did my high school placements at two local pharmacies and wanted to study something health-related. My first 2 years at university were spent studying medical and pharmaceutical biotechnology and working as a casual pharmacy assistant. I enjoyed working with patients more than being in the lab, so I applied to transfer over to the pharmacy degree. It was the right decision – plus I met Andrew, my partner of 18 years, in the elevator of the Reid Building on my way to my first pharmacy prac!
What sparked your interest in aged care?
I completed my internship at Flinders Medical Centre (FMC) and stayed on thereafter. Six months into my first year as a registered pharmacist, a part-time position arose in a nearby transition care unit run by FMC and an aged care provider. It appealed to me instantly. I spent more than 2 years working parttime in the transition care unit, providing RMMRs, clinical services and participating in weekly case conferences before moving onto clinical pharmacist positions in comprehensive stroke units. The interdisciplinary team environment is what I love about clinical practice.
How did you wind up doing a PhD at the University of South Australia (UniSA)?
During my final undergraduate year at UniSA, I undertook an honours project with Professor Allan Evans and that really sparked my interest in research. I flew on a plane for the first time ever to Melbourne to present my honours work at the 2005 APSA/ASCEPT conference. As much as I love working clinically, I knew deep down I wanted to undertake research training. I was excited about using big data to improve stroke management and began a PhD in stroke pharmacoepidemiology. Emeritus Professor Andy Gilbert was my inspirational PhD supervisor. We discussed quality use of medicines (QUM) nearly every week for almost 4 years. I'm so grateful for those discussions because QUM has informed all my subsequent research.
How would you describe your research?
I use two main approaches. Firstly, I analyse big data to generate new evidence about medicines safety and effectiveness in older people. Being solutions-focused, my work also involves developing and testing interventions to improve medicine management in aged care and enhance pharmacy practice.
How did overseas fellowships help your research and career?
I did a 6-week research visit with the University of Finland in 2018 and a 4-month Endeavour Research Fellowship with Kaiser Permanente, a large health maintenance organisation in San Diego in 2015. The Nordic countries have some of the most amazing registries, with medicine use data extending back decades. This means we can look for links between medicines use and health outcomes in real-world populations over many years. I fell in love with the United States and have made frequent trips back since. Working overseas was important to learn about different health systems, ways of living and working, and learning new research techniques.
Why are you passionate about pharmacy?
I'm a quiet achiever but a strong advocate for our profession. I'm really excited about the emerging opportunities for pharmacists to practise at our full scope in aged care.
What do you find most satisfying about work, and what are your big dreams?
I love the constant challenge of research. There is always a different problem to solve which often requires a new technique or approach. I also enjoy collaborations with pharmacists, students, health professionals from other disciplines or patients, and am constantly learning new things. I want my work to help make a meaningful difference. I'm looking forward to what's on the horizon for our profession, both in aged care and other areas of practice.
DAY IN THE LIFE
of Dr Janet Sluggett MPS, Senior Research Fellow at UniSA and the South Australian Health and Medical Research Institute, Adelaide.
Early am – Thinking ahead
Check Outlook calendar and Trello app that I use to schedule tasks, and plan activities for the day.
9.00 am – Respond to reviewer comments
Revise manuscript that examines variation in the provision of medication reviews on entry to aged care facilities and send to co-authors for feedback before resubmission to an academic journal.
11.00 am – Catch up with students
Zoom meeting with PhD candidates to discuss current research projects in aged care, or with students/pharmacists wanting to undertake a research project/degree.
1.00 pm – Planning new projects
Meet with aged care collaborators from the Registry of Senior Australians to discuss our new MRFF-funded project to examine primary care provision in aged care recipients. Busy planning projects to examine links between primary care service use, medicines use and health outcomes.
2.00 pm – Data analysis
Use a statistical software package to analyse national data to uncover new information about medicines use and provision of medication reviews in aged care. In between, chat with a colleague about some new findings and the best way to present these in a report.
4.00 pm – Presentation preparation
Quickly submit a bio and abstract for a presentation at an upcoming virtual conference, then work on PowerPoint slides for a talk later in the week on quality use of medicines in aged care facilities.
5.30 pm – Heading home
Head home for a run then spend time with family.
8.00 pm – Homework
Try to keep evenings work-free but sometimes read emails, board papers or peer-review manuscripts. This particular week I give a medicines safety presentation at a community event one night, and grant application feedback to a colleague on another, but have a few nights off too!
Explore new paths at www.psa.org.au/careerpathways