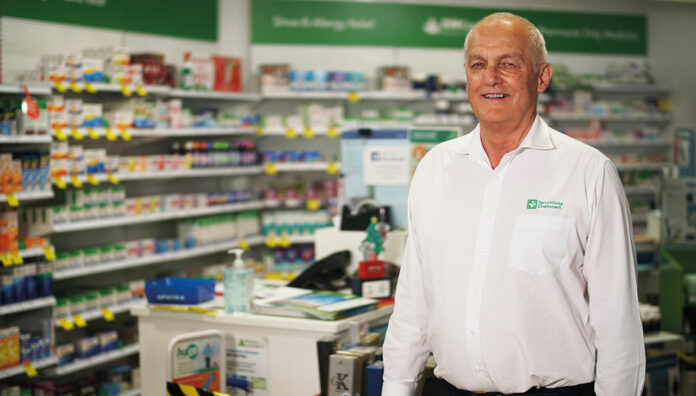 A desire to be his own boss set PSA Life Member Richard Edwards on the path to pharmacy ownership. The gamble paid off, with 43 years in business at his Melbourne pharmacy and no sign of slowing down.
What attracted you to a career in community pharmacy?
My father was a doctor who came through the depression in the 1930s, so he saw firsthand the devastating effect of thousands of people losing their jobs. He did not care what career I followed, but was very big on the fact that if I could be my own boss I would be able to control my future and would always have a job.
Pharmacy provided this pathway and, being part of a family working in health, it seemed an attractive career. I did toy briefly with engineering, but the attraction of being my own boss held sway.
Can you describe your path to pharmacy ownership?
I completed my degree at the Victorian Pharmacy College in 1968 and spent my first year out as a locum pharmacist travelling around Melbourne with some stints in the country. This proved to be a great learning period.
In 1969 I was offered the chance to start and manage the opening of the pharmacy at Monash University for the Friendly Societies of Victoria. I did this for about 10 months before heading to the United Kingdom for 2 years, where I travelled and worked in hospital and community pharmacies in London. This was another great work experience.
After returning to Melbourne, I worked in a community pharmacy for 4 years, before deciding I would like to run my own business. A good mate of mine (and fellow pharmacist) Ed Johnson suggested Narre Warren as a good place to look, and I took the plunge in 1977. Ed's prediction was correct, and 43 years later I'm still there as a part-owner along with one of my daughters, Rebecca, and Peter, one of Ed's sons. We own two pharmacies in the area. They (the kids) run the show and I help fill in and do a fair bit of administration.
How has pharmacy evolved since you started out 5 decades ago?
The biggest evolution has been the advancement of technology, starting with the simple machines used to process prescriptions in the 1980s, up to today with our much more advanced computers with connections to the Department of Health and Human Services, wholesalers, service providers, doctors and consumers.
I need to be in partnership with young people to understand all the computer programs and apps. Legal changes over the journey have also been significant. For example, the new rules around codeine sales. The thing that hasn't changed is the community service we provide. I firmly believe if you provide great service the rewards will follow.
Your advice for young pharmacists?
Get as much experience as possible in as many fields as possible. The pharmacy industry offers a much larger number of careers now, be it in community, hospital, education or corporate roles.
If you wish to go into community pharmacy as an owner, I think the days of opening a greenfield site are very limited with all the restrictions now in place. Getting involved in partnerships in existing businesses is the way to go because it gives you much more flexibility and support.
Thoughts on retirement?
I am well known for saying retirement is overrated. I have retired or semi-retired twice, but I like to keep active and keep my mind working, and being a part-owner helps with this. I can still get away and travel whenever I want to (post-pandemic), but wondering how to fill in my day does not appeal to me.
What do you see as important for medicine safety in 2021 and beyond?
Medicine safety is a huge issue and I am pleased to see various professional bodies are embracing the topic.
In the future, I would like to have even better communication and co-operation between doctors, hospitals, pharmacists and allied health professionals, as they all have a significant role to play.
It is getting better but there is still room for improvement.