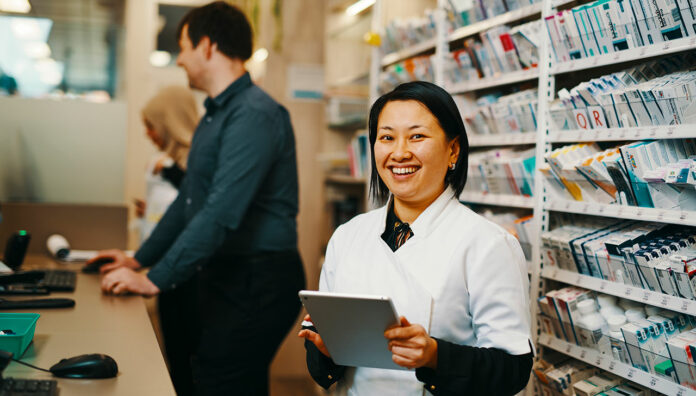 From a compounding 'recipe' book to medicines handbook and formulary: after 119 years, the indispensable pharmacists' reference guide has evolved to match practice with its second digital as well as 25th print edition.
Every pharmacy must have it on the premises, and the release of the 25th edition of the Australian Pharmaceutical Formulary and Handbook1 is an important event in the history of the profession's authoritative reference book.
There have been significant changes and updates as well as some new inclusions. All changes, updates and new inclusions have been reviewed by the APF Editorial Board.
Key among the changes, according to Editorial Board Chair, University of South Australia Emeritus Professor Lloyd Sansom, AO, FPS, is the instruction on the revised cautionary advisory label D.
The label D instruction to take antibiotics 'until all used' or 'until all taken' will be replaced with the instruction 'take for [the number of] days as advised by your prescriber', after extensive stakeholder consultation with prescriber and consumer groups. If the patient is not aware of the prescribed duration for antibiotic treatment, and the prescription does not specify it, then the pharmacist should contact the prescriber. These changes have been communicated to prescribers via their professional bodies.
'Label D reflects a changed approach to the duration of antibiotic therapy, to reflect contemporary advice in regard to the growing concern with antimicrobial resistance,' Prof Sansom explains.
Another key change to cautionary advisory labelling is a new label 24 to address the widespread use of opioids, and issues with overdose and addiction.
'Both of these new labels will require pharmacists to take a more active role in counselling patients/carers when these common medicines are dispensed,' Prof Sansom says.
He also draws attention to the edition's expanded section on compounding medicines. It includes a separate chapter on compounding of sterile and hazardous medicines.
It clarifies pharmacists' responsibilities when compounding medicines for individual patients. There is also a new section on medicine safety in response to the Government's addition of 'Medicine Safety' to the list of National Health Priorities. Also included in this edition are new non-prescription medicine guides for acne, dermatitis and urticaria, adrenaline (epinephrine), astodrimer, glucagon, high-concentration fluoride toothpaste and nitrates.
'All sections have been updated to reflect current knowledge and guidelines,' Prof Sansom says.
Alongside the printed edition, the APF continues to be available in an online digital format with enhanced search capabilities to assist pharmacists. APF digital's big advantage is the scope to source health information faster, from any device, and to bookmark information for quick future access. With pharmacy practice evolving over the decades, the APF has always kept pace to live up to its reputation as an essential and authoritative reference. After early gaps of a decade or more between updates, new editions have been published every 3 years since 1997.
'Pharmacists use the APF in their everyday practice,' reminds PSA's General Manager – Knowledge Development and State Manager Victoria, Stefanie Johnston. 'Pharmacists use APF cautionary advisory label information every time they dispense a prescription.'
A valuable resource
When PSA NSW Branch Committee President Chelsea Felkai MPS was studying pharmacy, the focus was on using the APF solely 'for its formulary'. But she feels it is an underutilised resource that can come in very handy.
'It has a really good section on medicines in breastmilk, for example, which many external resources don't adequately address,' she says. 'Information about the underlying principles of how these drugs enter breastmilk allows pharmacists to make better decisions about the safety of using certain medicines while nursing.
'The handbook also lists medicines that reduce [milk] supply, such as pseudoephedrine, which are important to avoid, particularly when a new mother is trying to establish breastfeeding.'
There is also 'a great section on non-prescription medicines,' Ms Felkai points out. 'This includes management of conditions such as head lice, bacterial conjunctivitis and dermatitis. There is also a brilliant overview of wound care.
'Recently, a patient had been in a car accident outside the pharmacy and came in because the airbag caused a big graze on his arm. We got the scrapes cleaned, disinfected and covered before I sent him to the hospital for a more thorough assessment.'
CHELSEA FELKAI MPS PSA NSW President
Evolution of APF
The APF's 1st edition, a 'pocket-sized' 27-page publication that medical practitioners could carry with them when seeing patients, was released in 1902 as a joint production of the state pharmaceutical societies of New South Wales, Victoria, Queensland, South Australia and Western Australia. Drawing on British ideas about the need for reliable, standardised prescriptions and uniformity in dispensing, the first APF contained 22 formulae and included liquids, elixirs, mixtures, emulsions, throat sprays and liniments (see Timeline).
The role of the pharmacist has evolved and expanded significantly since the first edition, and the APF has grown and developed along with the profession. The APF is an essential reference for guidance on best practice. It continues to provide practical, current and evidence-based information that pharmacists can use every day in practice. As pharmacists further grow their role, the APF will continue to evolve.
The way pharmacists access information has also changed. In 2018, APF introduced an online digital version to make it easier to access the APF's valuable content electronically ! such as on the dispensing desktop or on a pharmacist's mobile device.
Prof Sansom says APF digital enables efficient searching for content, providing easier access for pharmacists. The new edition, he forecasts, will be an indispensable professional asset for pharmacists with information 'relevant and practical to everyday practice'.
APF timeline
1902
1st edition contained 22 formulae, including liquids, elixirs, mixtures, emulsions, throat sprays and liniments, reflecting medicine-taking practices of the time. Distributed in 'pocket-sized' form to chemists and medical practitioners.
1911
Still pocket-sized, contained many more formulae, plus information about factory-made medicines, including Aspirin.
1921
3rd edition included formulae considered able to be made in any reasonably equipped pharmacy, some formulae developed from original experiment, others based on formulae published in the British Pharmaceutical Codex.
1925
Chemical synonyms and trade names replaced in 4th edition by tables of doses, poisons and antidotes, notes on prescribing in metric, and a code of rules promoting dispensing uniformity.
1930
5th edition included information aimed at prescribers, simpler formulae reflecting preparations used in private practice and hospitals.
1934
6th edition, dental formulae introduced.
1947
Penicillin first included in 7th edition. 1955 Compounded medicines largely replaced by manufactured tablets and injections. 8th edition included the first infant's formulary.
1964
Largely rewritten, with safety concerns about ophthalmic preparations also addressed.
1969
About 70 preparations deleted due to recognised adverse e! ects/disuse.
1974
Title change to Australian Pharmaceutical Formulary and Handbook. 11th edition introduced cautionary advisory labels (CALs).
1978
APF moved to more than pocket-sized in 12th edition. New sections on infectious diseases, immunisation schedules, normal physiological values, pharmacokinetic data and guidelines for parenteral nutrition.
2009
21st edition introduced counselling guides for non-prescription medicines.
2012
New chapters on dispensing practice, HIV and antiretroviral therapy, palliative care, etc. in 22nd edition.
2015
23rd edition included new chapters on immunisation, biosimilar medicines, screening and risk assessment.
2018
24th edition included new chapters on medicines and diet, and added guidance on provision of Pharmacist Only naloxone.
2021
APF25 contains revised CALs for antibiotics and opioids, new section on medicines safety and expanded section on compounding.
Reference
Pharmaceutical Society of Australia. Australian Pharmaceutical Formulary. At: psa.org.au/media-publications/australian-pharmaceutical-formulary/