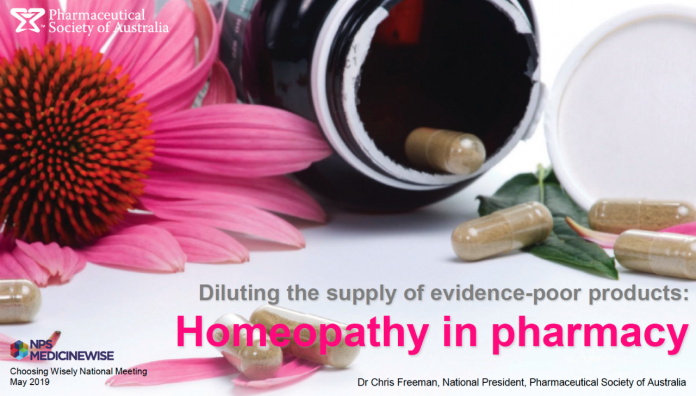 The quality use of medicines is vital to ensure a sustainable healthcare system and better health outcomes for consumers.
This was the dominant theme at the recent Choosing Wisely Australia national meeting, held last week in Melbourne. The annual event, hosted by NPS MedicineWise, brings together Choosing Wisely members, policy makers, consumer advocates and other healthcare influencers to discuss the highlights, challenges and opportunities that the initiative presents.
PSA's Choosing Wisely recommendation earlier this year to remove all homeopathy products from pharmacies was praised in the opening address by NPS MedicineWise CEO Steve Morris.
PSA sent a letter to healthcare professionals urging them not to stock these medicines due to the lack of evidence to support their efficacy, generating a wave of media attention.
PSA National President Dr Chris Freeman also presented a poster supporting the homeopathy recommendation – explaining PSA's call to remove homeopathic products from pharmacy shelves due to the unspoken message about their safety and efficacy that may be conveyed to patients through their availability.
Other key insights for pharmacists at the meeting centred around medicine safety, presented through discussions and posters, highlighting appropriate healthcare messaging, deprescribing, and systems maps.
The right message
The keynote presentation by Trish Greenhalgh, a renowned UK-based Professor of Primary Care Health Sciences, discussed how to implement systems to ensure medicine safety while communicating their value to the various stakeholders involved. Ms Greenhalgh recommended considering all the different stakeholders involved in a system change, evaluating what they want, then how to make the change attractive to them. Flexibility was key, she said: 'The message won't be the same across the board.'
'How do we make medicine safety attractive to consumers?' posed PSA Victorian Branch Vice President Amanda Cross. 'While people may not want to experience medication errors, they will often follow GP advice because they hand over their trust to the doctor.
'We as pharmacists need to work out better ways to educate and empower consumers to ask those important questions about their prescribed medicines.'
Deprescribing
Several posters dedicated to deprescribing were presented by Austin Health around proton pump inhibitors and slow-release opioids post-surgery. They also presented a poster about deprescribing in a hospital setting using the Drug Burden Index (DBI) to identify when the burden of sedative anticholinergic medicines might be too high on older patients, which could then trigger pharmacists or doctors to review medications.
The DBI scores medicines based on their sedative and anticholinergic properties and the dose that a person takes, giving them an overall score for their medication regimen. There is a growing amount of research which corresponds that score to cognitive or frailty outcomes, Ms Cross said.
'The DBI was only designed a few years ago, so it is a growing area. There is some work, conducted by the University of Sydney, which advocates for DBIs being implemented in Home Medicines Reviews to see whether that helps GPs better accept or understand the recommendations that pharmacists make,' she said.
Systems map
Another keynote speech focused on how to implement interventions in complex health systems. By mapping the complexities that each consumer has to go through to navigate the healthcare system, their progress can be monitored.
'We as healthcare professionals might think that the hospital process, for example, is quite streamlined. But from a patients' perspective – seeing different health professionals, going from hospital back into the community or from hospital to a Residential Aged Care Facility – it is quite complex,' Ms Cross said.
'In terms of medicine safety, these transitions of care are dangerous spots where the quality use of medicines is crucial, so it's really important to understand the complexity that consumers have to go through.'
The speech reiterated that communication in transitions of care – both verbal and written – needs to be watertight to ensure that nothing slips through the gaps and there are no additional avenues for errors can occur.
'There needs to be communication channels between many different parties – between the discharging doctor and discharging pharmacist in the hospital, between the discharging doctor or pharmacist and the GP or community pharmacists, and even with the family and the patient themselves. It needs to be made clear if and why a medicine was discontinued to prevent confusion and misadventure,' Ms Cross said.