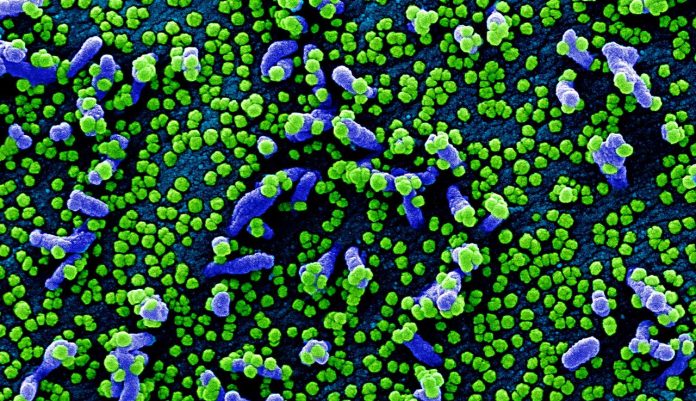 PSA is hosting a live webinar on COVID-19: Your questions answered tonight (25 March, 7:30pm EST).
PSA members can register 

here

.


Elective surgeries will be cancelled, Australians are banned from travelling overseas and more non-essential businesses will close their doors as cases of COVID-19 in Australia surge past 2,000.
And for the next 6 months, consumers in New South Wales (NSW) can receive a maximum PBS quantity of medicine or pack size under an extension to the special authority for emergency supply of medicines without a prescription.
In a move welcomed by PSA, which extends the emergency supply provisions that were put in place during the bushfire crisis only months ago, pharmacists can supply the medicines if satisfied there is immediate need. 
The medicine must have been previously prescribed and be for the continuation of current essential treatment when obtaining a prescription is impractical, PSA NSW President Professor Peter Carroll announced in a press release this afternoon.
'We are hearing from patients that their GPs are overwhelmed and [it] can be difficult to get an appointment. This flexible approach to health care will ensure pharmacists can continue to support the community during the COVID-19 pandemic,' he said.
COVID-19 key points this week
From midnight tonight, all non-urgent elective surgeries will be suspended to allow public and private hospitals to prepare for a major outbreak of the novel coronavirus, Prime Minister Scott Morrison announced earlier today. 
'Cancellation of elective surgery will allow the preservation of resources like personal protective equipment and allow health services to prepare for their role in the COVID-19 outbreak,' he said.
The Prime Minister also announced the creation of the COVID-19 Coordination Commission, which is designed to bring the public and private sectors together to help deal with the crisis.
Of the 2,252 confirmed cases in Australia, eight people have died and 197 have been hospitalised because of illness. More than 162,000 tests have been conducted.
To date, most cases have been acquired overseas, although many are still under investigation to understand the source of the infection.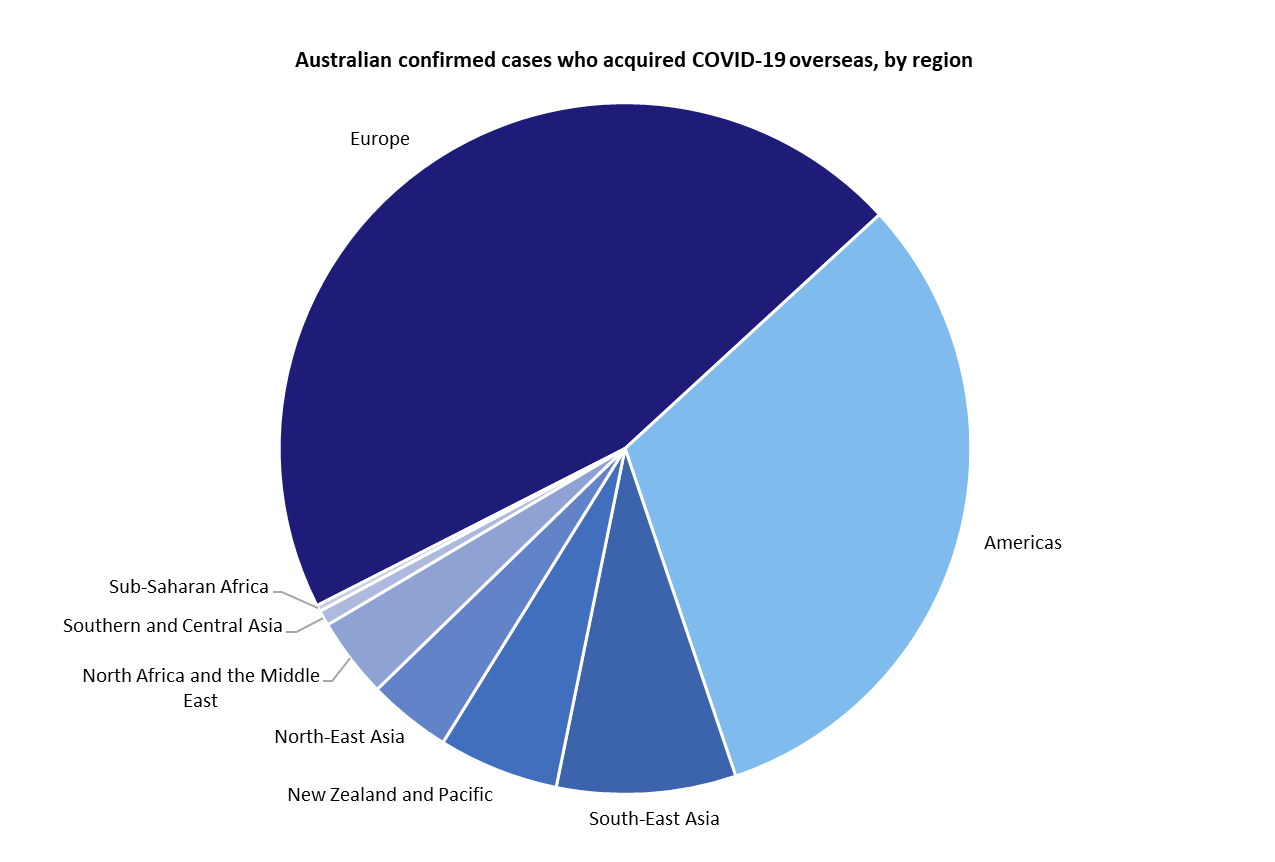 There are also increased restrictions on social gatherings to prevent the spread of the disease.
Retail premises will need to display a sign saying how many people can be in a store at one time, keeping at least 4-square-metres of space available for each person.
At a press conference this afternoon, Australia's Deputy Chief Medical Officer Paul Kelly reinforced why it is important for the public to remain at home, unless absolutely necessary.
'If we did not take any of the measures about social distancing and decreasing the mixing that we do on a daily basis, then one person with the disease – not taking any of those social distancing or hygiene messages seriously – will infect three people,' he said.
'Every one of those three people, if they do not take those messages seriously, will infect another three people, and so on. Within a month, one person will result in 400, on average, 400 other people. That is the disaster situation we've been seeing in other countries.'
Across the Tasman, New Zealand Prime Minister Jacinda Ardern has declared a state of national emergency ahead of the country going into complete lockdown at midnight. All non-essential businesses will close and people must stay home for at least 4 weeks. 
NZ currently has 205 confirmed cases of COVID-19. 
Limits on dispensing
Pharmacists have been told to limit the supply of certain prescriptions and over-the- counter medicines to halt panic-buying. 
The measure, announced by Professor Kelly last week, follows community pharmacies reporting a run on product lines such as Ventolin, children's Panadol and Nurofen.
Pharmacists must limit dispensing of certain prescription products to one month's supply at the prescribed dose, and sales of certain over-the-counter medicines to a maximum of one unit per purchase.
In addition, pharmacists are strongly encouraged to limit dispensing and sales of all other medicines to one month's supply or one unit.
Dispensing of multiple repeats is only permitted for valid Regulation 49 prescriptions, which must only be written by prescribers when hardship provisions apply.
Pharmacists are also now required to follow new procedures for dispensing salbutamol, including seeing evidence of the patient's diagnosis, labelling the product and recording the supply.
PSA National President Associate Professor Chris Freeman said limiting the dispensing of prescription and over-the-counter products was necessary.
'The government has made it clear to the public that it is critical to stop stockpiling medicine to protect the access of medicines to all Australians,' he said.
While there is currently no anticipation of widespread national medicine shortages, if current levels of demand due to excessive purchasing continue, supply interruptions will occur, A/Prof Freeman said.
Pharmacists are also now required to place paracetamol paediatric formulations behind the counter and to follow new procedures for dispensing salbutamol, including labelling the product and recording the supply.
Restrictions on prescribing hydroxychloroquine
The TGA has implemented changes to the Poisons Standard (effective from 24 March) to restrict who can prescribe hydroxychloroquine, sold as Plaquenil in Australia.
Initial treatment of a patient with hydroxychloroquine is now restricted to specialists in any of the following specialties:
dermatology

intensive care medicine

paediatrics and child health

physician

emergency medicine.
GPs cannot initiate treatment with hydroxychloroquine for a patient. However, GPs can authorise (prescribe) continuing supply of hydroxychloroquine for a patient (after specialist initiation).
Demand for the medicine skyrocketed after US President Donald Trump described the drugs as a 'game changer' during a press conference last week.
In an open letter to prescribers, A/Prof Freeman said pharmacists had seen unprecedented demand for the drug. 
'PSA is receiving reports from Australian pharmacists that they are receiving prescriptions from doctors prescribing for other doctors and their families; as well as dentists prescribing to the community and their families; and non-medical prescribers prescribing bulk amounts of the drug,' A/Prof Freeman wrote.
'If this medication does indeed have the efficacy that we would desire against COVID-19 then it needs to be prescribed and used judiciously. The stock of this medication needs to be managed effectively and utilised for those who may genuinely need it.'
Clinical trials are underway on the potential of hydroxychloroquine to treat COVID-19, but the TGA warned of the dangers of off-label use.
'These medicines pose well-known serious risks to patients including cardiac toxicity (potentially leading to sudden heart attacks), irreversible eye damage and severe depletion of blood sugar (potentially leading to coma),' a statement on the TGA website said.
'Given the limited evidence for effect against COVID-19, as well as the risk of significant adverse effects, the TGA strongly discourages the use of hydroxychloroquine outside of its current indications at this time other than in a clinical trial setting or in a controlled environment in the treatment of severely ill patients in hospital.'
COVID-19: Latest advice for pharmacists



For PSA's latest information, updates and advice related to the novel coronavirus outbreak, 
visit: 

www.psa.org.au/coronavirus