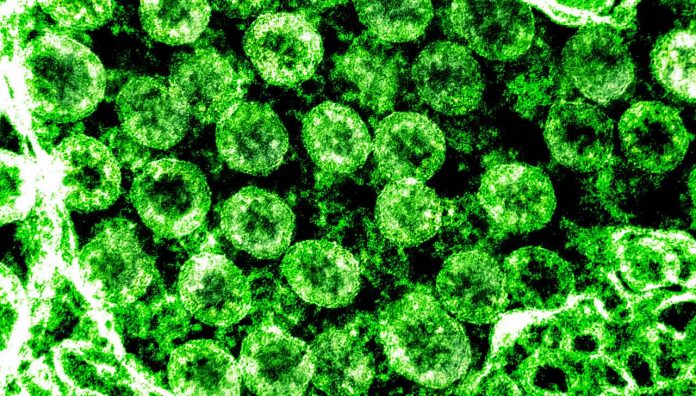 Health authorities have urged Australians returning from Iran to self-quarantine for 14 days as Australia reports its first cases of human-to-human transmission of COVID-19.
There have been at least three cases of local transmission so far, all in NSW, including a 41-year-old woman who could be traced to her infected brother who recently returned from Iran.
However, a 53-year-old doctor at Ryde Hospital and a woman in her 50s working in aged care at Dorothy Henderson Lodge in Macquarie Park also contracted the virus, despite not travelling outside of Australia recently or knowingly being in contact with an infected person. 
NSW Chief Health Officer Kerry Chant said health authorities were trying to determine how the doctor acquired the infection and that 40 staff at Ryde Hospital had been told to isolate themselves for 14 days. 
She said the emergence of community spread in multiple countries outside mainland China demonstrates how quickly the virus can pass from person to person. Iran reported its first COVID-19 case on 20 February 2020. This grew to 1,501 cases and 66 deaths as of 3 March 2020.
'We have been prudently planning and regularly reviewing everything from [emergency department] and intensive care capacity, staff capacity and training and supplies of critical medical equipment to streamlining how we manage patients with acute respiratory illness,' Ms Chant said.
'While the few COVID-19 cases in NSW to date have been mild, the global spread of the virus, coupled with flu season fast approaching, means the situation for our hospitals could change quickly so we're asking everyone to plan now.'
Australia currently has 42 confirmed cases of COVID-19. One person has died, 78-year-old Western Australian man James Kwan, who was a passenger on the Diamond Princess. He was repatriated from Japan along with his wife, Theresa, who is still battling the virus in a Perth hospital.
Key points
93,219

confirmed cases worldwide (up from 75,189 in the

last

AP

newsletter

)

3,198 deaths: 2,981 in mainland China; 79 in Italy; 77 in Iran; 28 in South Korea; 9 in the US; 6 each in Japan and from the Diamond Princess cruise ship; 4 in France; 2 in Hong Kong; and 1 each in Australia, the Philippines, San Marino, Spain, Taiwan and Thailand. 
50,681 recovered

Countries affected: China (including Hong Kong, Macau and Taiwan), South Korea, Italy, Iran, Japan, France, Germany, Spain, Singapore, US, Kuwait, Bahrain, Thailand, Switzerland, UK, Australia, Malaysia, Canada, Iraq, Norway, United Arab Emirates, Netherlands, Austria, Vietnam, Sweden, Lebanon, Israel, Iceland, Belgium, San Marino, Qatar, Croatia, Greece, Ecuador, Oman, Finland, Algeria, Pakistan, Mexico, India, Czech Republic, Denmark, Georgia, Philippines, Russia, Romania, Azerbaijan, Indonesia, Brazil, Portugal, Egypt, Afghanistan, Nepal, Lithuania, Cambodia, Andorra, Saudi Arabia, Ireland, Nigeria, Senegal, Armenia, Dominican Republic, Estonia, North Macedonia, Morocco, Luxembourg, Monaco, Belarus, New Zealand, Latvia and Sri Lanka. 

In

Australia

: 15 cases in NSW, 11 in Queensland, 10 in Victoria, 3 in South Australia, 2 in Western Australia and 1 in Tasmania.
Australia's Chief Medical Officer Professor Brendan Murphy said the 14-day quarantine remains 'the best advice with a margin for error'.
'The evidence is coming out that the incubation period is generally less than 10 days, but … the international community is keeping the 14 days to provide a window of safety,' he said.
'We do believe that there are some people whose symptoms are so mild that they may be almost unaware that they're infected, particularly just as they become infectious.'
This is why quarantine is being practised for very high-risk situations, but all of the evidence suggests people are most infectious when they're symptomatic, he said.
Pandemic plan
Prime Minister Scott Morrison announced last week that the Coronavirus Emergency Response Plan would be initiated. 
'Based on the expert medical advice we've received, there is every indication that the world will soon enter a pandemic phase of the coronavirus,' Mr Morrison said.
Attorney-General Christian Porter said it is 'very likely' Australia's biosecurity laws, which were updated in 2015, will be used to help counter the spread of COVID-19.
'It's very likely that Australians will encounter practices and instructions and circumstances that they've not had to encounter before,' he told the ABC yesterday.
'There could be the declaration of what are called Human Health Response Zones and that could mean that there are specific requirements for screening measures for people going in and out of such a zone.'
For instance, people entering and leaving fever clinics could be ordered to undergo decontamination.
'These are the sort of things I think most Australians would expect that you would need to be able to do in a situation where you're trying to manage a pandemic, to slow its growth, to ensure the orderly presentations into the health system and out of the health system,' Mr Porter said. 
'But of course it's unlikely that people would have encountered these sort of measures before.'
Advice for pharmacists
In advice released yesterday, the ACT Health Department urged pharmacists to keep up-to-date on the list of countries considered to pose a risk of transmission. Find the list here.
If a patient with flu like symptoms has travelled to a country considered a risk, or has come into close contact with a confirmed case of COVID-19 in the 14 days before illness onset, pharmacists should:
Ask the patient to wear a surgical mask and request they avoid contact with others

Encourage the patient to present to their GP (after calling ahead)

Refer the patient to an emergency department if they need urgent medical attention
'P2 of N95 masks do not need to be worn by the patient or the pharmacist taking a travel and symptom history,' the advice states. 
To help prevent the spread of the virus, the Department of Health recommends people practice good hygiene, including:
washing your hands often with soap and water;
using a tissue and covering your mouth when you cough or sneeze; and
avoiding close contact with others, such as touching.