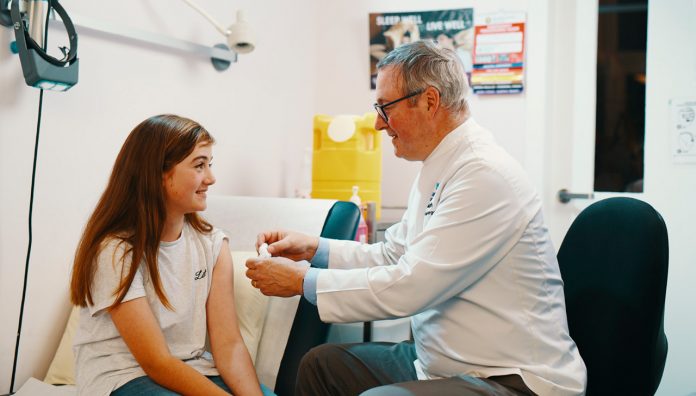 Trained pharmacists in Queensland will be able to administer travel vaccinations to people 16 years and older this month, in an Australian first that will help protect more people against vaccine-preventable disease.
Pharmacists in Queensland and New South Wales (NSW) will also be able to provide influenza vaccinations for children as young as 10.
Queensland Health Chief Health Officer Dr Jeannette Young announced the expanded vaccination services in Queensland last week. She also announced that 'trainee pharmacists' (pharmacy students and pre-registration pharmacists) who complete immunisation training will be able to administer a vaccine under the direction and supervision of a registered pharmacist who is also lawfully allowed to vaccinate.1
This week, NSW Health announced it would boost influenza vaccination rates for children in NSW by allowing pharmacists to administer the vaccine to children aged 10 and older.
'Already this year there have been 4,725 confirmed cases of influenza in NSW and with the likely convergence of a COVID-19 pandemic with winter influenza, this move will help to bolster immunity in NSW,' PSA NSW Branch President Professor Peter Carroll said.
Pharmacists who meet the requirements of the pharmacist vaccination program in Queensland2 will be able to administer the following vaccines to people aged 16 years and above2:
cholera, diphtheria, tetanus and pertussis (dTpa); 

diphtheria, tetanus, pertussis and poliomyelitis (dTpa-IPV); 

Haemophilus influenza type B; 

hepatitis A; 

meningococcal ACWY; 

poliomyelitis; and 

measles, mumps, rubella (MMR).
Additionally, pharmacists who fulfil the requirements will be able to administer the influenza vaccination to people aged 10 years and above.2
PSA Queensland President Chris Campbell commended the government's decision. 
'Less than 40% of at-risk adults are considered to be fully vaccinated and allowing trained pharmacists to administer more vaccines and to a wider cohort will significantly increase immunisation rates within the community,' he said. 
Pharmacists' 'high level of accessibility, combined with the trust consumers have in the profession, will encourage more people to get immunised', he added.
The decision to lower the age for influenza vaccinations is also welcome, considering Queensland's record-breaking flu season in 2019.
Mr Campbell told Australian Pharmacist: 'This expanded service improves access to immunisation services but pharmacists should continue to work collaboratively with their medical colleagues and other members of the healthcare team, and refer where appropriate.' 
'[It] opens up for more collaboration between health professionals than before and also prepares communities for outbreaks imported into an area such as measles,' he explained. 
Mr Campbell encouraged pharmacists to maintain appropriate knowledge and experience when providing travel vaccinations. Apart from the current edition of the Australian Immunisation Handbook, he recommended pharmacists refer to Smart Traveller for current information on vaccines and any health alerts for a consumer's intended destination.
Pharmacists in Queensland have been instrumental in progressing pharmacist-administered vaccination services in Australia through the Queensland Pharmacists Immunisation Pilot (QPIP) in 2014. 
As the peak national body for pharmacists, PSA has advocated for many years, including most recently in it's Queensland pre-budget submission, to allow pharmacists to deliver more vaccinations to a wider age range of patients and for provision of pharmacist access to National Immunisation Program (NIP) stock. 
'We will continue to work closely with the Queensland Government to achieve this,' Mr Campbell said.
PSA commends the Queensland Government and Queensland Health for continuing to progress the recommendations of the recent Pharmacy Inquiry by making use of pharmacists' expertise and training to better protect the community against vaccine-preventable diseases through the expansion of pharmacist-administered vaccinations. 
References
Queensland Government. Health (Drugs and Poisons) Regulation 1996. Drug Therapy Protocol – Pharmacist Vaccination Program. Version 3.0. 2020. At:

www.health.qld.gov.au/__data/assets/pdf_file/0031/443983/dtp-pharmacist-vaccination.pdf

Queensland Health. Queensland Pharmacist Vaccination Standard. 2020. At:

www.health.qld.gov.au/__data/assets/pdf_file/0016/444130/standard-pharmacy-vaccination.pdf