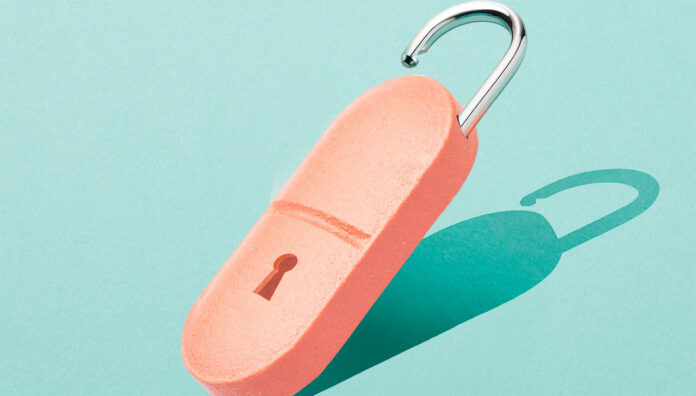 After years of little movement in downscheduling of medicines in Australia, 2021 will usher in a flurry of activity – but Appendix M remains conspicuously empty.
In some parts of the world, medicines for migraine, erectile dysfunction and contraception have been available under the equivalent of Schedule 3 of the Poisons Standard for some time.
New Zealand, the United Kingdom, Sweden and Canada are among the countries ahead of the game when it comes to accessing treatments for migraines and cluster headaches. It has taken Australia longer, but this month four types of triptan for migraines will be downscheduled by the Therapeutic Goods Administration (TGA) to Pharmacist Only Medicines, with some restrictions on dosage and indication1 (see Table 1).
Despite support from both PSA and the Pharmacy Guild of Australia to downschedule sildenafil, the TGA Delegate has ruled against it for now. Oseltamivir and the oral contraceptive pill have also been excluded.
Meanwhile in Queensland, a 2-year pilot trial began in June last year in which non-pregnant women aged 18–65 can seek immediate advice and treatment from a pharmacist, including the supply of antibiotics without a prescription, for uncomplicated urinary tract infections.2
In New Zealand, under its S3 equivalent, trimethoprim 300 mg is recommended for uncomplicated urinary tract infections in patients aged 16–65, with mandatory referral for anyone presenting outside that age range.
'We haven't seen a lot of movement with downscheduling recently, apart from a few tweaks to pain medicines, despite the TGA setting up Appendix M to promote medicines access,' says PSA's Manager, Partnerships, Katrina Nielsen. 'This year we'll see a cascade of changes start to flow through, although more should be done.'
PSA's General Manager Policy and Program Delivery Chris Campbell says consumers are the real winners with the new decisions.
'Immediate access is key with triptans, particularly for those suffering from migraines,' he says.
'Sometimes a migraine can come on without notice, so anything to remove barriers to access is critical.'
TABLE 1 – Medicines new to Schedule 3 in 2021
TRIPTANS:
From 1 February 2021
Rizatriptan in oral preparations containing 5 mg or less dosage and sold in packs of no more than two doses.
Sumatriptan in oral preparations of 50 mg and containing no more than two doses.
Eletriptan up to 40 mg in packs containing no more than two doses.
Zolmitriptan when in divided oral preparations containing 2.5 mg or less per dosage unit and when sold in a pack containing not more than 2 dosage units.
MELATONIN:
From 1 June 2021
Preparations up to 2 mg in packs of no more than 30 doses.
Supply restricted to people >55 years as monotherapy for the short-term treatment of primary insomnia.
CANNABIDIOL:
From 1 February 2021
Low-dose cannabidiol can be supplied for an ARTG registered medicine:
Up to 150 mg daily dose or less.
THC is <=1% total cannabinoid content.
Restrictions on age and pack size.
Source: TGA1
Improving access
For regional pharmacists such as Michael Troy MPS, of Southside Pharmacy in South Grafton, NSW, the downscheduling is welcome news.
'I was talking to somebody the other day who waited 6 weeks to see a doctor. Now, this was for a general check-up, but it demonstrates the challenges that face many Australians, particularly in rural and remote regions,' he says.
'If we, as medicines experts, can fill the void and improve patients' outcomes and accessibility, that is going to benefit the population – especially when migraines account for so many lost productivity days across the calendar year.'
Mafalda Zunic MPS, a Sydney-based community pharmacist, concurs. Even though her patients have wider access to general practitioners, it can still take up to 2 weeks to see a doctor in non-COVID-19 times.
Despite the availability of telemedicine during the pandemic last year, Ms Zunic says it can be time consuming to wait on faxes and emails from doctors, and then to provide the necessary pain treatment.
She is pleased to see melatonin more readily available, though only to adults over 55 in modified-release tablets of up to 2 mg in packs of up to 30 tablets.
'Melatonin going S3 is a great upgrade from the dinosaur age of doxylamine – or, heaven forbid, those old souls still calling upon promethazine for times of insomnia,' she says. 'It will also be an additional conversation opener for sleep apnoea talks.'
FIGURE 1 – Australian pharmacists' support for downscheduling, 2018 survey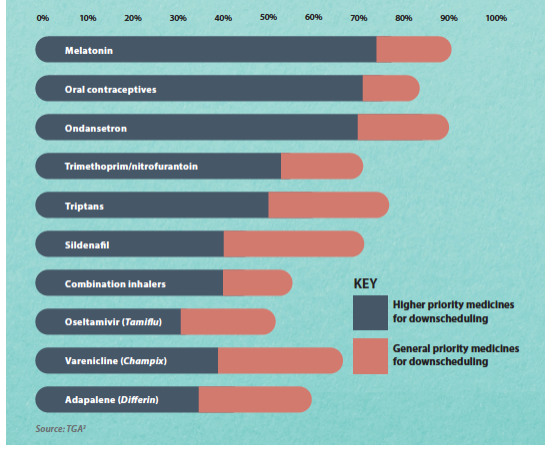 Minimising risk
While Ms Zunic welcomes the timely access to triptans for established patients, she has some reservations about when to offer it.
'I don't believe it is our place to establish such therapy, as there are many health issues that need to be ruled out, especially if they are a cardiac patient.'
Mr Campbell says this is a highly appropriate response. 'You want to ensure you have the current diagnosis, through GP or specialist. The pharmacist's role is to continue access,' he says.
Graeme Smith is a community pharmacist and former president of the Pharmaceutical Society of New Zealand, based in rural Picton, a town on the north coast of the South Island.
In his country, downscheduling happens in one of two ways. Some medicines are reclassified as Pharmacist Only, with protocols in direct parallel with Australia's S3. The alternative is to classify the medicine Prescription Medicine Except When Sold by a Pharmacist. Examples of these include trimethoprim 300 mg tablets, sildenafil tablets, selected oral contraceptive re-supply and melatonin 2 mg SR tablets.
Mr Smith emphasises the importance of adhering to training and professional guidance. This is a chance to improve quality of care and be more attuned to the needs of patients.
'For example, trimethoprim 300 mg is only recommended for uncomplicated urinary tract infections in patients aged 16– 65,' he says. 'Anyone presenting outside this age range must be referred. Similarly any signs of complications – fever, back pain, recent catherisation, etc – are red flags for immediate referral. We cannot sell sildenafil to a patient who has any history of cardiac disease, diabetes or liver dysfunction.'
Ms Nielsen believes the fact that medicines have been downscheduled to S3 means the ACMS has assessed that greater access outweighs the risk of harm. Nonetheless, pharmacists will need to feel confident in counselling and when referral is required. 'Build really good connections with your GP and other allied health providers,' she advises.
'You want to be able to provide a referral or a solution if the medicine is not suitable for them. Call up ahead of time about certain patients and ask when they refuse supply,' she suggests.
Pharmacists should know their limitations, Mr Troy recommends, and talk to colleagues if they need to fill a gap in knowledge.
Mr Campbell suggests pharmacists know standards and guidelines. 'There is usually a flurry of quality CPD in the lead-up to the scheduling change to ensure confidence. Knowing the benefits, the dosage and what to look out for in terms of red flags to refer is critical,' he says.
'Pharmacists will need to continue to stay abreast of emerging evidence. As treatments available over the counter expand, pharmacists will be a crucial part of a patient's care team, and communication within that team will help to understand treatment goals as well as available support.'
By working through professional guidance and responsibility, pharmacists can identify those who really need onward referral, says Graeme Smith.

'[Last] year, I spoke to a woman who lived 30 minutes away by boat and had a UTI. She wanted me to send out trimethoprim on a water taxi. However, her back pain and acute fever indicated something more serious.

'After a lot of convincing, she came in for an urgent GP appointment. She was admitted to hospital for IV antibiotics.'

GRAEME SMITH Community pharmacist, Picton, New Zealand
Appendix M remains blank
Mr Troy hopes the 2021 round of downscheduling will further cement the reputation of pharmacists as medicine experts.
'If patients are coming into the pharmacy, it provides that further opportunity to sit down and have that discussion that helps to increase medication knowledge, medication compliance and improve health literacy. It allows the full scope of practice,' he says.
New Zealand-based pharmacist and academic Dr Natalie Gauld believes this downscheduling round provides the Australian profession with the chance to expand services, with huge benefits to practices and patients.
'Australia was regarded as one of the leading countries in downscheduling in the early 2000s,' says Dr Gauld, who has been involved in medicines reclassification for more than 25 years. 'This then changed to becoming very conservative.'
According to Ms Nielsen, 'A point worth noting is the role a new category, Appendix M, has played – or not played – in the downscheduling arena.
'Appendix M was originally designed for medicines sitting between an S3 and S4.' To date, she says, the ACMS has not approved anything in the Appendix M category, using it only for the interim decision for CBD oil to exclude compounding. 'This has led to questions about its utility and future purpose,' Ms Nielsen says.
Dr Gauld points to vaccination as proof that pharmacists can provide accessible services responsibly and professionally.
'It makes sense to use the pharmacist as the medicines specialist to improve access,' she says.
'Pharmacists in New Zealand have greatly appreciated being better able to help their clients and to better use their skills. Downscheduling is cost effective for the health system, and that is a further positive.'
FIGURE 2 – Examples of medicines available from a pharmacist without a prescription in other countries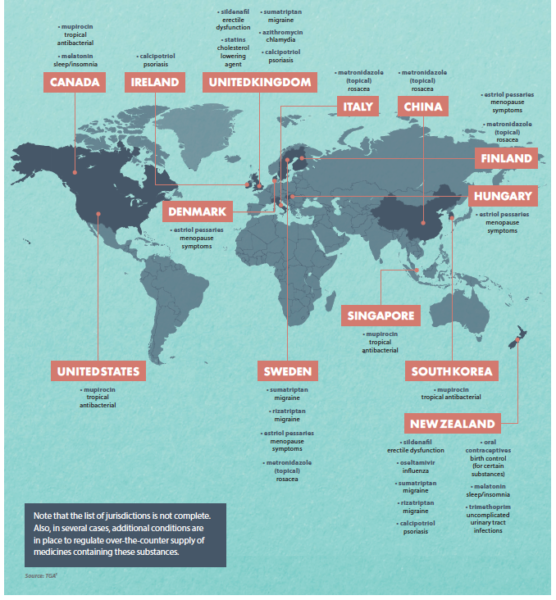 References
Australian Government Department of Health. Therapeutic Goods Administration. Notice of final decision to amend (or not amend) the current Poisons Standard. November 2020. At: tga.gov.au/scheduling-decision-final/notice-final-decisions-amend-or-not-amend-current-poisons-standard-november-2020
Pharmaceutical Society of Australia. Urinary Tract Infection Pharmacy Pilot – Queensland (UTIPP-Q). 2020. At https://my.psa.org.au/s/training-plan/a110o00000A62cEAAR/urinary-tract-infection-pharmacy-pilot-queensland-utippq
Australian Government Department of Health. Therapeutic Goods Administration. Scheduling news. Identification of candidate substances for pro-active down-scheduling. 2019. At: tga.gov.au/scheduling-news