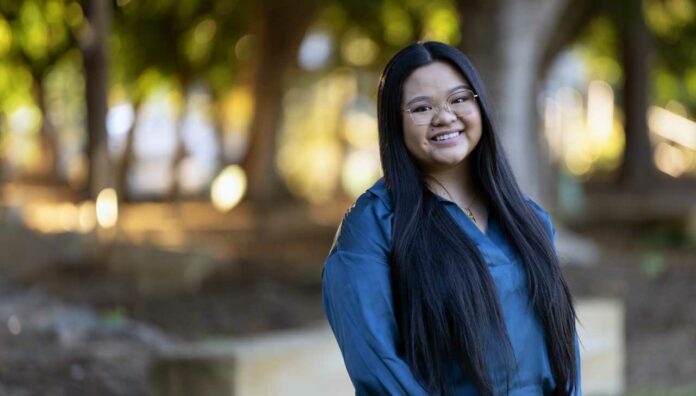 Following in her father's footsteps led Grace Quach to a career in pharmacy. 
Growing up, PSA's 2023 Intern of the Year Grace Quach had more opportunity than most to see the difference pharmacists make to their patients – by watching her father in his pharmacy in rural Queensland.
'I loved seeing how invested my dad was in helping the community, and how they appreciated him and his service,' she says. 'Being part of a profession that allows me to build long-lasting relationships with my patients and to be part of their long-term health journey is something I find very rewarding and is what really drew me toward a career in pharmacy.'
After starting work in her father's pharmacy at 13, Ms Quach went on to study at the University of Queensland, where she threw herself into student life as President of the Queensland Pharmacy Students' Association. She loves community engagement, and has made this a key focus of her intern year at Star Discount Chemist in Arana Hills in Queensland.
'I'm very passionate about engaging with patients on a clinical level, ensuring they understand how to take or use their medication, as well as developing health promotion campaigns to improve health literacy and awareness in a fun and engaging way, and engaging with other health professionals to educate and update on our scope of practice, new medicines,services, inventory and regulation,' she says.
'The biggest highlight for me has got to be when patients remember my name and greet me, even if I'm not the one serving them.
'That feeling is unmatched. Investing in building rapport and personal connection through listening, conversation and counselling, and seeing the impact and happiness of patients coming back to see me, is incredibly rewarding.'
Q&A
1 What is your top tip for other interns?
Don't limit yourself to pharmacy-related tasks and activities. The earlier you can get involved in volunteering, networking, communication and leadership, the better! Participating in these areas really adds value to your growth as an individual, as well as to you as a pharmacist.
2 Where will you be in 5 years? 
I would like to be in a position where I can continue to incorporate my passion for advocacy and outreach with community pharmacy. 
3 What is your main goal at this stage for the future?
I hope to be a community pharmacy owner and use my position to maximise community engagement through health promotional campaigns and clinics. I also hope to expand my own knowledge, and hopefully complete my studies to become a Home Medicines Review accredited pharmacist.