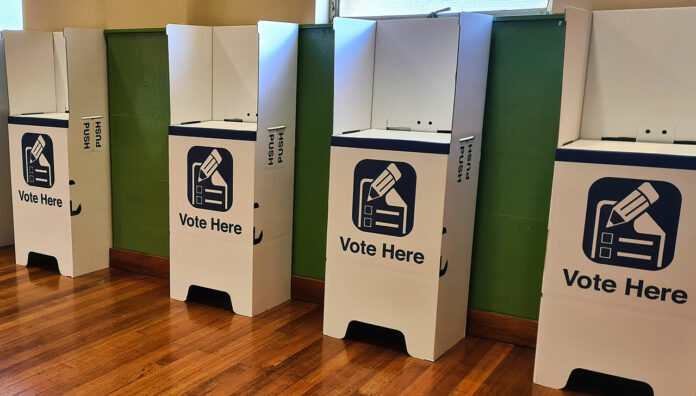 With the federal election fast approaching, Australian Pharmacist looks at what pharmacists need to know before stepping into the polling booth. 
In the lead up to the weekend election, PSA has called on the major parties to prioritise better consumer access to care through fairer remuneration for pharmacist-delivered services.
This includes:
funding for on-site pharmacists in residential aged care facilities

a Medicare Benefits Schedule (MBS) rebate for pharmacist participation in multidisciplinary case conferences

MBS service payment for pharmacists for administering National Immunisation Program vaccinations, including COVD-19 vaccines

an agreement to improve pharmacist wages and working conditions. 
So where do the parties stand on these asks?

Aged care funding confirmed
After years of campaigning by PSA, the federal Minister for Health Greg Hunt announced in March that the government would provide $345.7 million to embed pharmacists in residential aged care facilities (RACFs).  
The funding, included in the 2022–23 Budget, means every government-funded RACF will be able to employ or engage an on-site pharmacist or community pharmacy service from 1 January 2023. 
The Labor Party has confirmed to PSA that it will implement this budget measure, if elected.
'This is a great result and something PSA has long advocated for,' said PSA's National President Associate Professor Chris Freeman. 
'It shows that persistence and advocating for the profession really pays off, and will open up new and exciting career opportunities for Australian pharmacists.
'We are pleased to have received confirmation that the ALP is also committed to implementing on-site pharmacists in aged care. This demonstrates that both sides of politics understand the critical importance of having pharmacists as part of the health team to lead safe and effective use of medications. 
'On-site aged care pharmacists will improve medicine safety for older Australians by providing access to valuable pharmacy services.'
Addressing MBS access for pharmacists
Pharmacists are currently the only healthcare professionals not remunerated for participating in case conferences. The PSA has called for this inequity to be addressed through an MBS rebate paid directly to pharmacists who participate in case conferences. 
It has also called for an MBS service payment paid directly to pharmacists for administering NIP vaccines. 
The Labor Party has given its in-principle agreement for both these asks, saying it will work closely with PSA and other stakeholders to address these inequities. 
The Liberal/National Coalition is yet to confirm its position. 
Making pay and working conditions a priority
The PSA has also called on the incoming government to enter into a binding agreement with PSA to improve pharmacist wages and working conditions in recognition of their critical responsibilities, advanced training and skills.
With reports of pharmacists leaving the profession due to the stress of the pandemic, combined with a lack of fair remuneration and little recognition, this is vital to secure Australia's pharmacist workforce into the future. 
Neither party has committed to this. 
A/Prof Freeman said PSA would work with the incoming government to tackle the challenges faced by the pharmacy profession. 
'Ultimately, it's about improving patient access to pharmacist-delivered care and ensuring Australians get the care they need, when and where they need it,' he said. 
Other commitments
Both parties have committed to cutting the price of some medicines listed on the Pharmaceutical Benefits Scheme (PBS).
Prime Minister Scott Morrison pledged that a re-elected coalition government would introduce a $10 per prescription price cut, which would see the maximum cost of PBS medicines drop from $42.50 to $32.50.
Opposition Leader Anthony Albanese said his party would cut the cost of medicines by $12.50 – making the maximum price for PBS medicines $30.
Shadow Health Minister Mark Butler has also committed to reviewing the 2022–23 Budget decision that cut funding for NPS Medicinewise, to ensure the safe and quality use of medicines is maintained.