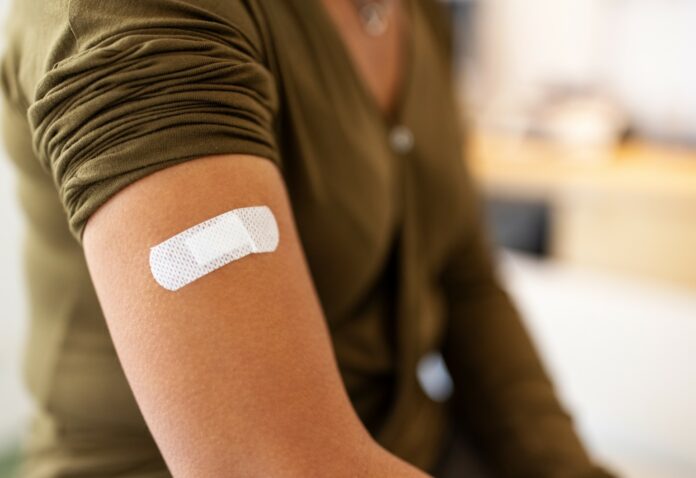 More than 100,000 Australians have received their first COVID-19 vaccination, and the country now has 1.3 million doses on hand for the next rollout phases. 
Speaking during a visit to the Therapeutic Goods Administration headquarters this morning (10 March), Prime Minister and acting health minister Scott Morrison said Australia's vaccine supply included 414,000 AstraZeneca doses that arrived on Sunday, and 149,000 Pfizer doses that arrived yesterday.
'These supplies will take us through until our own Australian production of the AstraZeneca vaccine comes online at CSL in Melbourne on 22 March,' he said.
'Our vaccine program is being rolled out in a sure and steady manner. It's safe, well-planned and being overseen by the best medical experts in the world.'
The Federal Government aims to vaccinate everyone who wants to be vaccinated by the end of October. Despite a slower than expected start to the roll out – with just 33,702 doses administered in the first week – Mr Morrison said the nation was on track.
'Yesterday we went past the mark where 100,000 [doses] have been jabbed into the arms of Australians,' he said.
'I'm pleased to say a quarter of those vaccines have been administered to the most vulnerable of Australians, in aged care facilities and those with disabilities and so the vaccination program is under way.'
A shipment of low dead space syringes, which can be used to extract all six doses from each vial of the vaccine, has also arrived in the country. These are being distributed to Pfizer vaccine hubs to help prevent wastage.
Australia has now recorded 29,061 cases of COVID-19, and 909 people have died. There are currently 110 active cases, including one person in intensive care in New South Wales (NSW) and 29 people in hospital (25 in Queensland and 4 in NSW). There have been more than 14.6 million tests conducted.
Globally, there have been more than 118 million cases reported and more than 2.6 million deaths. 
AstraZeneca roll out
NSW Premier Gladys Berejiklian, Minister for Health Brad Hazzard and Chief Health Officer Dr Kerry Chant were some of the first in the state to receive the AstraZeneca vaccine, when they were vaccinated at St George Hospital this morning. 
The Premier said the state was on track to reach its target of vaccinating 35,000 people in the first 3 weeks, through hubs at Royal Prince Alfred, Liverpool and Westmead hospitals.
'We'll be getting very close to that number,' she said. 
'I'm pleased to say that as of last night we'd already vaccinated 27,000 people in NSW through the NSW Health system. That does not include those vaccinated through the Federal Government's aged care providers.'
The AstraZeneca vaccine is rolling out across NSW from today. This is an important step in the fight against COVID as this is the vaccine most people will be receiving. Pleased to get my jab of AstraZeneca today! pic.twitter.com/mCnKp9bucT

— Gladys Berejiklian (@GladysB) March 10, 2021
Ms Berejiklian stressed that both the AstraZeneca and Pfizer vaccines had been approved by the TGA and were safe and effective. 
'Most of us, most of you, will be offered the AstraZeneca vaccine,' she said. 
'The efficacy, or how effective the AstraZeneca and Pfizer vaccines are, has been shown to be pretty much the same – they're both as effective as each other.
'What's important is for us to be able to vaccinate as many people as possible as soon as possible.'
The next step in NSW is the delivery of the AstraZeneca vaccine by GPs, which is likely to be announced in the coming weeks.
At a press conference last week, Ms Berejiklian thanked those involved in the delivery of the vaccines. 
'I want to thank … all of our doctors, nurses, clinicians and pharmacists who've been involved in supporting our health workers here on the front line,' she said. 
Delivery of the AstraZeneca vaccine has also begun in the ACT, with Canberra Health Services aiming to administer 250 doses to frontline healthcare and border workers this week.
Medical oncologist Dr Paul Craft AM has also just had his AstraZeneca vaccine given today by registered nurse Sophie. The first group of Canberrans to get AstraZeneca vaccine are frontline health care and quarantine workers in phase 1a of the COVID-19 vaccine rollout @ACT_CHS pic.twitter.com/ugeFgaedwc

— ACT Health (@ACTHealth) March 10, 2021
 Meanwhile in South Australia, the state's fifth vaccination hub – Lyell McEwin Hospital in northern Adelaide – has received its first shipment of the Pfizer vaccine.
Premier Steven Marshall said frontline staff within the Northern Adelaide Local Health Network will now receive their first dose.
'The roll out is happening right across the state, with our three key hubs in the north, south and centre of Adelaide all operational, and our regional hubs also progressing,' he said.
'This is the biggest peacetime operation in our state's history, and a big plank in our plan to keep South Australia safe and strong.'
Minister for Health and Wellbeing Stephen Wade said about 350 people would be vaccinated at the new hub in its first week, increasing to up to a maximum of 224 vaccinations per day.