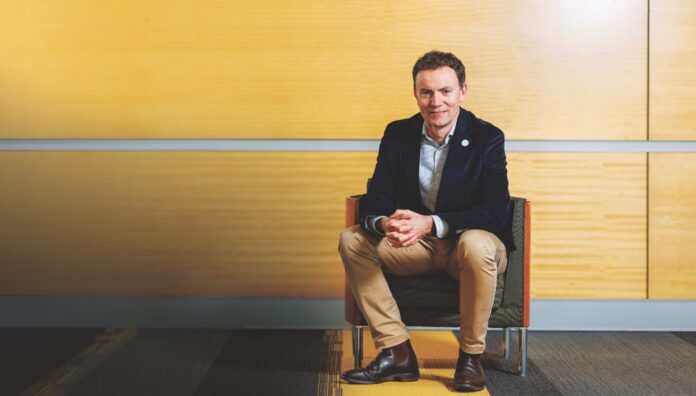 First in his immediate family to attend university, Associate Professor Dan Malone MPS, is the course director of Monash University's undergraduate pharmacy degree, a mental health expert – and a masters rower.
Why pharmacy?
I was raised on a dairy farm near Tumut in the Riverina region of New South Wales. When I was in Year 11, my mother passed away after a long battle with cancer, leading me to develop an interest in health care. From a young age, I was interested in how medicines, as such small molecules, could have profound effects in the body. So pharmacy became the clear healthcare pathway for me.
How did you end up in academia?
Such a career was never my intention. But during my intern year, I started having discussions with one of my lecturers, David Taylor, about the research in his laboratory. The following year, I did an honours research project with him that I loved. While undertaking a PhD, I had the opportunity to teach pharmacy students, which I found rewarding and enjoyable. So academia seemed a logical next step, allowing me to continue pursuing research and teaching.
I have also worked part-time in various community pharmacies since registering in 1994. I love day-to-day interactions with consumers, and feeling that I'm positively making an impact in local community health care. It also complements my academic role, as it keeps me engaged in the pharmacy profession.
How do you teach precision in students from the get-go?
When students begin their pharmacy degree at Monash, we emphasise the importance of attention to detail in health care. We have various calculations and dispensing-based assessments where the pass-mark requirement is 80%.
While we give students plenty of instruction and ability to practise such assessments, they must achieve a passing grade to progress in the degree. Our skills-based curriculum allows students to develop communication, teamwork and accuracy-of-dispensing prowess throughout the degree. Every year, there are students who ask, 'Why can't the pass mark for these assessments be 50%?'
We explain that precision and accuracy are crucial for pharmacists in many aspects of their work. So part of the learning process is to emphasise that a misplaced decimal point can lead to a 10-fold overdose, or failure to scan means you give a medicine meant for someone else to the wrong patient.
Why do pharmacists need mental health skills?
According to the Australian Bureau of Statistics, 1 in 5 Australian adults have experienced a mental disorder in the last 12 months,1 making it a crucial area for today's pharmacists to manage.
As the most accessible healthcare professionals, pharmacists will inevitably encounter people with mental health conditions, or who are in the midst of a mental health crisis. To prepare for this, pharmacists need the appropriate knowledge and skills to identify and assist people with mental health challenges.
What future mental health roles do you envisage for pharmacy?
I would like to see more opportunities for community pharmacists in preliminary screening for various mental health conditions, such as depressive and anxiety disorders, or even attention deficit hyperactivity disorder. This could help with early referral to the most appropriate healthcare professionals. With the development of digital health, pharmacists could also be more involved in liaising with other healthcare professionals to improve health outcomes for people with mental health conditions.
References
Australian Bureau of Statistics. National study of mental health and wellbeing. 2023. At: www.abs.w.au/statistics/health/mental-health/national-study-mental-health-and-wellbeing/2020-2022