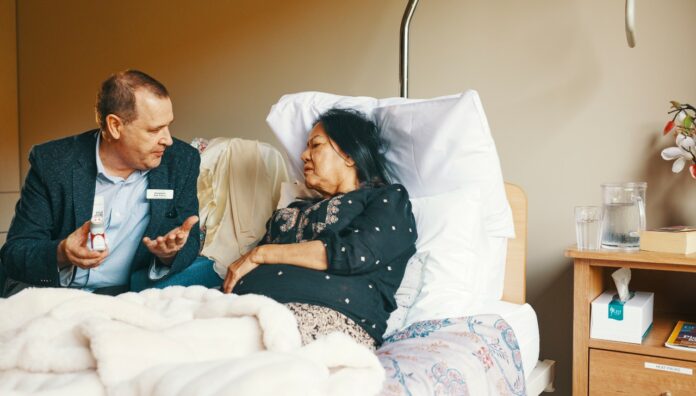 Aged care reform was a major focus of the 2021-22 Federal Budget, delivered by Treasurer Josh Frydenberg last night.
The government will invest $17.7 billion in response to the final report of the Royal Commission into Aged Care Quality and Safety, which estimated that one-in-three people living in aged care in Australia experience neglect, physical or emotional abuse.   
This will help deliver 'greater respect, care and dignity for our older Australians', Federal Minister for Health and Aged Care Greg Hunt said in a statement.
It represents the largest investment in aged care and the largest in response to a royal commission in Australia's history, according to the government. 
The PSA National President Associate Professor Chris Freeman commended the government's commitment, but said more must be done to safeguard aged care residents from the harms caused by medicine mismanagement. 
'The Royal Commission into Aged Care Quality and Safety is a once-in-a-generation opportunity to fix our neglected aged care system,' he said.
While the Budget 'laid the foundation' for rebuilding the country's aged care system, A/Prof Freeman said it was important to reduce avoidable hospital admissions and deaths caused by medicines and help to restore faith and trust in the aged care sector. 
The PSA has long signalled the need for aged care sector reform, including the importance of placing pharmacists on the ground in residential aged care facilities (RACFs). 
One in five unplanned hospital admissions for aged care residents is the result of inappropriate medicines use, PSA revealed in its Medicine safety: aged care report, released in February last year.
It also found that half of all RACFs residents were taking medicines that cause sedation or confusion, with 20% taking antipsychotics and more than half of these taking the medicines for too long.
In addition, more than 95% of people living in RACFs have at least one problem with their medicines detected at the time of a medicines review; most have three problems.
'Residents in aged care facilities deserve to have timely and regular access to the expertise of a pharmacist if they require advice and support with their medicines and medicine management,' A/Prof Freeman said.
'Having pharmacists on-the-ground within aged care facilities must happen if we are serious about improving medicine management and resident safety.'
In the Budget, the government set out five pillars in response to the royal commission's final report released in February. These include: home care, residential aged care services and sustainability, residential aged care quality and safety, workforce and governance. 
Initiatives include:
$6.5 billion for an additional 80,000 home care packages

$3.9 billion to increase the amount of care time residents receive to 200 minutes per day, including 40 minutes with a registered nurse

$365.7 million to improve access to primary care for senior Australians, including transitions between aged care and health care settings, and improved medicine management

$74.8 million for the Dementia Behaviour Management Advisory Service and the Severe Behaviour Response Teams to strengthen the regulation and reduce use of chemical and physical restraints

$45.4 million to introduce electronic medication charts in RACFs, increasing use and integration of My Health Record and establishing digital support for transitioning between aged care and hospital settings. 
'It is, as yet, unclear how these measures and investments play out in addressing the challenge of medicine mismanagement, particularly in reducing excessive and prolonged use of chemical restraint such as antipsychotics and benzodiazepines,' A/Prof Freeman said.
'Pharmacists, as the custodians of medicine safety, must play a key role in bridging the divide between health care and aged care, to reduce harmful medicine use and improve quality of life for older Australians.'
Mental health
Mental health and suicide prevention also received a boost, with $2.3 billion committed over the next four years.
Under the new funding, every Australian who leaves hospital after a suicide attempt will be offered at least 3 months of follow-up care. Strategies to prevent suicide will also receive $61.6 million over 4 years, which will expand the work of the National Suicide Prevention Leadership and Support Program. 
Mr Frydenberg said everybody listening to his Budget speech would know someone struggling with their mental health. 
He said spending on mental health 'goes to the heart of who we are as Australians, helping those who need it most'. 
COVID-19 
The Budget includes $1.9 billion for the rollout of vaccines, including $35 million for COVID-19 vaccines to be administered by community pharmacists under Phase 2 and 3 of the rollout strategy.
'Community pharmacists are ready and raring to go in contributing to protecting Australians against COVID-19 through vaccination,' A/prof Freeman said.
The government has also committed an unspecified pool of funds to support mRNA vaccine production in Australia. 
It also committed another $1.5 billion for COVID-related health services, including for testing and tracing, respiratory clinics and telehealth.
Improving access
The government will also invest $43 billion over 4 years in the Pharmaceutical Benefits Scheme (PBS), in order to improve access to medicines. 
Medicines that have already been and will be included on the PBS so far this year are:
From June 2021, Emgality® (galcanezumab) for the treatment of chronic migraine

From May 2021, Epidyolex® (cannabidiol) for use in the treatment of Dravet syndrome

From April 2021, Kisqali® (ribociclib + fulvestrant) for locally advanced or metastatic breast cancer

From March 2021, Dupixent® (dupilumab) for severe atopic dermatitis 

From March 2021, Tulicity® (dulaglutide) for the treatment of type 2 diabetes mellitus
There's also an additional $3.9 million to continue the Take Home Naloxone pilot program for a further 12 months.