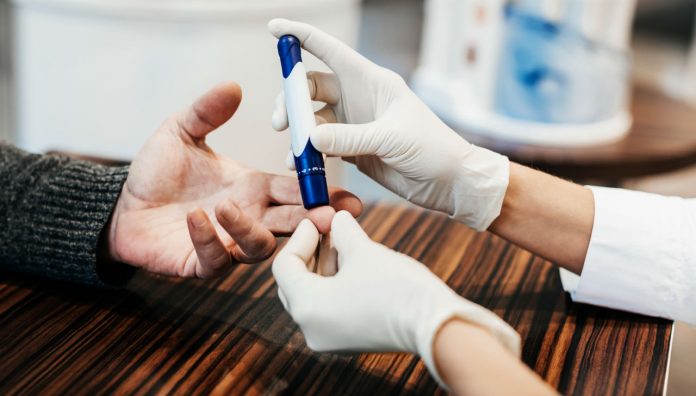 Point-of-care testing is expanding as community pharmacies deepen their engagement with consumers.
With more than 5,700 locations dotted across Australia, ranging from the busiest metropolitan high streets to tiny rural hamlets, Australia's community pharmacists are undeniably the most accessible of all healthcare professionals in this country.
This accessibility underpins the increased uptake of point-of-care testing (PoCT) in community pharmacy in recent years, as many pharmacies use their reach and convenience to expand their services.
It has been a natural progression. Advances in technology and design have made these tests more efficient, portable and practical; through their implementation, pharmacists have sought to contribute to the health of their communities through screening, monitoring and engagement with consumers.
It is an expanding sphere of pharmacists' work that falls well within their scope of practice. Community pharmacies can now measure everything from blood pressure to international normalised ratios (INRs), from HbA1c and blood glucose monitoring and cholesterol studies to COPD screening with PiKO testing of FEV1/FEV.
The case for the expansion of PoCT in community pharmacies is clear, with a raft of evidence supporting improved patient outcomes as a result. A 2018 literature review found 'sufficient evidence for the ectiveness of most of the pharmacy services reviewed'.1
A recent trial, the Pharmacy Diabetes Screening Trial, saw PoCT used for diabetes screening with over 30,000 patients at community pharmacies around Australia.
The University of Canberra's Head of Pharmacy, Dr Mark Naunton, was part of the team behind the trial.
'In our recent systematic review of the analytical quality and effectiveness of PoCT in community pharmacies, we found that for point-of-care tests there was satisfactory analytical quality and that the interventions applying these tests were effective overall,' Dr Naunton says.
Collaborative care
The PoCT and screening services offered by pharmacists don't exist in a vacuum. Patients have general practitioners (GPs) and other specialists involved in their healthcare, and with concerns over the fragmenting of healthcare it is deemed vital that community pharmacy PoCT is integrated with a patient's overall healthcare. In fact, Dr Naunton sees PoCT as an opportunity for pharmacists to deepen their collaboration with other healthcare professionals rather than a fragmentary pressure.
Evidence from recent PoCT research shows that strong relationships with other healthcare providers facilitate pharmacy PoCT. Services can be enhanced by interlinking and integrating pharmacy PoCT with care provided by GPs and other health professionals.
Rosy Tirimacco is network operations and research manager with Integrated Cardiovascular Clinical Network South Australia (SA) and Chair of the PoCT committee at the Australasian Association of Clinical Biochemists (AACB). Ms Tirimacco sees pharmacies as ideally placed to monitor INR levels and chronic disease but emphasises the need for them to be well connected with general practice.
'If a pharmacist is just doing PoCT and results just go to their database and aren't shared, that is an issue. Doctors should have easy access to any information regarding their patients' medical history,' she says.
Country Health SA Local Health Network has a database where results from home monitoring programs are available to local GPs, and Ms Tirimacco says it's important that pharmacy PoCT be incorporated in such systems.
Tirimacco has proposed a collaborative model with pharmacists providing PoCT. If a test result is normal, a patient can be scheduled for their next test and results are sent to a portal available to local health professionals. If a result is abnormal, pharmacists can contact a GP for an appointment to review results. 'There is a huge space in this area in terms of screening and undiagnosed diabetes. If we all worked together, we could probably do a way better job than we currently are,' Ms Tirimacco says.
It's an approach outlined in PSA's Pharmacists in 2023 report, which emphasises the importance of collaborative care teams, whether in the same location, or through the use of digital technology. Ms Tirimacco argues that a secure, digital data-sharing system would be vital to such a model. My Health Record (MHR) could be the basis for such a system, for those who actually have a MHR. Recent work by the Australian Digital Health Agency is ensuring the interoperability of various digital messaging and referral systems, making them another possible avenue for pharmacists to share PoCT results with GPs and others.
For those pharmacists looking to offer PoCT, Ms Tirimacco draws attention to the Australian Point-of-Care Practitioners Network (APPN) website. Originally funded by the Federal Government, the AACB now maintains the website.
'It's an online resource for training and competency,' says Ms Tirimacco. The site provides checklists for determining the need for a PoCT service,  flowcharts and resources to help pharmacists and others implement a PoCT service, quality guidelines and quality control logs, and PoCT device reviews. Importantly, the site also provides training resources for providers and staff.
'It's a way of doing training for your devices with minimal cost. You don't have to go to a two-or three-day course. You can just do it online and you'll get a certificate to say that you can use that machine,' says Ms Tirimacco.
Before launching PoCT services, it's important to be connected with GPs and clinics, and to research what other local pharmacies are doing. Services can be advertised as long as they comply with Pharmacy Board of Australia guidelines.
Funding the future
In Action 6 of the 2023 report, PSA identified the opportunity to build upon the accessibility of community pharmacies in primary care to improve consumer access to health services; as part of this goal, PSA has called for practice change and funding to support evidence-based screening and risk assessment for priority health areas for at-risk populations.
'Community pharmacists have played a key role in managing patients' health concerns by using their clinical training to 'assess then treat or refer' based on the patient's needs. This contribution provides timely access to care and reduces the burden on general practice and hospitals. Working collaboratively with general practice and Primary Health Networks will ensure that these services are integrated into local practice environments.
'Now and in the future, consumers will continue to seek accessible and convenient care. Community pharmacies differentiating as primary healthcare hubs within their communities and offering a broad range of healthcare services will facilitate how pharmacists in 2023 contribute to accessible, safe, quality, efficient and effective healthcare.'
System changes are also identified in the report: 'Practice change and funding to support evidence-based screening and risk assessment for priority health areas for at-risk populations. National screening and risk assessment initiatives should be identified that are appropriate to community pharmacy to identify individuals at risk of specific conditions, and either manage, or refer care along an agreed management pathway.'
It's a call for 'better utilisation of pharmacists to proactively tackle public population health priorities … and implement health prevention and treatment strategies.' A vital direction to take in these testing times.
PSA offers a comprehensive online diabetes course that covers topics related to PoCT. PSA members can access the full course for $300.
References
1. Buss V, Shield A, Kosari S, Naunton M. The impact of clinical services provided by community pharmacies on the Australian healthcare system: a review of the literature. At: https://joppp.biomedcentral.com/articles/10.1186/s40545-018-0149-7