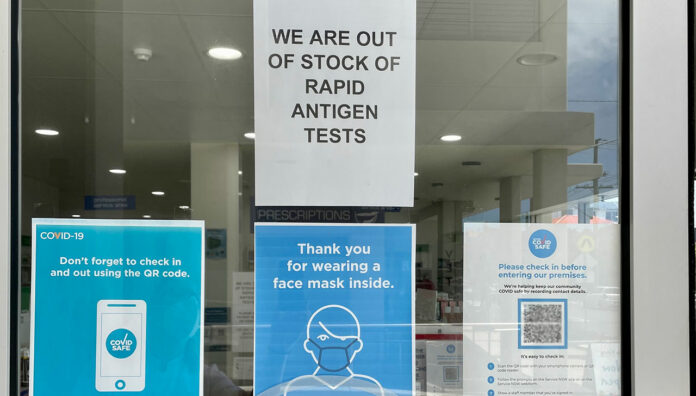 Huge demand, low supply and new regulations have left pharmacists scrambling to provide rapid antigen tests (RATs) to their communities.
Leticia Keady MPS from Shepparton in Victoria said the flow of RAT stock to her pharmacy has been 'unreliable'.
'It has been really difficult to secure stock and predict when it's actually going to come out from our general wholesalers,' she said.
'I have been trying to outsource them as well [from] different direct suppliers, so I got a shipment on Friday and [we're waiting for] another one to arrive.' 
The pharmacy has been inundated with requests from patients for RATs.
'Right up until Christmas it wasn't too bad, but it's been a bit of a nightmare [since] because everyone wants one and we just can't keep up,' she said. 'Our phone has not stopped.'
Ms Keady noticed an uptick in demand from interstate travellers post-Christmas, particularly after the requirements to return a negative RAT before entering Queensland, which came into effect on 1 January.
'People don't want to queue up, they just want to know [if they have COVID-19] now,' she said.
'Some were saying [this week], that they got a PCR test done last Tuesday and they're still waiting on their results.' 
Key points:
Pharmacists should advise patients that positive RAT results must be reported to health authorities.

One negative RAT result should not be considered absolute.

Tests may miss the virus

that causes COVID-19, particularly early and late in infection when virus levels are lower, resulting in a 'false negative 'or a 'false positive'.

The TGA has advised the sale of point-of-care RATs to consumers (including breaking down packs for individual sale) breaches the Therapeutic Goods Act.

In retail settings, RAT packs must be capped at 120% (20% markup). U

p to 5 years imprisonment and a fine of up to $66,600 may apply if retailers do not comply. 
In Merewether, a suburb of Newcastle in New South Wales, the situation is the same, according to pharmacist Fiona Evans MPS.
'We haven't had a shipment [of RATs] since Christmas and we can't get any from the three wholesalers that we deal with,' she said.
'We've got [no RATs in stock] signs up, but most people don't read them or want to know when we're getting more.'
Ms Evans reported that pharmacies listed on the Find a RAT website were 'getting even more hassle'.
'The information on there isn't always correct,' she added.
Last week, the government announced that lower income Australians can access 10 free RATs per month under the national concession card scheme.
'They'll come through the pharmacies and the pharmacy is responsible for securing their private supplies to meet that demand,' Prime Minister Scott Morrison said.
While pharmacists will be paid a fee per testing kit, at this stage the amount is undisclosed, leaving some pharmacists unsure what demand is like and when to place orders.
'We are presumably meant to spend our days scrounging for the cheapest tests so that we can at least break even on the deal,' Adelaide-based pharmacist Patrick Carrig MPS told the Guardian.
'We are expected to source our own tests and then provide them at whatever the government is willing to pay.'

Mr Carrig warned that many pharmacies would not have the cash flow of thousands of dollars to afford large test orders, give them out free, and then potentially wait a considerable time for payment from the federal government.
Counselling advice
From tomorrow, all jurisdictions except the ACT and Western Australia will count RAT results in daily COVID-19 case numbers. Pharmacists should advise patients that a positive result must be reported to their state healthcare system.
'In Victoria, they [must] contact the Department of Health to inform them of their results, and then isolate and inform their close contacts,' Ms Keady said.
Ms Evans said it is helpful to remind patients that reporting a positive result is not just about logging 'another number'.
'It's about getting you in the system, so people know to keep an eye on you,' she said.
If patients are symptomatic, Ms Keady advises them to seek out a PCR test and isolate for the week. Symptomatic PCR or RAT tests are available free via government clinics.
Pharmacists should also advise that a single negative result should not be considered decisive if symptoms are present, and patients should continue to isolate and have a test the next day.
'If they've tested negative and they're symptomatic, they may have actually done the test incorrectly, [so] they may still have COVID-19,' Ms Evans said.
Retesting is important to ensure the viral load is sufficient to return the correct result, she said.
'It's useful for people to be aware that they may not actually get a positive result very early in the infection.'
When she does receive RAT stock, Ms Evans plans to create a leaflet to give to patients with their test.
'If we're busy or they can speak to us individually, they still get that information with a telephone number at the bottom,' she added.
The handout will contain information including, 'follow the instructions to the letter, read over twice, don't eat 30 minutes beforehand,' and a link to log the result through Service NSW.
Pharmacists could also share the social media information provided by their state's health department. 
If you test positive on a Rapid Antigen Test you must report your result to the Department of Health.

Tell us your result online at https://t.co/BEpzq8fwpc or call the Coronavirus Hotline on 1800 675 398. For translations, call the hotline number and press 0. pic.twitter.com/EFQnlpS1Hy

— VicGovDH (@VicGovDH) January 12, 2022
Advice for pharmacists
As we move into the new year, there will be a need for greater supply of RATs for surveillance testing or prior to attending social events.
'It is [essential] to protect those who are vulnerable and reduce that flow-on effect of people having to isolate,' Ms Keady said.
'[RATs] will definitely have a good role in the future when we have them more readily available, but at the moment we just can't get the supply to facilitate that guideline.' 
Pharmacists should follow the Therapeutic Goods Administration's advice and not break point-of-care tests for individual sale.
While unlikely to affect pharmacies, pharmacists should be aware any RATs purchased from a retail outlet for resale cannot be sold for more than 120% the retail price paid (20% markup) under new anti-price gouging regulations.
'People found to be engaged in price gouging or unlawfully exporting RAT kits will be required to surrender those kits to law enforcement agencies or Customs officials for destruction or redistribution to the National Medical Stockpile as appropriate,' Federal Minister for Health Greg Hunt said.
'Penalties for failing to comply with the new requirements include up to 5 years imprisonment, a fine of up to $66,600, or both.'
While RATs were made legal in Western Australia on 9 January, the state has been plagued by supply issues.
'At the moment, because of the ban, we haven't been able to get any into WA thus far,' a WA-based pharmacist told the ABC.