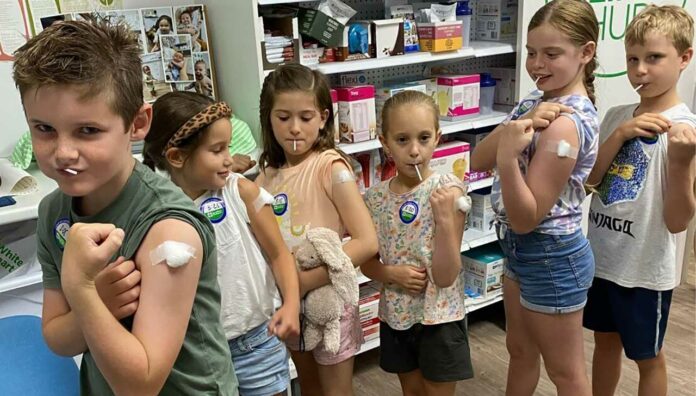 Community pharmacists were some of the first to vaccinate children aged 5–11 against COVID-19 this week, but some pharmacists around the country were forced to postpone or cancel appointments due to technical glitches and issues with vaccine deliveries. 
While pharmacists reported delays or incorrect number of doses delivered, the head of the COVID-19 vaccine taskforce, Lieutenant General John Frewen, urged parents to try pharmacies if they couldn't get an appointment with a GP.
Some Sydneysiders appeared to heed this advice, with Penrith-based pharmacist Alan Martin accommodating children from Sydney's east, some 60 kilometres away.
'People were willing to come a long way for it,' Mr Martin said.
Key points:
Community pharmacists in

most jurisdictions

began vaccinating children aged 5–11 years on Monday

Community pharmacists in Tasmania are

not yet involved

in the vaccine rollout for this age group

Children receive a lower dose of the vaccine, which is one third of the dose for people aged over 12 years

The paediatric Pfizer COVID-19 vaccine is identified by an orange cap.
Despite receiving confirmation from the Vaccine Operations Centre that her supply would arrive as scheduled, Melbourne-based pharmacist Jenny Heathershaw MPS was informed at the eleventh hour that her 350 Pfizer, 200 Moderna and 100 Pfizer 5-11 years (orange cap) doses would not be coming. 
With 300 appointments booked this week, including 75 children, Ms Heathershaw feared she would have to notify all patients, cancel staff and contend with very unhappy parents.
Wondering if other pharmacies faced the same problem, Ms Heathershaw posted a message on PSA's Early Career Pharmacist Facebook page. Luckily, a fellow pharmacist offered a helping hand.
'I was wondering, "Did anyone actually get them? Or was it just me that didn't?",' Ms Heathershaw told AP.
'Then a pharmacist who had received their stock and decided not to vaccinate children said I could have their doses.'
She jumped in her car and made a 15 km trip to pick up the vaccines, maintaining cold chain on the way back. 
Despite the initial hurdles, Ms Heathershaw said the vaccine process itself had gone smoothly.
Before the vaccine was administered, children could sit at trestle tables and do some colouring in. Post-vaccine, the children could carry on with their drawing while being monitored.
'We had some printouts of Bluey and Spider Man [along with] non-reusable colouring pencils for each child,' she said.
'[The nurse] said to everyone, "Bring me your pictures after you finish them" and they were all very excited and very happy to be the first cabs off the rank.'
Tips for vaccinating children
Karen Brown MPS, the owner of TerryWhite Chemmart Arana Hills in Brisbane, began offering children's vaccinations on Monday, with her son one of the first in line. She said it had been a smooth process so far.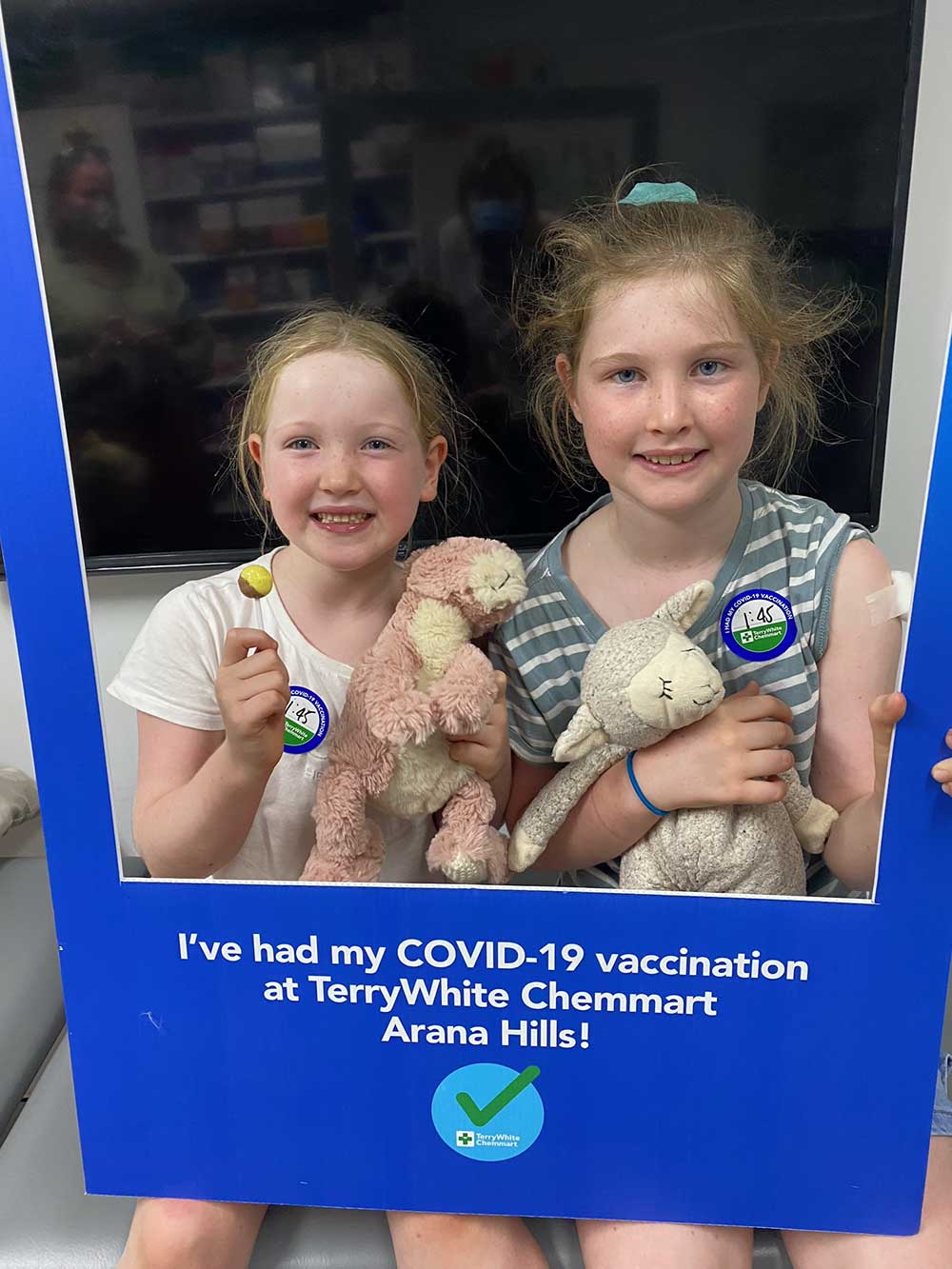 'The first ones are super eager,' she said. 'There [were not] too many questions. [The parents have] done their research, [so] it's more about calming the child.'
Ms Brown, who completed her intern year at the Royal Children's Hospital, Brisbane shared some of her go-to tips for vaccinating this patient cohort.
'It's about talking to the child and not just the parents,' she said. 'So introducing yourself, and asking them their name and birthday.'
To keep the conversation going and the child distracted, Ms Brown asks about their school holidays, what grade they are going into this year and what school they go to. 
'If they are a little tentative, normally mum or dad give us a heads up, and we try to encourage parents to let us know,' she said.
'If they are really [nervous] I'll [say], "You can have the lollipop first, but the deal is that you're going to let me do this". That normally gets a laugh out of them.'
When all else fails, Ms Brown suggests a hug. 
'As long as we can access their arm, a lot of them feel quite safe in that embrace position,' she said. 'One little five year old sat up on mum's lap. It's just about making it as relaxing and engaging as possible.' 
Post-vaccine, Ms Brown ensures she directs aftercare instructions to the child as well.
'[I'll say], "You may have a sore arm. If you don't feel well today, make sure you let mum or dad know",' she said. 
Karen Brown MPS's top tips 
Address the child, not just the parents

Use ice breakers such as 'How old are you?' or 'What year will you be in when school starts?' to keep young patients distracted 

Allocate more time to children's vaccine appointments

Have lollipops on hand.
Safety tips to reduce risk of errors
A fridge in the pharmacy clinic room helps the team differentiate between vaccines.
'We have all of our styrofoam esky containers labelled different colours – Pfizer 5-11 years (orange cap), Pfizer Adult, Moderna Full, Moderna Booster and AstraZeneca,' Ms Brown said.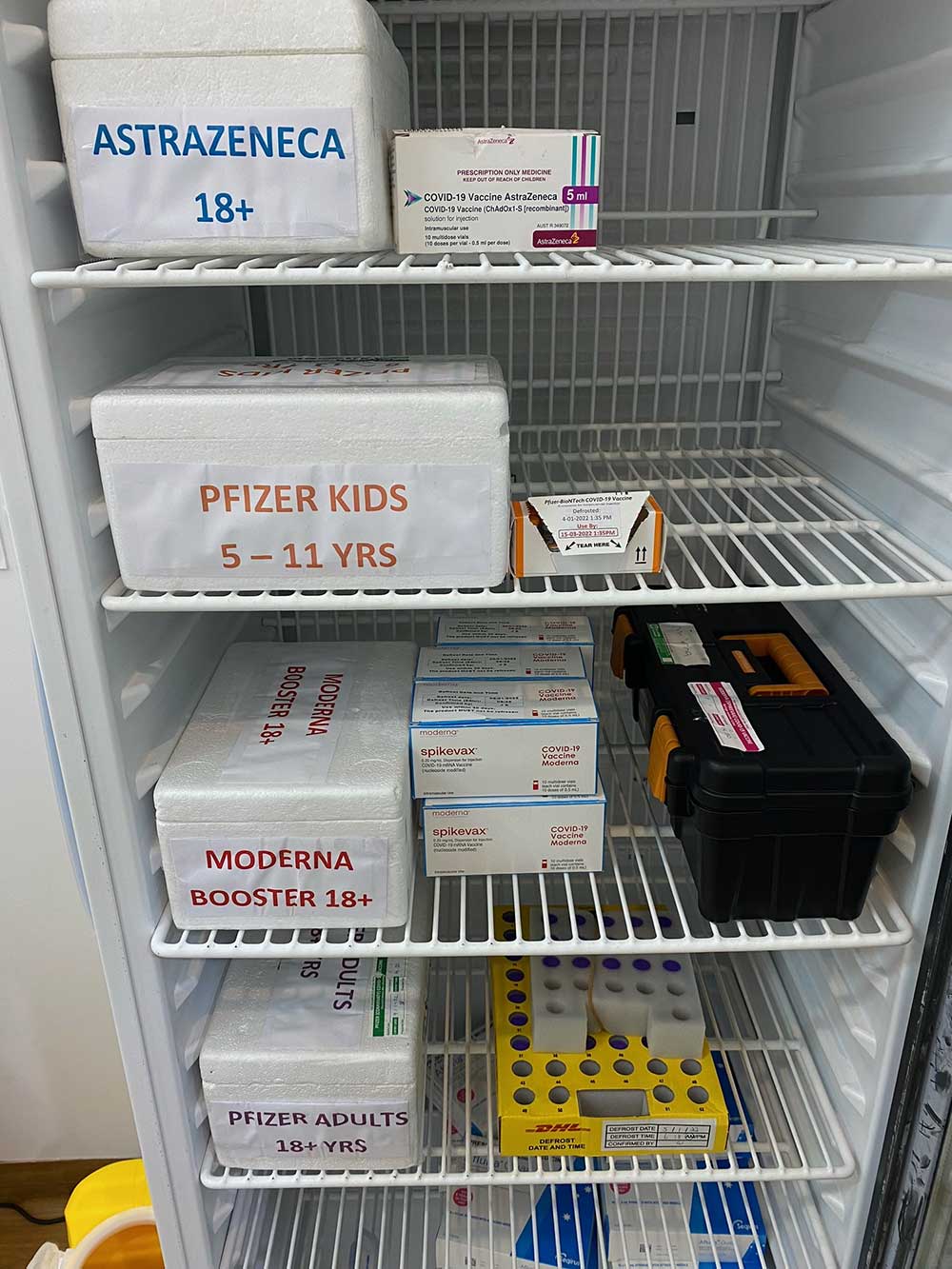 As some parents booked in their Pfizer booster dose to coincide with their child's vaccine, Ms Brown said it was important to ensure there were no mix-ups. 
'I would get mum's [Pfizer dose] out of the fridge, [vaccinate] mum, and counsel for a booster,' she said. 'Then go to the fridge and get the child's one out, as opposed to having them both on the bench.'
While children's and adults' vaccine appointments should be separated by time and place where possible, additional safety measures should include reading syringe labels aloud and showing parents the labelled syringe.
Ms Brown reports that children's doses are 15 minutes apart, which is longer than the interval for adult appointments.
As one family might come in with several children, Ms Brown advises spacing out bookings so one group can leave before the next comes in.
'If mum and dad are coming in with three children, and you do that every 5 minutes, that's potentially 50 people in your store, which is quite noisy, as opposed to an individual coming in for a booster,' she added.
Approximately 1000 community pharmacies are active in the childhood campaign, roughly a third of the number participating in the wider roll-out. For most, the $16 remuneration for a complicated vaccine is simply not financially viable.
Most participating pharmacists are offering the service at a loss in order to protect the community, although at lower capacity.
But Ms Brown said many children and parents expressed their pride for doing their part to help the community and some asked for a photo to remember the experience.
'[Parents said], "Thank you for making that as sweet as possible" or "I'll be back",' Ms Brown said.
Long term, creating connections by vaccinating children could prove more beneficial for pharmacists than a patient who comes in for their booster and may not return, Ms Brown said. 
'Those kids will always remember the experience,' she said. 'I think we underestimate how valuable that young child/parent customer can be if you create a really nice experience for them.'