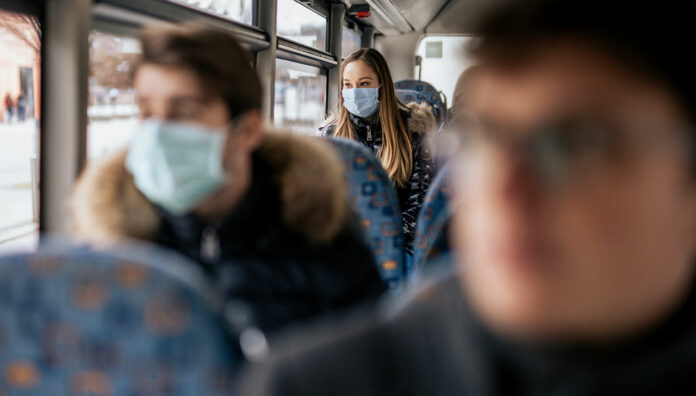 After a long and arduous year, you might have found it necessary to switch off and regroup during the holiday season. However, if you need to catch up on all the happenings in pharmacy post-break, Australian Pharmacist has you covered.
Masks mandated in Greater Sydney and Brisbane
Pharmacists, pharmacy staff and patients began wearing masks in Greater Sydney on 2 January after NSW Premier Gladys Berejiklian announced that masks would mandated in most indoor settings across the region, including Wollongong, the Central Coast and Blue Mountains.
Pharmacist Veronica Nou reported on social media that she was 'grabbed' from behind by a disgruntled customer on 4 January after her pharmacy put up a no-mask-no-entry sign which requested non-compliers to wait outside for service. 
Pharmacists in Greater Brisbane also began wearing masks as Queensland Premier Annastacia Palaszczuk announced a 3 day lockdown and mask mandate. The Greater Brisbane masks rule will be in effect until at least 22 January in all indoor areas.
Those who spent time in Greater Brisbane during lockdown and who have since left will also need to wear masks until the same date.
For more information on the recommendations and mandates of face masks and personal protective equipment, visit the PSA microsite.
COVID-19 vaccine imminent, says PM
Despite dismissing calls to rollout the COVID-19 vaccine sooner rather than later, Prime Minister Scott Morrison announced on 7 January that vulnerable Australians could receive the Pfizer vaccine as early as mid-February, as opposed to March.
The Therapeutic Goods Administration is awaiting data from Pfizer to indicate that the vaccine is approved by January's end, with the government aiming to administer four million vaccinations by the end of March, starting with 80,000 people a week.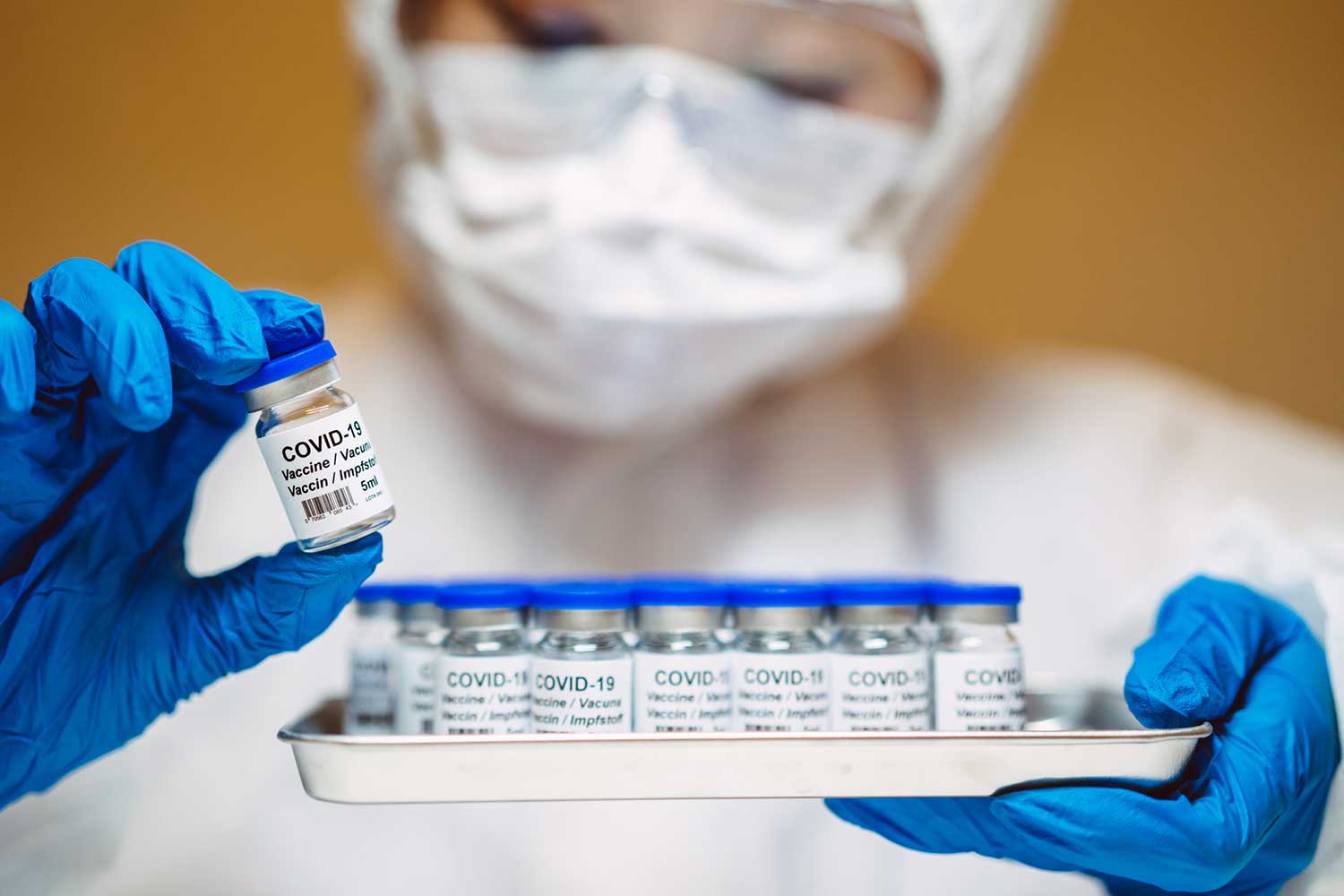 How quickly the vaccination is rolled out, however, depends on its approval by the TGA and the delivery of the vaccine itself by suppliers.
The vaccine will be rolled out in five phases, with Secretary of the Federal Health Department Professor Brendan Murphy saying almost 50% of Australians will be considered part of a priority group within the first half of the year. The 1a priority group includes frontline workers in border control, aged care and certain subgroups of healthcare. They will be followed by elderly Australians, those with pre-existing conditions, Aboriginal and Torres Strait Islander peoples and other healthcare and high risk workers in group 1b. 
The Oxford-AstraZeneca vaccine approvals process is expected to be completed in February. It will be manufactured onshore, which will rapidly expedite the vaccine rollout process, Professor Murphy said.
However, the Australian and New Zealand Society for Immunology has called for a pause on the rollout of the AstraZeneca vaccine due to its comparably low efficacy (62%) which experts say might not be enough to establish herd immunity.
On 13 January, health minister Greg Hunt announced that pharmacists will be involved with the delivery of COVID-19 vaccines, where they can meet the requirements set by the government.
PSA National President A/Prof Chris Freeman said PSA has met with the Department of Health regarding multi dose vial administration and how to support clinicians with safe delivery of all approved vaccines.
'Pharmacists have a vital role to play when it comes to the rollout of COVID-19 vaccines, ensuring there is enough capacity in the system to allow the public to be vaccinated as quickly as possible,' he said.
'PSA has for some time urged all state and territory governments to amend legislation that will allow pharmacists to administer a COVID-19 vaccine and while some jurisdictions have made these necessary changes, others have been slow to act.
'So, we call on state and territory governments where required to urgently change legislation in such a way that will also allow pharmacists to vaccinate in any setting to ensure there is wide and comprehensive uptake of the vaccine.
'Pharmacists are more than capable, qualified and willing to provide this service to ensure the large scale rollout of the COVID-19 vaccine.'
Victorian pharmacists honoured
Six pharmacists were honoured as part of the PSA 2020 Victorian Excellence Awards. 
PSA Victorian President John Jackson presented the awards to the recipients at their respective workplaces due to COVID-19 restrictions.
The winners include: 
Victorian Pharmacist Medal – Dimitra Tsucalus FPS
Pharmacist of the Year – Dimitra Hoppe MPS
Early Career Pharmacist of the Year – Esa Chen MPS
Lifetime Achievement Award – Valerie Constable and John Ware OAM FPS
Intern Pharmacist of the Year – Jarrad Walker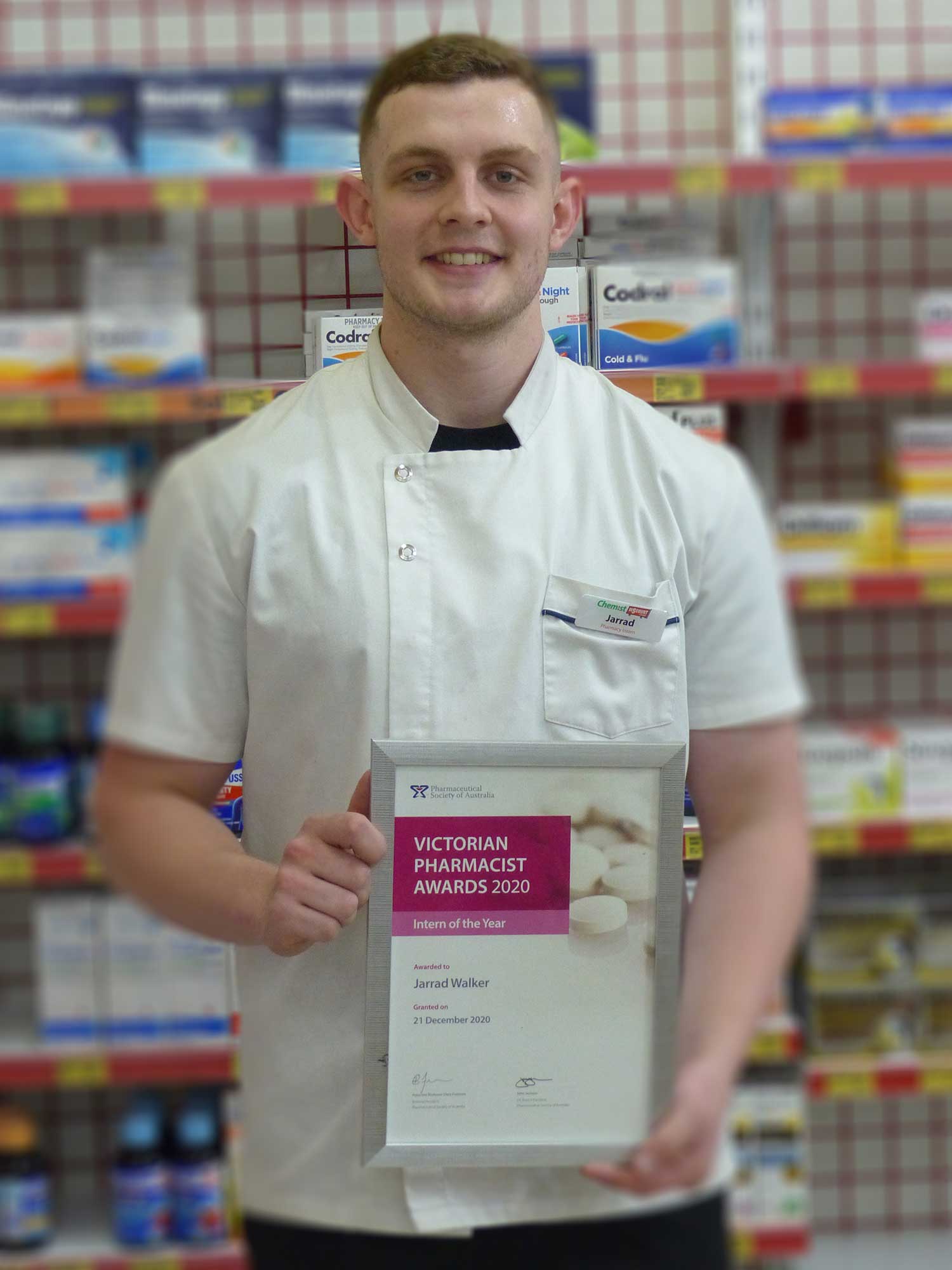 Mr Jackson praised the pharmacists' contributions to the profession during the most challenging of years. 
'2020 has been an extraordinary year where pharmacists in Victoria have been tested to the absolute limits but have met those challenges head on,' he said.
'All six winners have exemplified a significant contribution to the profession throughout this year and their careers and I congratulate them all on this worthy recognition.'
Mr Jackson also took the opportunity to recognise all Victorian pharmacists for their hard work and dedication throughout 2020. 
'I am incredibly proud of how the profession has stood up as frontline health professionals and cared for the community during the bushfires and pandemic with over 8,000 pharmacists working in community pharmacies, hospitals, aged care facilities, general practice and beyond in Victoria,' he said.
Ms Hoppe seconded Mr Jackson's praise of her pharmacist contemporaries:
'I feel like this award is not just recognition for me but all those who surround me including employers, my colleagues and all the pharmacists I have had the opportunity to work with along the way,' she said. 
'I have been lucky enough to work with some terrific people across a diverse range of roles and this award is as much of a reflection on them as it is me.'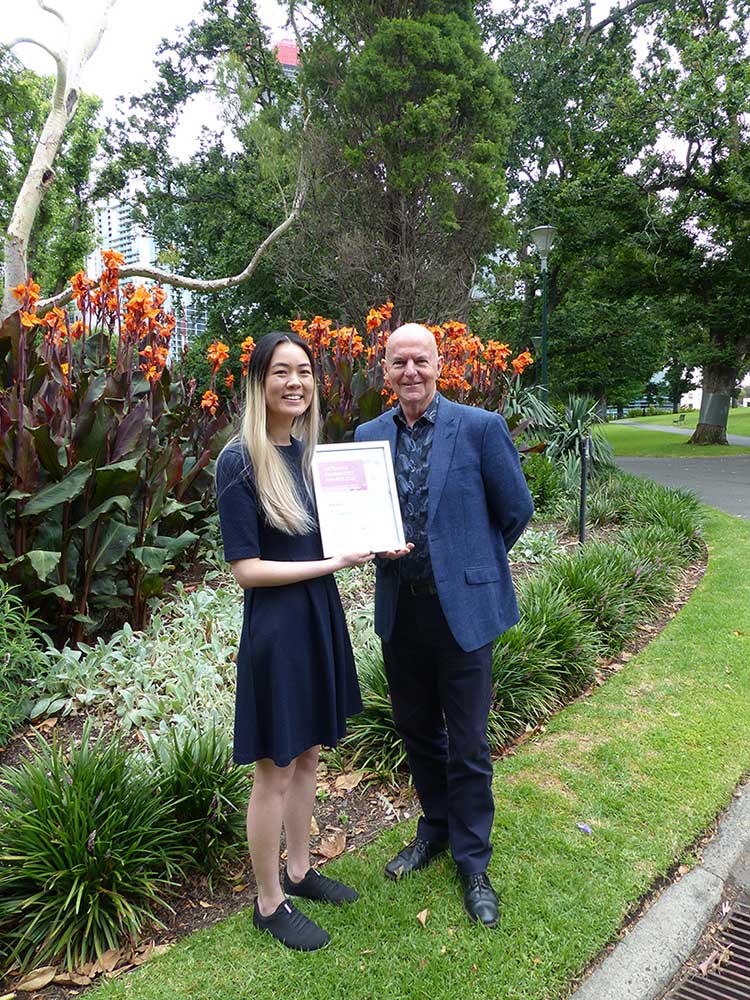 Ms Chen, who is chair of PSA's ECP Victoria Branch, managed to finish her thesis while helping the ECP group shift to online meetings.
'I'm really proud of the work we were able to do and grateful to all the working group members who showed up,' she said.  
Mr Walker said that working as an intern pharmacist during the pandemic was an equally challenging and confronting experience which was a steep introduction into his career in the profession.
'As a pharmacist the community by large turned to us for guidance and reassurance,' he said.
'I'm proud of how I conducted myself and of my role in protecting and serving the wider community. If anything, this pandemic further unlocked my passion for care and our ability as pharmacists to positive influence our patients.'
Rural and remote pharmacists urged to check RPMA eligibility
Following the change from the Rural Pharmacy Maintenance Allowance to the Regional Pharmacy Maintenance Allowance (RPMA), PSA has implored pharmacists based in regional, rural and remote areas to check their eligibility for the new program which came into effect on 1 January. 
Eligibility, which can be checked on the Pharmacy Programs Administrator (PPA) website, is now based on the Modified Monash Model rural classification system rather than the Pharmacy Access/Remoteness Index of Australia categories.
This initiative is part of the 7CPA's increased investment in regional, rural and remote healthcare, which will allow for a 10% increase in the RPMA with a view for further increases in the future.
Of the change, PSA National President Associate Professor Chris Freeman said: 'PSA is supportive of measures that improve workforce challenges and remuneration for pharmacists in regional, rural and remote locations, however we remain concerned that there may be some pharmacists worse off under the new requirements.'
Some pharmacists have expressed concerns about the new program on social media.
Katie Stott, coordinator at the Rural Pharmacy Network Australia, said: 'Are there adequate remuneration measures in place to ensure equity between metropolitan and rural community pharmacies and communities?
'How well does the RPMA recognise the true costs of delivering care in remote rural areas with higher patient morbidity, chronic disease burden and reduced access to medical care?' 
Another pharmacist, based in Victoria, said that they will lose out under the changed parameters due to their pharmacy's proximity to a major regional centre.
From further information, view the RPMA Payment Matrix factsheet on the PPA website or email the PSA policy team to discuss the impact of the change to your pharmacy's practice.
MBS report is a win for interdisciplinary collaboration
The final report by the Medicare Benefits Schedule (MBS) Review Taskforce has proposed an increase to patient participation and a rebate for non-medical health professionals' attendance at case conferences. 
A/Prof Freeman welcomed the report, which was released on 14 December, and said PSA has long-advocated for access to collaborative care items on the MBS.
'Creating MBS items for non-medical health practitioners to align with the equivalent GP items will foster better collaboration and enhanced safe and quality use of medicine outcomes for patients,' he said.
'This recommendation, if implemented by government, means pharmacists will be one of the eligible groups to be remunerated for participation in interdisciplinary case conferences.'
A/Prof Freeman said PSA notes the Taskforce's final report suggests the need for more research around MBS services and interventions as well as consideration of alternative funding models that best support patient care. However, he praised the Taskforce's commitment to providing recommendations to promote quality health care and patient safety. 
'We look forward to working with the Federal Government to progress relevant recommendations to implementation,' he said.