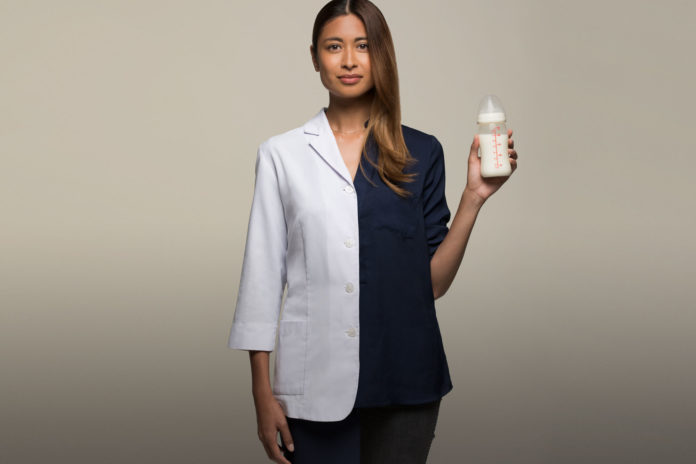 The dearth of women in senior pharmacy positions is well documented. Can offering pharmacists better support during maternity leave help correct the imbalance?
Just four hours after giving birth to her first child, Kate Carnell got up, walked out of the hospital and opened her pharmacy for the day's trading.
'My daughter was born almost two weeks early so my manager wasn't going to start for another week,' recalled Ms Carnell, who is now the Australian Small Business and Family Enterprise Ombudsman.
'I went into labour on Sunday night, had her at about 4am, opened the pharmacy at 8am, and then I had to find a reliever to come in before I could hand over and pop back to the hospital.'
This is a casually regaled anecdote from 1984, but it could just as well have occurred last week – which goes some way to explaining why women are still under-represented in pharmacy leadership and ownership positions.
The facts are: while more than 60% of all pharmacists in Australia are women, fewer than a third are in positions of ownership or managment.1
'The dumb bit about all this is that, based upon evidence, bringing in more women will make your business more profitable,' Ms Carnell said. 'It seems like a no-brainer but we haven't nailed it yet.'
Why the disparity?
There are as many complex reasons for the shortfall in women in pharmacy leadership as there are women in the industry, said Samantha Kourtis, owner of Capital Chemist Charnwood.
'Every woman makes a different choice,' said Ms Kourtis, who had her first baby at 26, and now has three children aged seven, 10 and 12.
'The problem arises when that choice is taken away from you, so when you're looking to get onto a board or manage a business and the people who decide if that's possible judge – based on your gender and fertility – how having a family might impact that.'
Ms Kourtis made a conscious decision to have children before she went into management or ownership roles.
'A lot of my cohort chose to put their career first, so they had first dibs. While I was making babies, they were buying pharmacies,' she said.
'When I'd finished having my children I thought, "what doors can I open?" and so many doors were just non-existent.'
Opening doors
Unlike many women in the industry, Ms Kourtis went on to own a pharmacy.
'When my youngest was seven months old, I was offered management,' said Ms Kourtis, whose pharmacy is part of the Capital Chemist Group, where more than 55% of owners are female.
'This was my long-term goal and these opportunities don't come up that often so I had to have a really big conversation with my husband.'
Kourtis ended up taking the management role, which later led to ownership, and her husband quit his job to be a full-time stay-at-home father.
Business partnerships are also important, said Ms Carnell, encouraging owners to bring in more women as partners.
'It's really important that the (predominantly) men who are running those operations really do focus on capable young women and give them a chance,' she said.
Career pathways
Pharmacist Rachael Ball left community pharmacy before having babies and is now on her second period of maternity leave from North Western Melbourne Primary Health Network.
She said in some ways, but certainly not all, this career pathway made juggling work and motherhood easier.
'One thing that is easier compared to community pharmacy is that my hours are more flexible. I don't just have to work when a pharmacy is open,' Ms Ball said.
She adds that continuing education and networking are also easier to juggle working in a Primary Health Network than in community pharmacy.
'What's more challenging is that when I went back to work after my first child I was working three days a week, but on my days off I was still receiving emails and at busy times I would need to do extra work once I got home and my children were asleep,' she said.
Community pharmacist Rebecca Richardson chose a different path.
'When I was about 30-ish I came to a crossroad: I could either buy a business or have kids,' said Ms Richardson, who has children aged one, three and six.
'[When it comes to ownership] I'm on hold until they're at school.'
Flexibility
So how can pharmacy managers ensure valuable skills and experience aren't lost when their staff become mothers?
Flexibility and the structuring of shifts goes a long way, said Ms Richardson, who is currently working short shifts outside of regular business hours. It's an arrangement that works for both her family and her employer, Ms Kourtis.
'My business trades 96 hours so these mummies are great – they're the ones who want to come to work on weekends and from 6-9pm on weekdays. That's when their husbands can be at home with the kids,' Ms Kourtis said.
While Ms Kourtis said although it wasn't always easy to accommodate a mother's return to work, it was worth it.
'Every mother and child is different. There needs to be some really open, upfront conversations about what the expectations are for both parties,' she said.
There also needs to be an understanding that expectations might change, Ms Kourtis said. 'You never know what each pregnancy and each baby is going to be like,' she said.
'But I have found time and time again that my best pharmacists are those who have had children – male and female – because being a parent diversifies their empathy and their clinical knowledge.'
In addition to rostering shifts appropriately, it was important for pharmacies to ensure mums had the practical supports they needed to return to work, Ms Kourtis said.
'So whether it's being able to breastfeed or express at work, starting later because they have a colicky baby and have trouble sleeping at night, or doing different tasks – my Webster-pak checkers are my mums and their babies,' she said.
Ongoing opportunities
Pharmacist Judy Plunkett owns two pharmacies and has six adult children. She went back to work between each baby but said the prospect was always daunting.
'That could be a real reason why some women don't come back to the profession – they have too long a break and it's quite difficult to catch up,' she said.
'When I had my first child I took six months off and when I went back to work I had a total loss of confidence. Things in pharmacies change very quickly – new drugs, packaging and processes.'
Ms Plunkett added that eligibility around taxpayer-funded Parental Leave Pay could make it hard for women to keep in touch.
Under the scheme, if you go back to work – even for a short time – the rest of your entitlements are automatically cancelled. 'That's a stupid rule, it's ludicrous,' Ms Plunkett said.
As Ombudsman, Ms Carnell is campaigning for reform. 'It's impractical. The fact is that managers get sick, they let you down, things happen that mean you've got to come back to work,' she said. 'What it should be is 18 weeks [paid leave] that can be taken any time over the first 12 months.'
Maintaining clinical accreditation
Earning the CPDpoints required to maintain your registration is now easier than ever, Ms Plunkett said.
'You just need to do the 40 CPD points, which you can do online very easily – there's lots of opportunity to earn points,' she said.
One new opportunity is the quarterly CPD playgroups that PSA is trialling.
Ms Ball said the Melbourne sessions had been great for her, both professionally and personally: 'The first half hour is networking – playing with the children, getting to know each other – and the last hour is education.'
'It was a great learning opportunity because it's hard to attend things at night. But the greatest benefit was speaking to other mums who are going through something similar.'
Helping hands
Some of the biggest advocates for women in pharmacy leadership and ownership positions are the women who have reached seniority themselves.
Despite the challenges, they insist pharmacy is an excellent career for mums.
'Pharmacies aren't bad places for babies – I found pharmacy a great profession and small business to have if you have children,' Ms Carnell said.
'We've got to get more aggressive about mentoring young women pharmacists who have shown interest in leadership roles, who are passionate about making pharmacy a better profession.'
Ms Plunkett added: 'I strongly encourage girls when they're toying with the idea of doing pharmacy – I tell them it's a great career for women because it's very flexible, very rewarding and you can manage children while being a pharmacist.'
'There needs to be some sort of match-up – like a dating site, for want of a better description – between pharmacists wanting to develop succession plans and young pharmacists interested in ownership.'
For Ms Kourtis, it was important that women pharmacists 'backed themselves' to carve out whatever path was right for them. 'Trust in your ability and realise that you're really good at what you do,' she said.
Maternity leave: the facts
Parental leave entitlements
Employees are entitled to 12 months of unpaid parental leave and can request an additional 12 months of leave.
Employees are able to take parental leave if they:
have worked for their employer for at least 12 months:

before the date or expected date of birth if the employee is pregnant
before the date of the adoption, or
when the leave starts (if the leave is taken after another person cares for the child or takes parental leave).

have or will have responsibility for the care of a child.2
Paid Parental Leave
Eligible working parents receive up to 18 weeks' tax-payer funded Parental Leave Pay at the national minimum wage (currently $695 a week before tax).
Full-time, part-time, casual, contract and self-employed workers may be eligible.3
Parental Leave Pay must be received in one continuous period, within 12 months of the date of birth or adoption.4
Maintaining clinical accreditation
The Pharmacy Board states that pharmacists who are absent from practice for a period between one and three years are required to:
complete a minimum of one year's quota of CPD activities relevant to the intended scope of practice before recommencing practice
meet the requirements specified in the Board's Registration standard: Recency of practice.5
Case study
As told by Samantha Kourtis, owner of Capital Chemist Charnwood.
With my first child, I went back to work at three weeks. With the other two, I went back at six weeks.
I started off just doing a couple of hours – short shifts were important because I had three caesareans and so I was still recovering from birth.
I went back to work because I had to – my husband had his own business and that was a financial decision we needed to make.
We had the ultimate tag-team arrangement. The pharmacy I worked at then was five minutes down the road and I started my shift at 4pm.
So at 3:55pm I would have the children safe inside and be waiting in the car for my husband to get home. As soon as he pulled up in the driveway, I would reverse and go to work. That's how tight we cut it!
When my youngest was seven months old, I was working about 25 hours a week and I was offered management. Originally, my plan had been to not go back to full-time work until my youngest child was two, so I had to have a really big conversation with my husband.
It was tough because you don't get these opportunities in community pharmacy very often. In the end, my husband quit his company and he became a full-time stay-at-home dad.
To achieve greater gender equality, I think we need to empower men in a parenting role – my husband is continually asked when he's going back to work.
And he's not, not any time in the near future.
References