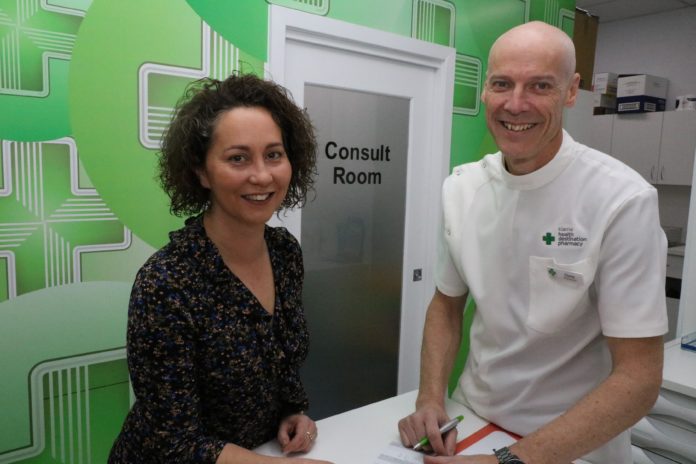 Kiama – on the NSW South Coast – has welcomed Australia's first fully-branded Health Destination Pharmacy.
Servicing a population of around 22,000 people, the Kiama Health Destination Pharmacy – located in the heart of town – has generated strong interest and support from the local community and surrounding areas.
Officially launched on August 30 with strong local media coverage, the pharmacy is adorned with eye-catching Health Destination branding throughout the store and as part of staff uniforms.
It also has a strong focus on delivering professional services including MedsChecks, diabetes education, HMRs, DAAs, weight management and blood pressure monitoring.
While it's been a challenging 'journey', Kiama Health Destination owner and pharmacist Chris Mills said he was delighted to be the first branded site in Australia.
'There's no getting away from the fact that I'm the first one – it's something to be very proud of,' Mr Mills said.
'I'm proud of the pharmacy that I've got and the change practice I've implemented – I am quietly proud of what I'm doing.'
As part of the transformation from a banner group pharmacy, Mr Mills has relished the opportunity to have 'health conversations' with customers and ensure Quality Use of Medicines.
'There's a lot less conversations about the weather – and more conversations about people's health,' said Mr Mills, who also shared his experiences at the recent PSA17 conference and received positive feedback.
'I wanted a health focus offering – that's really what I saw in Health Destination.
'I've always been very passionate about talking to patients and being out there, not stuck behind the dispensary just putting scripts through.
'The model is built around a pharmacist being on the floor engaging with customers, helping them with getting the best out of medication and delivering a solution.'
Full scope of practice
When asked by Australian Pharmacist about the healthcare benefits of delivering a suite of professional services and providing a full scope of practice to customers, Mr Mills was not shy about his response.
'It gives you that warm fuzzy feeling! It's what we all practise pharmacy for – to make a difference to people's health.
'I think it's a great program and hats off to PSA for the work they have done!'
Mr Mills had no hesitation in embracing the whole-of-business, evidence-based change program.
'It was a great fit for the way I wanted to practise pharmacy.
'The change with the pharmacist interaction has led to us being able to offer more services.'
However he admitted the exciting change 'journey' cannot be achieved 'on your own'.
'The change process is difficult; it's almost too difficult to do alone,' he said.
'I see the Health Destination model and the support you get from the PSA coach as critical to the actual change process happening – it's something that offers lasting change.
'We have benefitted from the unique Health Destination coaching which offers one-on-one support from expert pharmacist coaches as part of the program.'
Coaching the key to success
Health Destination Lead Coach Rachel Dienaar said she was delighted to see the Kiama pharmacy transformed into a local health destination.
'It's really important that health conversations happen so that pharmacists can identify needs – and then offer those services to improve the health of the community,' Ms Dienaar said.
Following Mr Mills' proactive decision to embrace the new model, he has worked closely with Ms Dienaar and his team to achieve 'some great coaching outcomes'.
'Mr Mills should be congratulated for going the extra mile to deliver more localised health services to provide better community-based care,' Ms Dienaar said.
'It's really all about enabling pharmacists to do what they do best and what we know consumers want from them – to be more accessible, provide evidence-based advice and assistance on minor ailments and medication management.
'The program is also informed and endorsed by multiple industry experts who bring significant expertise in practice change to support this tried and tested program.'
In a special set-up, the dispensary is managed by a technician so all the 'pharmacists can be more available for helping people in the store'.
Ms Dienaar said as part of the process, often you need to 'change the culture in the pharmacy which can be disruptive but having a coach means you get successful results sooner.'
This has been an exciting and rewarding result for Mr Mills, who said he: 'Didn't really gel with a retail pharmacy focus.'
'Prior to converting [to Health Destination] – I visited other pharmacies and watched the customers walk and they walked straight past retail most of the time.
'I wanted an offer where the retail didn't get in the way of the pharmacist-customer interaction – I feel that's where I'm at, right at the moment.'
During the launch event, Ms Dienaar said as part of the program, the Kiama Health Destination discovered there was a gap in several areas of healthcare.
'We have identified a gap around weight management services in Kiama – and allied health support,' she said.
'As a result, they've implemented a weight management program which people are coming in for from far and wide from the local region.
'It's also a great opportunity to collaborate with local physiotherapists to help people with weight issues.'
Career fulfilment and satisfaction
The change model has also fulfilled his career ambitions.
'Health Destination was a great fit for the way I wanted to practise pharmacy.'
And he said the local community has fully embraced the new model with open arms.
'The difference is the amount of time I'm spending with customers – the model has helped me to focus on health conversations.
'The feedback from the customers is that they love the availability of the pharmacist – it's quite common that the first person they are greeted by when they walk in is a pharmacist – and at the end of the day, that's what the customer is actually looking for.'
He is also upbeat about how the new model has reinvigorated his passion for pharmacy and providing healthcare.
'I see a bright future for me because I'm enjoying the pharmacy – and my customers are appreciating the offer I'm providing. That creates a level of loyalty that a discounter couldn't hope to achieve.'
Ms Dienaar highlighted that staff also receive extra motivation from being involved in the program.
'There's a lot of dissatisfaction in pharmacy at the moment so working in this type of model is extremely rewarding,' she said.
A unique program
Mr Mills was more than happy to recommend the 'unique' Health Destination program to other pharmacy owners and pharmacists in Australia.
'For me, it was a decision all pharmacy owners are going to have to make at some point – I don't think we can continue to be everything to everyone.
'I think we have to choose a model – and work that model as best we can.'
He said there needed to be a decision made about a sustainable pharmacy model for the future.
'Health Destination is very unique and it happens to be a model of pharmacy that I really enjoy – it gives a lot of professional satisfaction.
'And it's a model that I would definitely recommend to other pharmacists.'
Reflecting on his healthcare achievements and the change management achieved so far, Mr Mills said he was very satisfied but he was 'not special'.
'Anybody can do it – that's the beauty of the program. It gives anyone who wants to practise that model the tools to do it.'
He said other PSA members should have 'a fair amount of confidence' in the program.
'I think the runs are on the board – it's shown to work wherever it has been tested.
'The opportunity is there for everyone'.
FIND OUT MORE: www.healthdestinationpharmacy.com.au
WATCH: A video about Kiama launch here.
READ: A local media story here.