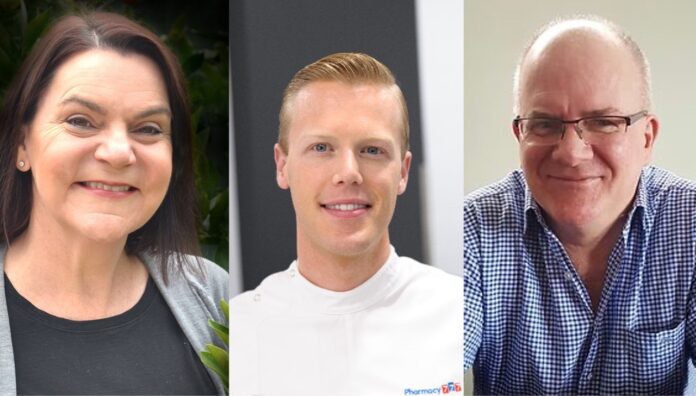 The results of PSA's Branch elections are in, with three innovative new leaders chosen to steer the profession through challenging times.
Australian Pharmacist sat down with these presidents-elect to hear what they have planned for the future of pharmacy.
Manya Angley FPS – PSA NT/SA Branch President
As a celebrated disability advocate specialising in quality use of psychotropic medicines and an accredited pharmacist with over 30 years experience, Dr Manya Angley is one of the most recognisable names in the profession.
But growing up on a rural property in outback NSW, becoming a pharmacist was something to aspire to.
'The local community pharmacist in the closest town, 200 kilometres away, was a pillar of our community who was highly respected and valued,' she told AP. 'He worked closely with the local GP and Royal Flying Doctor who visited the remote communities.'
Now, as the PSA NT/SA Branch's newest president, Dr Angley has a clear vision for the future.
'Consistent with PSA's mantra, my greatest hope is that I can contribute meaningfully to embedding, equipping and enabling pharmacists to be at the forefront of healthcare in Australia,' she said. 
With the profession now facing 'huge challenges and opportunities', some burning issues she wants to address include reinstating telehealth, funding pharmacists to participate in case conferences and enabling accredited pharmacists to register as NDIS Positive Behaviour Support Practitioners (Chemical Restraint Specialists). 
'It's imperative that Transitions of Care Stewardship pharmacists are funded in tertiary hospitals to ensure safe transitions from hospital to community or residential aged care,' she said. 
'We must also ensure funding for the On-site Aged Care Pharmacist program, now to be run through community pharmacies, is used to directly benefit aged care residents and address the recommendations of the aged care royal commission.'
Kristian Ray MPS – PSA Western Australia Branch President
Kristian Ray always had an interest in science, but it was his grandfather who encouraged him to pursue pharmacy due to the great rapport he had with his local pharmacist. 
'There was also something reassuring about knowing where the career would take you – either to hospital or community pharmacy,' he said. 'The irony of that now is my role, while focused on community pharmacy, is very different to what I could have imagined.'
As the Pharmacy Development and Health Services Manager at Pharmacy 777, Mr Ray is involved in the development, implementation and growth of pharmacy services across WA's largest pharmacy group. This includes ensuring Pharmacy 777 was one of the first banner groups to stock HIV self-test kits in 2021.
'[Developing] health services gives me an insight into network-wide implementation and rollout,' he said. 'A service that works for one pharmacy might not work for a whole group, so we need to figure out ways of adapting it and rolling it out across a large number of pharmacies.'
To ensure the viability of the profession following the recent 60-day dispensing announcement, Mr Ray thinks pharmacists should continue to lean into their area of expertise – medicine management – then identify ways to expand scope.
'There's talk of the UTI prescribing program coming to WA, which [might] open the door to other minor ailment services,' he said.
Mr Ray has already thought of ways to have an impact, particularly through the expansion of pharmacist-administered vaccinations.
'The proposed legislation is that nationwide, all community pharmacies will have access to any vaccination under the National Immunisation Program from 1 January 2024,' he said. 'So it's just about making sure the state legislation matches that, and we can actually administer everything available. We are working with the State Government to ensure WA aligns as closely as possible.'
Luke Kelly FPS – PSA NSW Branch President
Becoming a pharmacy leader wasn't on Luke Kelly's radar just 4 weeks ago. 
'[However], recent changes in the pharmacy sector have meant I felt compelled to use my experience to support NSW pharmacists navigate the road ahead,' he said.
As a former pharmacy owner turned business broker, Mr Kelly has a unique insight beyond proprietorship, including supporting pharmacists through financial and partnership difficulties.
'I also have the opportunity to help people towards retirement and mentor new owners,' he added.
During his tenure as PSA NSW Branch President, Mr Kelly wants to help the profession shift its perspective, 'so that we value ourselves and our role as primary healthcare professionals'.
'We need to focus on services and ensure we're remunerated for providing them,' he said.
'I'd love to see how far down the path we can go, including providing screening services such as Hepatitis C and HIV [tests]. If we can inject vaccinations and medicines, why can't we screen for things and get paid for it?'
In Mr Kelly's book, an expansion of preventive health care is next on the cards.
'Preventive health, such as screening for risk factors, is something we should be pushing down the line – and being remunerated for,' he said.
'There should be better communication methodology between us, GPs and other health professionals – collaborative health care is where our future lies.'