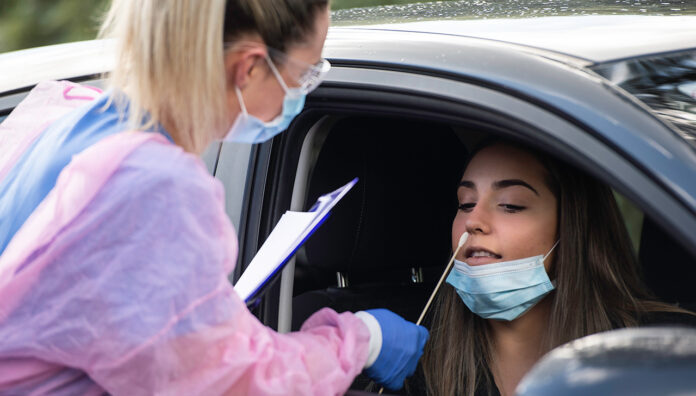 Queensland recorded three new cases of COVID-19 today (31 March), as residents of Greater Brisbane wait to hear if they will spend the Easter break in lockdown.
One new case was acquired overseas, but the remaining two were locally acquired and connected to a cluster at Princess Alexandra (PA) Hospital. One of these is a nurse at the hospital who received her first dose of the COVID-19 vaccination a fortnight ago. 
The PA was placed in lockdown yesterday, for the second time this month. It was previously locked down on 12 March when a doctor tested positive for COVID-19 after working with infectious patients.
Mater Mothers' Hospital also sent home some staff after it was discovered a recent visitor is one of the confirmed COVID-19 cases.
Meanwhile in New South Wales (NSW), masks will be mandatory in the north-east of the state and a raft of social-distancing restrictions will be tightened after a new COVID-19 case was found in Byron Bay last night.
A man in his 20s who attended the Byron Bay Hotel with friends tested positive and will be included in Thursday's official NSW COVID statistics, Premier Gladys Berejiklian confirmed today. A nurse from Princess Alexandra Hospital in Brisbane attended a hen's night at the same hotel on 20 March and later tested positive for the virus, along with 6 others in attendance. The man's friend's have since tested negative.
From 5 pm today until the end of Easter (11.59 pm on Monday) social-distancing restrictions in the Tweed, Byron, Ballina and Lismore local government areas (LGAs) will be tightened, with masks mandatory for hospitality workers and everyone else while shopping and using public transport, taxis and ride-sharing services.
Visitors in homes will be capped at 30 and the four-square-metre rule will apply in hospitality venues, where patrons must also be seated. 
'Fingers crossed' for Easter
Queensland Premier Annastacia Palaszczuk said there had been more than 33,000 tests conducted in the last 24 hours. 
'If we see the same number of test results tomorrow this is very good news,' she said.
'The fact we do not have any unlinked community transmission in the south east or in our state is absolutely encouraging.'
Greater Brisbane – including Logan, Ipswich, Redlands and Moreton Bay council areas – went into a 3-day lockdown at 5 pm on Monday, after health authorities discovered four new locally-acquired cases. 
Under the lockdown, residents can only leave their homes for essential reasons, including grocery shopping, work if they cannot work from home, medical care and exercise. 
Schools have been shut and face masks are mandatory outside of the home.
'This is going to be part of the Australian way of life until everyone is vaccinated,' Ms Palaszczuk said when announcing the lockdown.  
She will provide an update at 9 am tomorrow (1 April) about whether the lockdown will be extended.
'Fingers crossed all will be looking good for Easter,' she said.
'If we see very good testing rates across Queensland and we don't see any unlinked community transmission, the signs for Easter are looking positive.'
There are now 10 new cases in the state, all linked to two clusters: a doctor at Princess Alexandra Hospital and the nurse who travelled to Byron Bay while infectious.
From 8 pm today, only people who have received their first COVID-19 vaccination will be permitted to care for people in Queensland hospitals with the coronavirus.
Advice for pharmacists
As always, community pharmacies are keeping their doors open during the lockdown, in order to provide essential services and medicines to the community. 
Pharmacists should:
Wear masks at work

, and ensure all people in their workplace – including patients – are also wearing masks

Continue to

offer influenza vaccinations

as usual, with current COVID-19 precautions

Urge anyone with symptoms, including a runny nose, sore throat, cough, shortness of breath, fever, chills or loss of taste/smell to

get tested immediately
Intervene in purchases of or requests for medicines

to manage cold and flu, allergies, cough or fever to understand the symptoms and whether immediate testing is needed

Provide test site information and

advise people to stay at home

until their receive their results  

Continue to offer

contactless delivery and telehealth consultations

for at risk patients  

If you haven't yet, book in for your

own COVID-19 immunisation

as part of Phase 1b 

Prepare to administer COVID-19 immunisations in your own practice.
The PSA Pharmacist-to-Pharmacist advice line is also available to answer any questions or concerns on 1300 369 772. 
Pharmacist vaccinations
Meanwhile, pharmacists in Western Australia will be able to take part in the COVID-19 Phase 2a vaccination program when it begins in May, thanks to recent legislation changes. 
PSA WA President Dr Fei Sim said the Structured Administration and Supply Arrangement (SASA) authorises health practitioners in pharmacies to administer or supply a medicine to any patient who meets the criteria.
The federal government will facilitate the supply of doses of the vaccine to communities pharmacies selected to participate in the rollout, and provide payment per vaccination delivered. It will also provide vaccine-specific training and access to the National Booking System.
Participating community pharmacists will have responsibility for operations on their premises, including:
on-site storage and administration of the vaccine

ensuring availability of an adequately skilled workforce

taking all reasonable steps to ensure compliance with the minimum site requirements.
The SASA agreement covers pharmacists and nurses in section 90 pharmacies to administer TGA-registered COVID-19 vaccine products (except Pfizer-BioNTech) for Phase 2a.
Interns who have completed their immunisation and COVID-19 training can also vaccinate under the direct supervision of a pharmacist, provided they are also immunisation and COVID-19 trained.
'Community pharmacies who do not participate in Phase 2a may still be involved in later phases of the vaccine rollout,' Dr Sim said.
'All community pharmacies who meet requirements have the opportunity to participate in the vaccine rollout as more vaccines become available.'
For more information, see 

PSA's coronavirus microsite

.