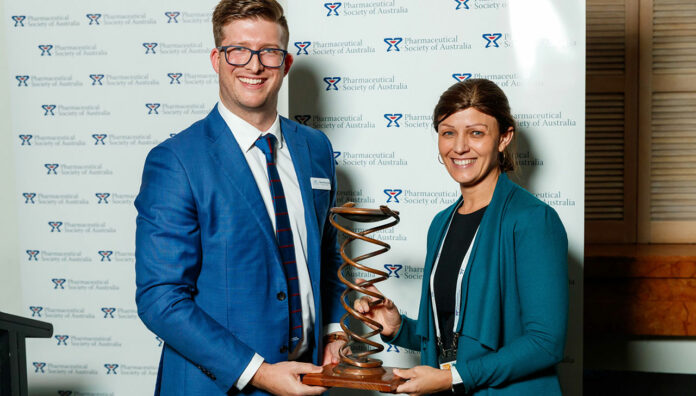 Bridget Totterman MPS is a master behind the scenes, helping pharmacists deliver a seamless service to patients and improving access to medicines in challenging times.
As the Chief Operating Officer of the White Retail – White Medical Group, Ms Totterman rapidly translated and adopted new protocols when COVID-19 first hit to help the pharmacists in her network best serve their communities.
She was recognised for this outstanding leadership and change management at the 2021 PSA Queensland Pharmacist Awards on 20 March.
Ms Totterman's reach also spans policy, education and general practice as a Clinical Fellow of the Queensland University of Technology; a member of PSA's Queensland Branch Committee; leader and manager of seven pharmacies and eight medical practices; and business owner of an additional four pharmacies.
'Bridget has demonstrated exceptional leadership, business acumen and change management within her career,' PSA Queensland Branch President Shane MacDonald said.
'PSA commends Bridget for building frontline healthcare teams in primary care, across both pharmacy and general practice, and for her contribution to the profession across immunisation, palliative care initiatives, the urinary tract infection pilot and now supporting COVID-19 vaccination.'
Despite her numerous achievements, Ms Totterman told Australian Pharmacist she was humbled to receive the award.
'There are so many worthy pharmacists in our industry across all different fields, so I feel very honoured,' she said. 
'But it's a real thrill and the highlight of my career, to be honest.' 
Supporting pharmacists during COVID-19
At the start of the COVID-19 pandemic, Ms Totterman acted quickly by rallying teams to follow systems and updating pharmacists on the constant legislative and practice changes.
'There was so much information coming from [everywhere],' she said.
'I saw myself as a conduit for all that information. I put it together and sent emails to our team – weekly, daily and even hourly – with regards to legislative or dispensing changes.'
Delivering timely information to pharmacists on the frontline freed them up to focus on patient care with confidence.
Pharmacists' mental health and wellbeing was also prioritised through regular check-ins and ensuring team members' hours were rotated.
Ms Totterman coordinated the safety upgrades for the pharmacies in her group, including social distancing stickers on the floors, sneeze screens and hand sanitiser stations.
To prepare for the rollout of the COVID-19 vaccine, Ms Totterman organised the Expression of Interest (EOI) submissions for the GP clinics she oversees.
'I've been working with the practice managers in each GP clinic to ensure a smooth and frictionless process for patients when they come in [for the COVID-19 vaccine],' Ms Totterman said.
'But they're the real heroes who do all the hard work. I'm just trying to take whatever pressure I can off them, so they can keep doing what they do.' 
All the pharmacies Ms Totterman oversees put forward an EOI to administer the COVID-19 vaccine, and she has met with pharmacy managers to plan for the delivery of a safe service should they be approved.
Making medicines more accessible
What Ms Totterman loves about pharmacy practice is providing advice and ready access to safe medicines to treat problems before they become worse.
And her involvement in Queensland's Urinary Tract Infection Pharmacy Pilot, a provision for pharmacists to provide antibiotics to patients with uncomplicated UTIs, aims to do just that.
'There's such a need for patients to have access to these medicines,' Ms Totterman said.
'Pharmacies are open long hours and offer a walk-in service. We can help patients get timely access to the right medicine and prevent patients experiencing a worsening infection and further ramifications, such as missing work, through the delays that may be encountered if they cannot get a timely appointment at their GP clinic.'
Improving access to medicines for palliative care patients is another area Ms Totterman is passionate about. 
'I went to a palliPHARM focus group early on, where I learned that many pharmacies don't stock medicines that are needed for end-of-life treatment,' she said. 
'If you have a loved one at the end of life who needs a script filled to make them more comfortable and the pharmacy needs to order the medicine in – that's just not good enough.'
Touched by what she learned from the focus group, Ms Totterman made it her mission to ensure all the pharmacies in her network keep palliative care medicines in stock based on palliPHARM's most used medicines list.
'Even if the medicine expires, we'll order in another one to keep the pledge of continuing to stock these medicines on our shelves, should anyone in our community need them,' Ms Totterman said.
More pharmacists honoured
Ms Totterman wasn't the only Queensland pharmacist honoured for outstanding work recently.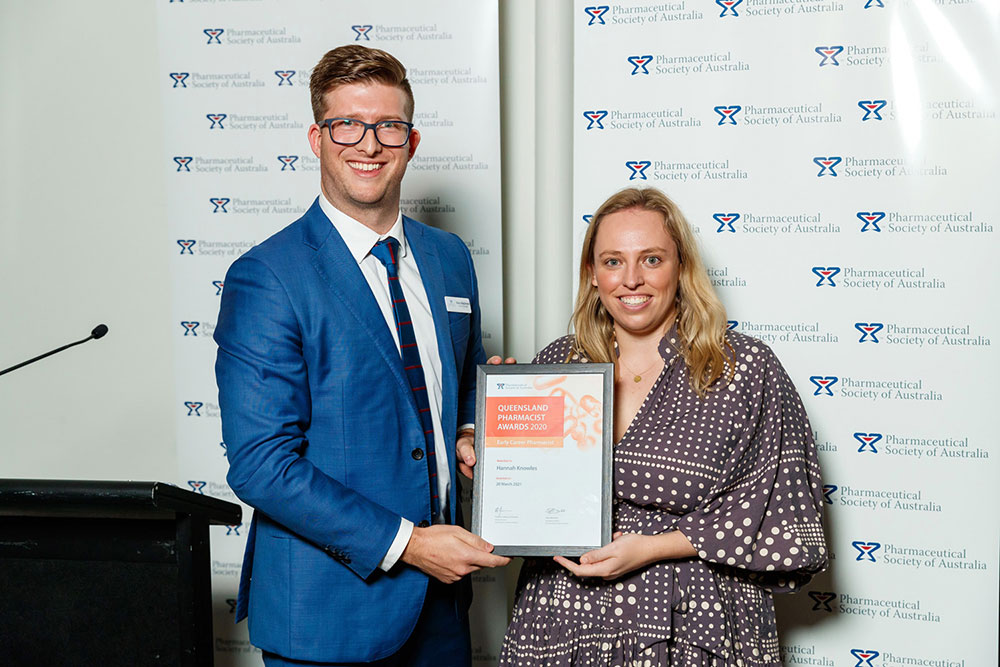 Hospital pharmacist Hannah Knowles MPS received the Early Career Pharmacist (ECP) of the Year award for her contribution towards transitions of care and action for change. 
Ms Knowles' work and advocacy saw PSA secure an election promise from the Palaszczuk government to look at best practice transitions of care across all 16 Hospital and Health Services in the state. 
Since coming on board as a PSA branch committee member, she has provided insights from her hospital residency, community pharmacy and through her contribution to International Pharmaceutical Federation committees. 
'Her willingness to contribute and lead and support fellow early career pharmacists is exceptional,' Mr MacDonald said.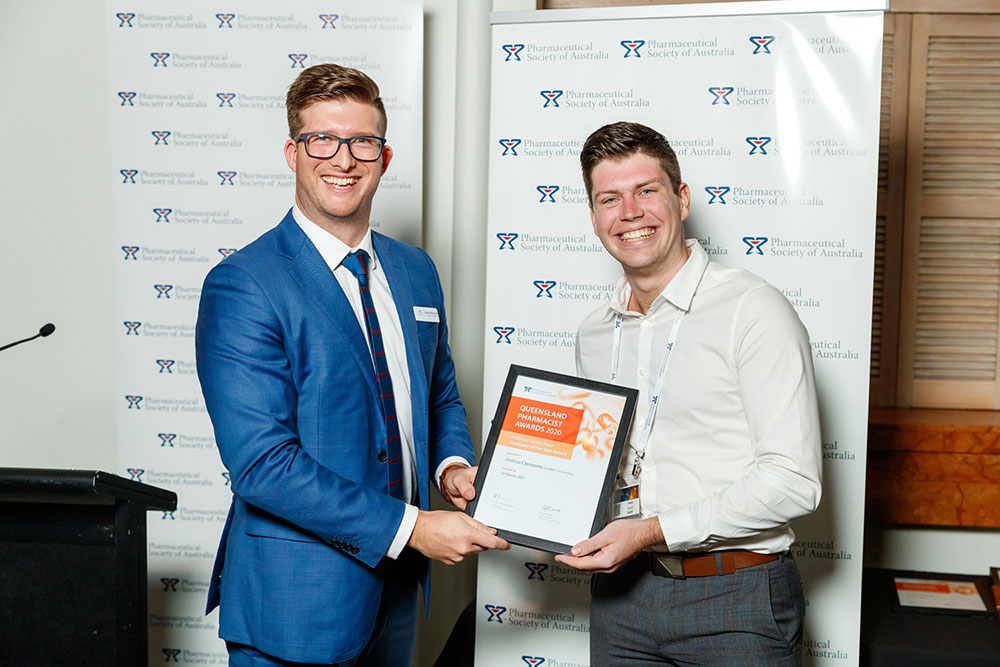 Joshua Clements was recognised for his academic excellence and contribution to the pharmacy community through his receipt of the James Dare PSA Graduate of the Year award. 
Mr Clements was awarded a Bachelor of Pharmacy with Distinction from Griffith University in December 2020 and earned the Griffith University Awards for Academic Excellence for every year of his enrolment, from 2017–2020.
As an active member of PSA for more than 45 years, former State Councillor Gilbert Yeates was awarded the Lifetime Achievement Award.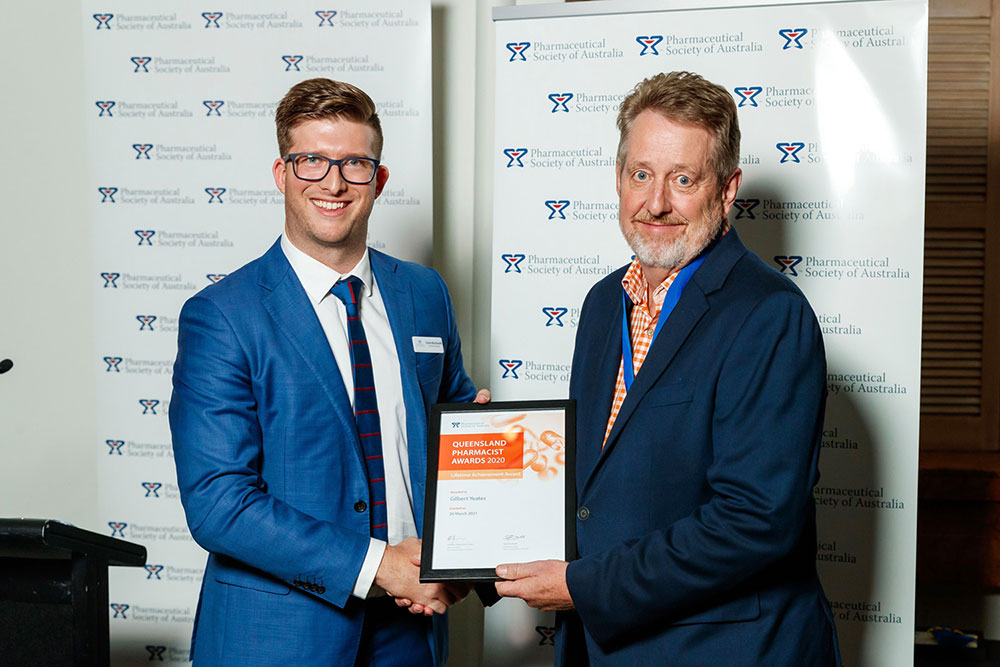 He was recognised for his significant and ongoing contribution to the profession over many years and across all walks of practice – from community pharmacy to hospital, academia, professional development, policy, advocacy and professional indemnity.    
'Gilbert is well respected by his patients and peers for his confidential and expert advice on professional responsibilities,' Mr MacDonald said. 
'He engages with those at all levels of the profession, and generously provides counsel to many pharmacists in official and informal capacities.
'There has not been an issue relating to the practice of pharmacy in recent history that Gilbert has not been involved with and significantly contributed to, from pharmacist immunisation though to medicine management, prescribing and practitioner development.'
The PSA also recognised the contribution of pharmacists who have been elevated to the honour of PSA Fellowship. This year both Joyce McSwan FPS and Prof Beverly Glass FPS were conferred as PSA Fellows.