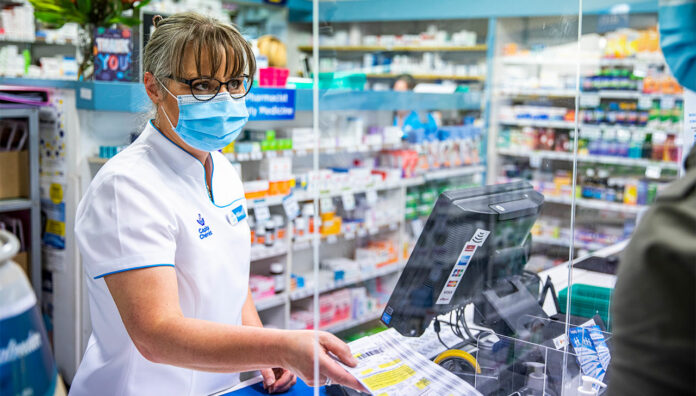 New South Wales has recorded 16 new locally acquired COVID-19 cases, with Premier Gladys Berejiklian announcing new restrictions today to stop the spread. 
Half of the new cases were linked to a birthday party in south-western Sydney, which was attended by about 30 people. One of the party guests was a person with COVID-19 who was infectious but asymptomatic, and who works at Bondi Junction Westfield. 
Ten party guests have since tested positive, including a two-year-old child.
There are now 31 cases linked to the Bondi cluster.
Announcing the new restrictions this morning, Premier Berejiklian said: 
'Given what has occurred, the NSW Government will be taking action today to limit the spread of what is a very contagious variant of COVID,' she said.
'This variant of COVID is causing transmission in very fleeting exchanges.'
From 4 pm today, the following restrictions will come into effect in Greater Sydney, the Central Coast, Blue Mountains, Wollongong and Shellharbour areas:
Masks will be compulsory in all indoor non-residential settings, including workplaces, and at organised outdoor events

Visitors to households will be limited to 5 guests – including children

The one person per four square metre rule will be re-introduced for all indoor and outdoor settings, including weddings and funerals

Previous public transport capacity limits will be reintroduced.
View the full list of restrictions here.
Updated vaccination advice
Meanwhile, the Australian Technical Advisory Group on Immunisation (ATAGI) has halved the interval needed between a dose of influenza vaccine and a dose of the Pfizer or AstraZeneca COVID-19 vaccine.
The preferred minimum interval between the two vaccines is now 7 days, according to an ATAGI advisory published earlier this month. It was previously 14 days.
A shorter interval (including co-administration) is acceptable in the following situations:
Increased risk of COVID-19 or another vaccine-preventable disease (e.g. COVID-19 outbreak, influenza outbreak, tetanus-prone wound)

Logistical issues, for example difficulty scheduling visits to maintain the 7-day interval.
The influenza vaccine can be given before or after any dose of a COVID-19 vaccine, with a minimum interval of 7 days. An influenza vaccine can be given in between a patient's two doses of a COVID-19 vaccine. 
'There is no particular requirement regarding the order of receiving a dose of influenza vaccine and either the first or second dose of a COVID-19 vaccine,' according to ATAGI.
'When scheduling influenza and COVID-19 vaccines, providers should prioritise COVID-19 vaccines for patients who are eligible to receive the vaccine now, then they can schedule the influenza vaccination.'
ATAGI also raised the preferred minimum age for the AstraZeneca vaccine to 60 years last week, which PSA National President Associate Professor Chris Freeman described as 'the latest speed-bump in Australia's COVID-19 vaccine roll-out strategy'.
While ATAGI's responsive advice 'should be reassuring in demonstrating our system working', A/Prof Freeman said each change takes time to be absorbed by governments, health providers and the wider population.
He said health leaders were worried the new advice could cause people who had safely received their first AstraZeneca dose to miss their second dose 12 weeks later, or make people in the 60–69 age group reluctant to accept AstraZeneca vaccination. 
'While governments try to tackle the tricky problem of increasing vaccine supply, I urge you to play your part in communicating accurate risk information to your patients and instil the personal health imperative of following ATAGI's advice,' A/Prof Freeman said.
'I received my second AstraZeneca vaccine dose [yesterday] and my advice to the profession is simple – follow the health advice. Get vaccinated now – do not delay. This is our way out of the pandemic.'
I received my second AZ #COVID19 vaccine today. I can understand the confusion and concern but my message is simple, if eligible, get vaccinated now & please don't delay your second vaccination. This is our way out of the pandemic! pic.twitter.com/21GVuHxNKt

— Chris Freeman FPS (@topherfreeman) June 22, 2021
In Victoria, the government has reduced the number of Pfizer COVID-19 vaccine appointments available as part of the state's vaccine rollout. 
Three weeks after Pfizer vaccination was extended to the 40–49 age group, a lack of supply meant people were unable to make phone bookings and 'walk-ins' at mass vaccination hubs were turned away.
While the advice was that people have their second Pfizer dose 3 weeks after their first, Victorian Chief Health Officer Professor Brett Sutton said a gap of 3–6 weeks was fine. 
SA pharmacist COVID vaccinations
Meanwhile, pharmacists in South Australia will join the vaccine rollout, Premier Steven Marshall announced on Thursday (17 June). He said the government was looking at 'about 100' rural and remote pharmacies to provide COVID-19 vaccinations from about late July.
The PSA has been working with the SA government to secure pharmacist involvement in the COVID-19 vaccine rollout, and PSA SA President Robyn Johns said it was the outcome many rural communities had been waiting for.
'We are delighted that community pharmacists in regional SA will finally be able to play their part in protecting their communities against this dreadful disease,' she said.
'PSA has been advocating for pharmacists in the community to join the pharmacists who are already contributing in hospitals and vaccination hubs. As Australia's most accessible healthcare workforce, bringing community pharmacists on-board will expedite completion of the rollout; protecting more people sooner.'
SA Chief Pharmacist Naomi Burgess said planning was underway to ensure the community pharmacy expansion was ready to go ahead as soon as the plan was finalised and approved by the Commonwealth Government. 
'We have had a great response from the South Australian community pharmacy sector, who are very keen to be involved in supporting their community by playing their part in the rollout of this vital vaccine,' she said.
'Rural and remote pharmacies will be the first to come online in the program. Metropolitan pharmacies will also be considered once further vaccine supplies are available.'
QR code check in compulsory
Victoria recently joined Western Australia and South Australia in mandating the use of state government mobile phone apps in community pharmacies and many other health settings to help increase the speed at which health authorities can contain and manage COVID-19 outbreaks.
Queensland has also announced a broadening of the mandated sectors for their app, and NSW's Premier Berejiklian has signalled that mandating universal use in all settings is imminent.
'The importance of this QR scan data for contact tracing cannot be underestimated; providing tracers with faster, more private and more accurate data from an exposure site,' A/Prof Freeman said.
'Whether you work in a jurisdiction where use is mandatory or optional, I encourage you to champion its use and be an exemplar for compliance in your practice and in the community.'
Checking-in via a QR code using the @servicevic app is now mandatory for all Victorians even if you're visiting a venue for less than 15 minutes. #checkinvic [1/2] pic.twitter.com/KfLSjySoTY

— VicGovDH (@VicGovDH) June 20, 2021