About 450 community pharmacies in New South Wales will be able to administer the AstraZeneca COVID-19 vaccine to patients under 40 years of age from next week, the NSW Premier announced yesterday.
'Though the Pfizer supply is insufficient there is plenty of AstraZeneca, and updated federal health advice recommends anyone aged 18 and over in Greater Sydney should access the jab,' Premier Gladys Berejiklian said.
It comes as the state records 177 new cases from more than 94,000 tests with 165 people now in hospital, 53 in intensive care wards and 22 people on ventilators, and with lockdown extended by a further 4 weeks.
Once reserved for those over 60, the Australian Technical Advisory Group on Immunisation (ATAGI) urged all 'all individuals aged 18 years and above in greater Sydney, including adults under 60 years of age' to 'strongly consider getting vaccinated with any available vaccine including COVID-19 Vaccine AstraZeneca'.
This was based on the increasing risk of COVID-19 and limited supplies of the Pfizer vaccine.
'In a large outbreak, the benefits of the COVID-19 Vaccine AstraZeneca are greater than the risk of rare side effects for all age groups,' an ATAGI statement said last week.
In addition, people in areas where outbreaks are occurring can receive the second dose of the AstraZeneca vaccine 4 to 8 weeks after the first dose, rather than the usual 12 weeks, to bring forward optimal protection, ATAGI said.
Younger patients keen to be vaccinated
The NSW news follows Prime Minister Scott Morrison's announcement late last week that all approved community pharmacies can begin administering the AstraZeneca vaccine.
Akash Mehta MPS, from the New South Wales Mid North Coast town of Old Bar, began vaccinating patients against COVID-19 on 19 July. In the first week, he administered 146 vaccines – almost half of his first batch of stock. 
As the only pharmacy approved to administer the vaccine within a 250-kilometre radius, Mr Mehta said the community's response had been 'tremendous'.
'A lot of people are booking in and we're doing a lot of walk-ins as well,' he told Australian Pharmacist.
While Old Bar's population is predominantly retirees, Mr Mehta has also been administering the AstraZeneca vaccine to patients in the 45–55 year age bracket. 
While some younger patients have come to the pharmacy for the vaccine when they couldn't get an appointment with their GP, others without a GP can't access respiratory clinics or hospitals for the service.
In these scenarios, Mr Mehta obtains informed consent from patients through counselling.
'[I tell them] while the vaccine is safe, because you are under 60 years of age, the chances of getting the [blood] clot could be just a tad bit higher.'
Patients have responded well to the ease, convenience and familiarity of the pharmacy setting.
'Getting appointments with the doctors or the clinics that run it [is hard], and most often [the clinics] don't run throughout the day,' Mr Mehta said.
'I haven't heard a single person say, "I don't want to wait, I'll come back" because it's that convenient.'
Managing walk-ins and minimising waste
While most patients have booked through the pharmacy's online booking system,  walk-in patients have also been accepted. 
'We tell them, "I can do it for you, but you might have to wait a little bit longer",' Mr Mehta said. 'But they take around 15 minutes to fill out the form anyway.'
Rather than drawing up a full day's worth of doses, Mr Mehta prepares 5 at a time to prevent waste in case of cancellations. 
Catering to walk-ins over the weekend also helped minimise waste.
'I opened a vial on Friday and administered two doses,' he said. 'Then I had people walk in and [ask] if we would be happy to [vaccinate] them today.'
As a result, 4 doses went into arms and didn't need to be discarded.
Key challenges and advice for unwell patients
One of the biggest challenges Mr Mehta has faced is confusion from patients around when they should get their second vaccine dose.
'You just have to tell them, [because] we are not in an outbreak setting at the moment, the advice is 12 weeks apart for maximum efficacy,' he said. 
'But if we do become a hotspot, then [they] might have to change [the] appointments and we will do it sooner.' 
While the screening questionnaire is good at filtering out unwell patients who have presented for the vaccine, Mr Mehta said it's important to assess patients' health and reassure them that they can easily book in for another appointment.
'One person who has very bad COPD [chronic obstructive pulmonary lung disease] and can barely walk was meant to come in this week, but she wasn't feeling well,' he said. 
'And I just thought, it's best to wait until she feels better – we're not going anywhere.'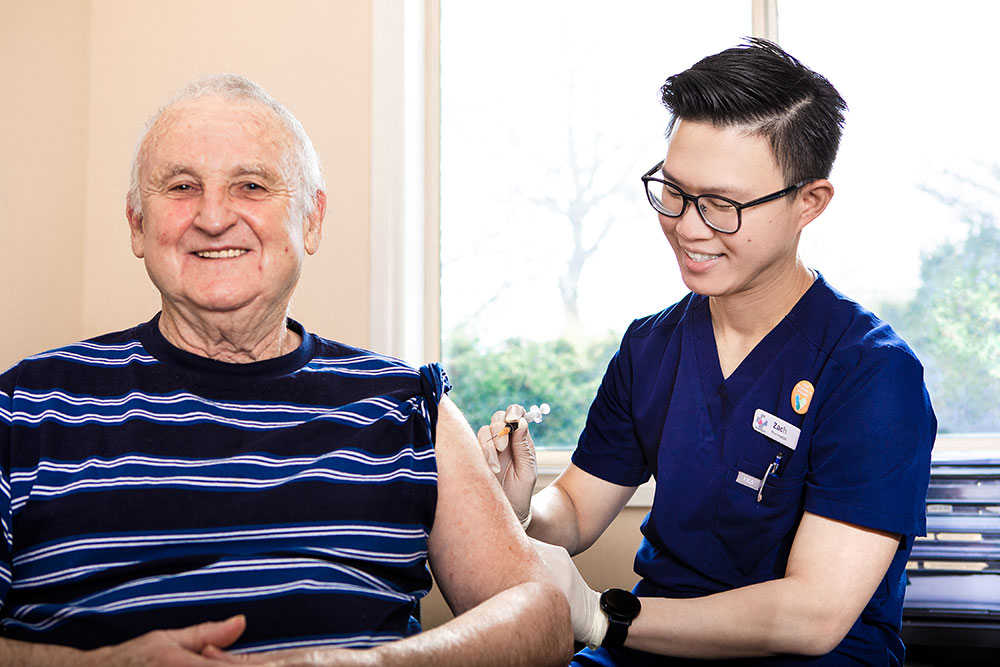 Vaccinating in general practice
Melbourne-based general practice pharmacist Zachary Sum MPS, from a medical clinic in the south-east suburb of Berwick, has been administering the AstraZeneca COVID-19 vaccination to patients since 10 May.
While Mr Sum hasn't noticed much uptick in the number of patients making vaccination appointments, he estimates an extra 5% of patients under 60 per week are requesting the AstraZeneca COVID-19 vaccine. 
The main reason for this, he surmises, is that patients face barriers to accessing the Pfizer COVID-19 vaccine.
'That's where [being] a pharmacist [who] knows medicines in and out puts me in a good position to have a discussion with the patient, together with the GP, to make sure they are making an informed decision,' he said.
'We assess their risk and say, "You qualify for the AstraZeneca COVID-19 vaccine, but here are some of your risks", and then explain the vaccine's pros and cons.' 
Once the patient has made an informed decision, Mr Sum administers the vaccine.
Addressing vaccine hesitancy
While patients who present to the clinic usually have no qualms in receiving any brand of the influenza vaccine available in the clinic, Mr Sum said some patients aged over 60 still take some convincing when it comes to the COVID-19 vaccines.
'That's where I find my role as a general practice pharmacist immuniser quite interesting, because you have to really counsel [patients] about the COVID-19 vaccine, such as it's effectiveness and the possible side effects,' he said.
'All this could happen while the patient is already sitting on the vaccination chair.'
Patients who have multiple chronic health conditions often tend to request an extra consultation with their GP, but can still express some level of hesitancy when they enter the vaccination room.
Talking with a pharmacist immuniser often reassures them, because they know pharmacists, as medicine experts, can provide a professional opinion on the two COVID-19 vaccine brands.
'In this role, I help [patients] cross that line from being slightly hesitant to accepting the vaccination,' Mr Sum said.
A case study in extreme hesitancy
Recently, Mr Sum counselled a husband and wife in their 70s who were determined to receive the Pfizer vaccine.
The female patient previously coughed up blood-streaked sputum (hemoptysis) on two occasions, which left her worried that the AstraZeneca vaccine would exacerbate this, or worsen a probable undiagnosed bleeding disorder.
After trying their luck to obtain the Pfizer vaccine through several doctors in the clinic as well at another location, the consensus remained that the patients were not eligible. Following this, they presented back to the practice for one last attempt.
'The GP registrar said, "Why don't you speak to our clinical pharmacist, he knows his medicines better, so he will know more about the COVID-19 vaccines",' Mr Sum said.
As a general practice pharmacist, Mr Sum can spend 30–45 minutes with patients, so he took the opportunity to get to the root of the couple's concerns.
'I found out that the hesitancy was with the wife, the husband was very willing to get the AstraZeneca vaccine,' he said. 
To reassure her, Mr Sum and the GP sought an opinion from the Victorian Specialist Immunisation Services (VicSIS) who could assess the patient's medical history through a vaccine-specialist lens to provide a final decision.
Even though VicSIS's response said the patient faced no increased risk of a blood clot should she be vaccinated with AstraZeneca, her hesitancy rose again when Mr Sum walked her through the potential adverse effects in the vaccination room.
'I said, "Why don't I vaccinate your husband first, and you can see how he's going in the next few days",' Mr Sum told AP. 
'If he's not feeling well, you can look after [him]. If he's okay, he will be a good example for you to accept the AstraZeneca vaccine.'
The patient was happy with this approach, which Mr Sum said was necessary when people needed to see positive results closer to home.
'One of the roles that I played was to provide a listening ear. She's just here for advice and for someone to listen,' he said.
A week later, the wife presented back to the practice requesting that the AstraZeneca COVID-19 vaccine be administered by Mr Sum.
'When I heard of her return, I was thrilled that she appreciated my method of staggered vaccination between husband and wife,' he said.
'She mentioned that her husband had no side effects after his COVID-19 vaccination, and she was ready to roll up her sleeves to receive the vaccine.'
Mr Sum's advice to participating community pharmacists tasked in the upcoming administration of the AstraZeneca COVID-19 vaccine is to 'always be available for your patients', so as to 'allow for an open conversation about their risk and benefits' of receiving the COVID-19 vaccine.
'Vaccine hesitancy is something all pharmacists must be comfortable addressing, so that we can help Australia in its efforts to achieve its vaccination targets,' he said.