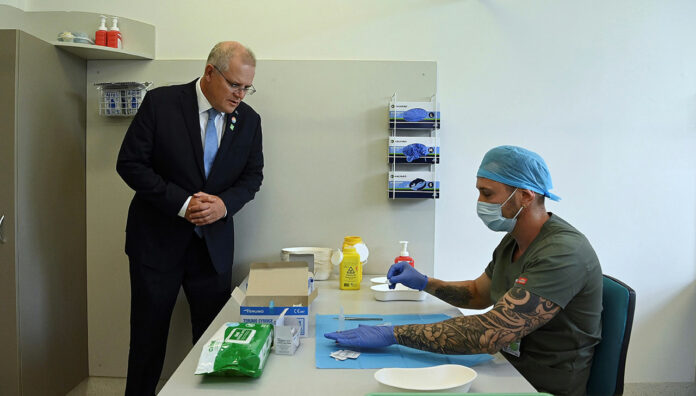 Pharmacists were among the first to receive the COVID-19 vaccine on Monday in what has been labelled a 'momentous day' in Australia's history.
Alfred Health Pharmacist Uyen Hua received her vaccination on Monday (22 February) before starting her role in a specialist team that will be vaccinating Victoria's hotel quarantine staff.
'Our nursing and pharmacy teams are really excited to be involved in the vaccine rollout, helping to keep our most at-risk workers safe,' Alfred Health tweeted.
Pharmacist Uyen just got her COVID-19 vaccination! She's proud to a part of the specialist team who'll be vaccinating Victoria's hotel quarantine staff – starting with the Health hotel this week. #covid19 #vaccine pic.twitter.com/gDljf4xKLk

— The Alfred (@AlfredHealth) February 22, 2021
The Alfred pharmacy team received its first shipment of the Pfizer vaccine on Sunday and began preparing syringes for nurses to administer on Monday. 
Director of Pharmacy Professor Michael Dooley said the team had been working around the clock to prepare for the arrival of the vaccine. 
'We're really happy to be involved with the vaccine program, and to assist in protecting our key frontline workers with the best defence we have against COVID-19,' he said.
'I'll be very happy to roll my sleeve up when my turn comes.' 
PSA National President Associate Professor Chris Freeman said administering the first vaccines represented a 'momentous day' for the nation and marked the beginning of Australia's exit from the pandemic.
'Australia's health response to the pandemic has been led by expert scientific health advice, and our national COVID-19 vaccination strategy is no different,' he said.
'All Australians can have confidence in the safety and effectiveness of approved COVID-19 vaccines, which will be administered by competent, well-trained vaccinators, including pharmacists.'
Pharmacists at Monash Medical Centre took delivery of their first 5,000 doses of the Pfizer vaccine on Sunday, storing them in a -80°C freezer.
The vaccines will be administered to an initial 5,000 'priority A' healthcare workers, including those in emergency departments, intensive care units and in the COVID-19 ward.
Once the vaccine is removed from the ultra-cold freezer it can be thawed and stored for up to 5 days in a normal fridge. Once it has been taken out of the vaccine fridge, it must be prepared and used within 6 hours.
Monash Health Director of Pharmacy Associate Professor Sue Kirsa, who is responsible for ordering and distributing the vaccines, explained the process.
'Very early in the morning, our staff will pull [the vaccine] out of the fridge and put them into a vaccine portable fridge, take them over to the clinic and reconstitute the vials and draw them up into syringes.'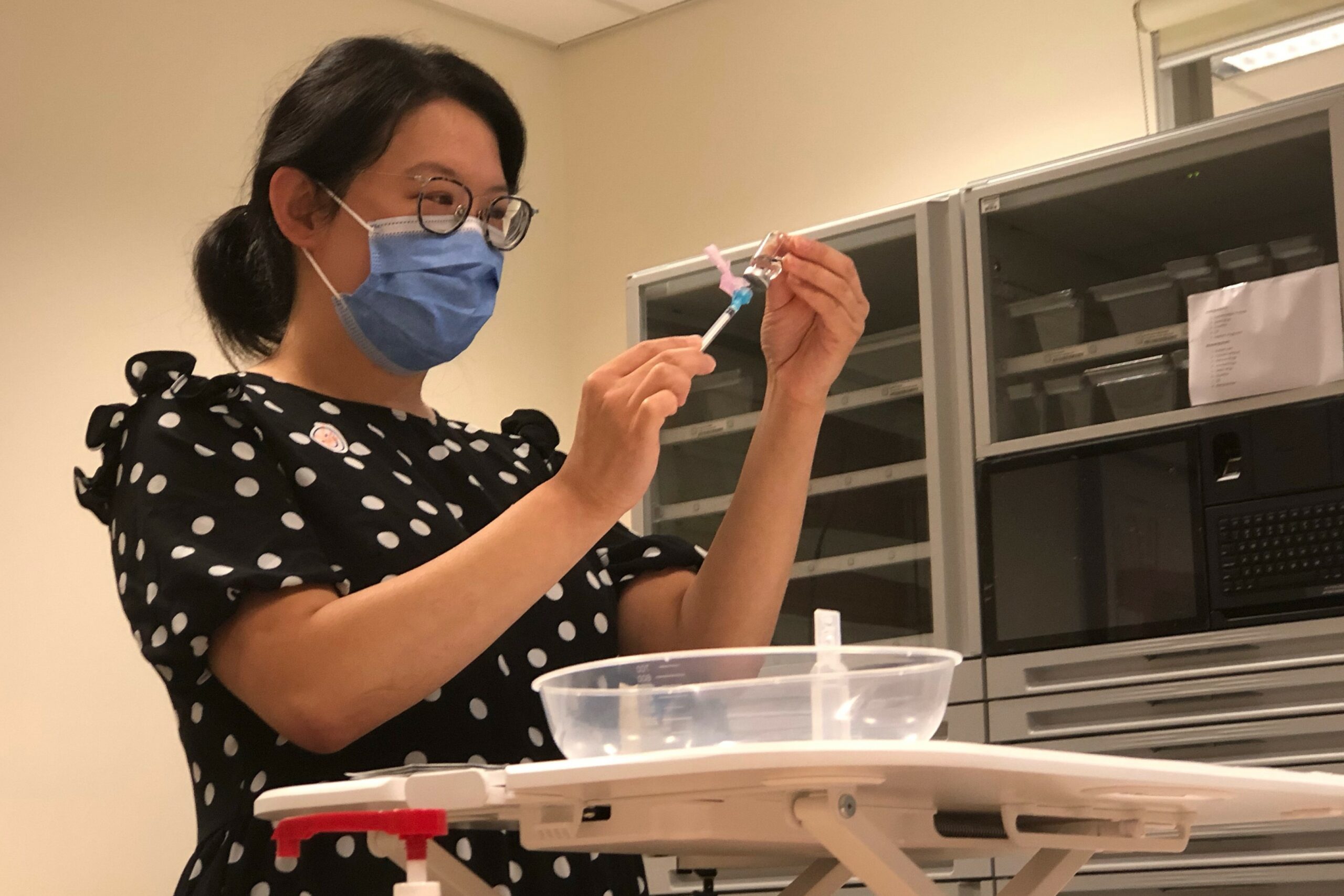 To reduce wastage, staff at the Monash Medical Centre vaccine hub will vaccinate healthcare workers from 7.30 am for 7 days a week. This will allow the centre to vaccinate night staff before they go home, and help prevent people needing to queue.
Once five doses have been extracted from each vial, a small amount of liquid remains. It has been reported that a worldwide shortage of low dead space syringes designed to extract these last drops will mean some of the Pfizer vaccine will be wasted.
However, this isn't always the case, with Victoria's Deputy Chief Health Officer Professor Allen Cheng tweeting his congratulations to Alfred Health Deputy Director of Pharmacy Erica Tong on getting '6 doses from the first vial without needing low dead space syringes!'
'For full transparency I didn't draw them up, but our very capable senior pharmacist in aseptic manufacturing did!' Dr Tong replied.
In New South Wales, Royal Prince Alfred (RPA) Hospital's vaccination centre officially opened its doors on Monday, after pharmacist Branko Radojkovic prepared a simulated vaccine to show Prime Minister Scott Morrison on Friday.
About 1,200 healthcare workers and quarantine staff were vaccinated on the first day. Roughly 35,000 frontline healthcare and quarantine staff will be vaccinated over the next 3 weeks at Sydney's three hubs: RPA, Westmead and Liverpool hospitals.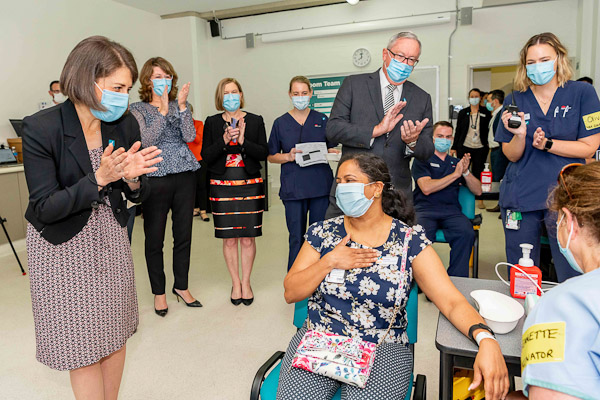 The PSA worked with the federal government and state and territory health departments to prepare for the rollout, including consulting on regulatory milestones, such as:
Victoria issuing a Public Health Emergency Order providing approval for pharmacists and nurse immunisers to administer COVID-19 vaccines

South Australia issuing approval for pharmacists to administer COVID-19 vaccines

the Northern Territory Parliament allowing all authorised immunisers, including pharmacists, to administer COVID-19 vaccines.
Community pharmacists gearing up
The first vaccinations came after 700 pharmacists attended a PSA webinar last week in preparation for their involvement in Phase 1 and 2 of the vaccine rollout. 
The webinar, which saw senior government officials leading the COVID-19 vaccination plan join A/Prof Freeman, covered training and state-by-state implementation, the pharmacists' role and common questions around requirements to administer COVID-19 vaccines.
A/Prof Freeman said the response to the webinar had shown the high levels of interest and support for the COVID-19 vaccine rollout among pharmacists.
'It is fantastic to see the level of support from our members,' he said.
'Pharmacists are well placed to assist in this program and the attendance at PSA's webinar clearly demonstrates the commitment of our members and desire to ensure we understand the protocols and get the right training to deliver these vaccines safely.'
PSA members can access the webinar here.