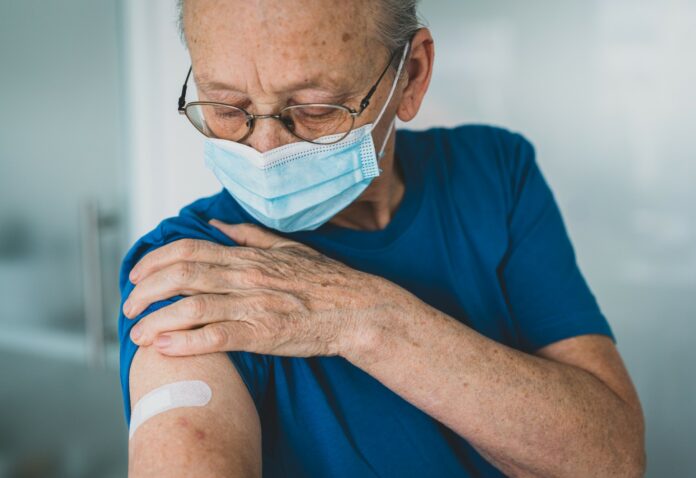 Residents in more than 240 aged care facilities across the country will receive their first vaccine dose against COVID-19 from Monday (22 February).
Federal Minister for Health and Aged Care Greg Hunt confirmed the start date yesterday (16 February), after the first doses of the Pfizer vaccine arrived in Australia on Monday. 
'The Eagle has landed,' Minister Hunt said following the shipment. 'They have touched down, they are currently being secured, and the advice that I have is that 142,000 doses have arrived in Australia.'
Of these, 62,000 doses will be set aside for second doses in case of supply interruptions. The remaining 80,000 doses will be split between the federal and state and territory governments, with 30,000 administered by the federal government in aged care facilities.
The remaining 50,000 will be administered by the state and territory governments to those most at risk of coming into contact with international arrivals, including hotel quarantine and border workers. The states and territories will also focus on residential aged care facilities (RACFs) that are within their systems, and on frontline healthcare workers.
'We are expecting that by the end of February, probably 60,000 of those doses will have been administered,' Minister Hunt said.
'We have to allow for the time taken to be administered, for any issues that occur along the way, we have to be realistic – at some point, there will be a vial which is dropped.'
Priority population
The aged care roll out will begin in every state and territory, Minister Hunt said, and will include regional and rural aged care facilities. It is expected to take about 6 weeks.
'Vaccination for residents and staff will be made available through residential aged care facilities where they live or work, and it will be administered through an in-reach workforce provider,' he said.
Healthcare Australia will provide the vaccination workforce in New South Wales and Queensland, while Aspen Medical will be responsible for the other states and territories
Everyone responsible for providing the vaccine in aged care settings will be required to have completed the relevant training, including on the use of multi-dose vials, cold storage and infection control.
In coming weeks, the vaccination program will reach more than 2,600 RACFs, more than 183,000 residents and 339,000 staff.
State response
In New South Wales (NSW), Premier Gladys Berejikilan has confirmed that about 35,000 frontline workers – including those working in hotel quarantine, emergency departments, at testing clinics and paramedics – will receive the Pfizer vaccine from Monday. 
The process will take 3 weeks and includes vaccination sites at Westmead, Liverpool and Royal Prince Alfred hospitals.
'While the scale is not large to begin with … we anticipate the scale of the receipt of the vaccine will increase over the next few weeks,' Ms Berejiklian said.
In Queensland, the first 100 vaccinations will be delivered at a hub on the Gold Coast. Queensland Health has confirmed the locations of its five other vaccination hubs: Townsville, Cairns, the Sunshine Coast and Brisbane (RBWH and PA hospitals).
'These sites were selected as having the highest COVID19 risk due to being major destinations and entry points for international travellers,' according to the department.
Tasmania has confirmed 'all Tasmanians aged 18 and over will be able to get vaccinated for free by the end of October 2021'.
The state-managed doses will be given in hospital hubs at: North West Regional Hospital in Burnie, Launceston General Hospital and Royal Hobart Hospital.  
In South Australia, the Royal Adelaide Hospital will be the first hub to deliver the Pfizer vaccine to the first round of priority groups.
During later phases, every public hospital across the state will be involved in the vaccine roll-out.
Northern Territory Chief Minister Michael Gunner said the territory was 'starting small, but the most important thing is that we are starting'.
The territory government expected to deliver vaccinations to about 3,000 people as part of Phase 1a, with the Commonwealth anticipated to cover an additional 1,500 aged care residents and workers.
It has also announced plans to amend legislation to allow 'all registered practitioners – who are qualified and trained to provide immunisations – to administer COVID-19 vaccines to Territorians without gazettal'.
Approval for AstraZeneca
Meanwhile, the Therapeutic Goods Administration (TGA) has granted provisional approval to AstraZeneca for its COVID-19 vaccine for the active immunisation of people 18 years and older.
The provisional approval is valid for 2 years and means the vaccine can now be legally supplied in Australia.
'The approval is subject to certain strict conditions, such as the requirement for AstraZeneca to continue providing information to the TGA on longer term efficacy and safety from ongoing clinical trials and post-market assessment,' according to the TGA. 
'[The vaccine] has been shown to prevent COVID-19, however, it is not yet known whether it prevents transmission or asymptomatic disease.'
The TGA advised the vaccine be administered in two doses, 12 weeks apart. If that is not possible, a minimum of 4 weeks between doses should be observed.
Of the 53.8 million doses of the AstraZeneca vaccine Australia has secured, 50 million will be made in Melbourne by CSL. Bottling of the first batch began at the CSL facility this week.
Delivery of the AstraZeneca vaccine should see 'a doubling of the number of doses per week by early March, if not earlier,' according to Minister Hunt.
About one million doses a week should be available from the end of March, he said. 
Victorian lockdown lifted
Victorian Premier Daniel Andrews has announced the state's 5-day 'circuit breaker' lockdown, which began at 11.59 pm on 12 February, will end at 11.59 pm tonight (Wednesday, 17 February).
The 5 kilometre restriction will no longer reply, and restaurants and retail business can reopen. 
Masks are still required indoors, and outdoors where people are unable to practice social distancing. Victorians can have no more than 5 visitors in their home per day, and public gatherings will be limited to 20.
It comes as no new coronavirus cases were reported in the state after almost 40,000 test results were received yesterday. Two locally acquired cases were confirmed on Monday. 
During the lockdown, the Victorian Department of Health managed 3,400 close primary contacts, 212,000 test results and 850,000 SMS alert messages.
'Because of the efforts of every Victorian – the sacrifices and the hard slog – we can be confident that, slowly and surely, we are driving the virus into the ground,' Mr Andrews said in a statement.
'It hasn't been easy or straightforward. In fact, for those Victorians who are part of our health response, it's been bloody hard work.'
Are you interested in providing COVID-19 vaccinations? Expressions of interest for community pharmacies to deliver the vaccine close on Friday. 
For more information, don't miss PSA's webinar Are you ready for the COVID-19 vaccine roll out? tomorrow (Thursday 18 February).