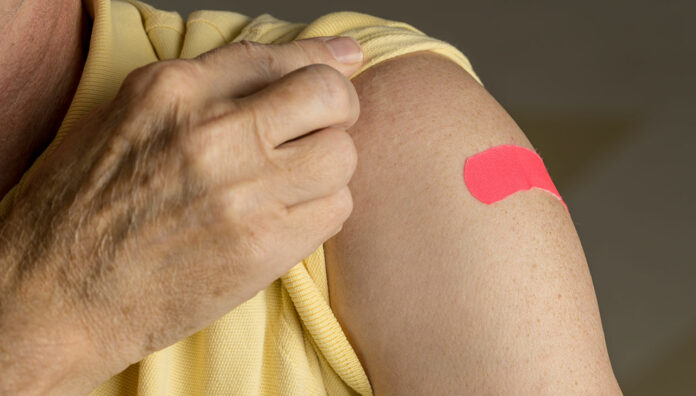 Pharmacists are likely to play a role in COVID-19 vaccination, and people at  increased risk of exposure, including health and aged care workers, will be among the first to receive a vaccine.
This is according to Australia's new COVID-19 Vaccination Policy, released last week, which sets out the responsibilities of government at all levels, the priority groups to be vaccinated, and vaccination sites. 
Key points:
COVID-19 vaccines will be free for all Australian citizens, permanent residents and most visa holders. 

Vaccines will be accessible on a rolling basis, dependent on delivery schedules and prioritised for groups needing urgent vaccination.

The Australian Immunisation Register (AIR) will identify locations at risk of outbreaks, and monitor immunisation levels and individual vaccination status. 

Reporting to AIR is expected to be mandatory.
National Cabinet endorsement of the policy comes after the government secured agreements to supply four vaccines, with one more candidate in the pipeline set to enter Australia via the COVAX Facility.
Priority groups for vaccination include:
people at increased risk of exposure (e.g. health and aged care workers, quarantine staff)

people at an increased risk of contracting COVID-19 (e.g. those with chronic health conditions)

people working in critical jobs – yet to be defined but expected to be essential workers (e.g. workers in food supply).
Lines of responsibility
State, territory and federal governments share responsibility to agree on vaccination sites, including dedicated vaccination clinics, GP respiratory clinics, workplaces and pharmacies.
The federal government is responsible for vaccines – their selection, purchase regulation, acceptance from suppliers, storage and transport to state and territory sites. Other responsibilities include specifying priority populations, data collection, monitoring systems and a national communications system.
States and territories are responsible for the workforce – ensuring immunisation providers are appropriately qualified and trained, and compliant with safety ethical and reporting obligations; worksites – where vaccinations can take place safely; and vaccines once delivered to their vaccination sites.
What does this mean for pharmacists?
Pharmacists are 'likely to play a role in COVID-19 vaccination for some part of the population (e.g. healthy adults) at some stage, depending on the safety profile of the vaccines,' according to the policy.
Chris Campbell MPS, PSA General Manager Policy and Program Delivery, embraced the clear priorities for COVID-19 vaccination and the role pharmacists will play. 
'The PSA welcomes the addition of mandatory recording of the COVID-19 immunisation to the AIR, as well as the requirement for active monitoring for adverse effects following immunisation,' he told Australian Pharmacist.
'The PSA has long called for an active pharmacovigilance system and including this in the COVID-19 vaccination plan will add another level of safety, particularly [considering] how rapidly these vaccinations are coming to market.'
And 'as a workforce at increased risk of exposure, pharmacists (and pharmacy staff) are expected to be part of the priority group,' Mr Campbell added.
The PSA will monitor the requirements of all relevant COVID-19 vaccines and ensure that pharmacists have access to the most up-to-date clinical knowledge. Mr Campbell told AP that PSA will also provide technical or technique refreshers to pharmacists if this is needed.
'Pharmacists will need to be ready to support in whatever means possible, from identifying target and at-risk populations, to administering the immunisation, to recall for any required additional doses,' he said.
Regarding vaccines, if reconstitution or multidose vials are used, all immunisers including pharmacists will need to be confident, competent and have strict protocols in place to ensure patient and immuniser safety. 
'We know the risk with multidose vials, for example with infection control and needle stick injury,' Mr Campbell said. 
'As soon as a vaccine is approved for use in the Australian market, familiarisation with the storage requirements and administration technique will be critical.'
What's on the horizon?
This week, Seqirus, the world's second largest influenza vaccine provider, announced plans to build a new world-class biotech manufacturing facility in Melbourne to ensure the country has stockpiles of critical vaccines and antivenom in the future. 
Federal Minister for Health Greg Hunt said the plant would 'lock in Australia's sovereign vaccine manufacturing capability for the next two decades'.
'It won't just be the largest vaccine manufacturing plant … in the Southern Hemisphere, it will [also] be the first of what's called a cell-based manufacturing plant,' he said.
While vaccines are commonly grown in chicken eggs, the new facility will use cellular technology.
This will add 'more flexibility, greater capacity and greater speed, and it will provide support for pandemic flu, seasonal flu, antivenoms and Q fever,' Minister Hunt said.
In other news, United States (US) drug manufacturer Moderna has released interim study results that show its COVID-19 vaccine based on mRNA technology was close to 95% effective. This follows Pfizer's announcement of promising vaccine test results last week. But both potential vaccines still need scientific peer review to substantiate safety and efficacy. 
Moderna expects to have enough safety data required for US authorisation, and will then file for emergency use authorisation. Unlike the Pfizer vaccine, which will require a -70 °C cold chain, the Moderna candidate can be stored at normal fridge temperatures for up to one month before requiring storage at -20 °C.
More information on COVID-19 vaccination, including state and territory information for pharmacists, is available here.