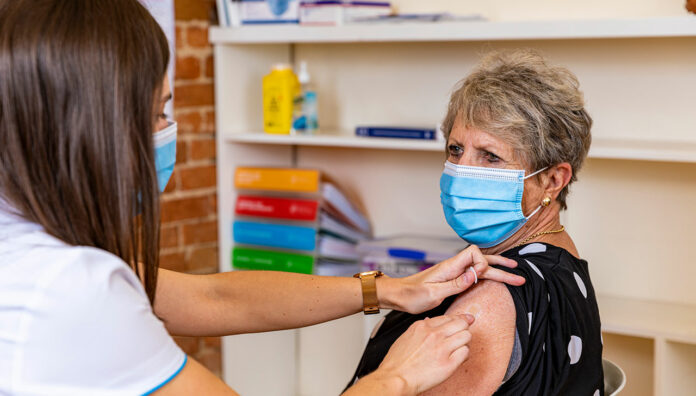 The rollout of the influenza vaccine has begun, with some pharmacy groups having received stock and beginning to administer the vaccine to patients. 
Brenton Hart MPS, Chief Pharmacist at TerryWhite Chemmart, told Australian Pharmacist that data collected from vaccine administrations, professional service records and bookings suggests 2021 is shaping up to be a busy year for influenza vaccinations.
'The numbers we're seeing come through indicate that this year's bookings are on track to be the same, if not slightly higher, than in 2020,' Mr Hart said.
More than 5,000 influenza vaccines were administered in TerryWhite Chemmart pharmacies across the country when they became available on 8 March, with over 20,000 bookings made so far.
Get in early
While peak periods of influenza typically occur from June–September, the Australian Technical Advisory Group on Immunisation's (ATAGI) annual influenza statement recommends some patients receive their influenza vaccine early this year, based on their eligibility for the COVID-19 vaccine.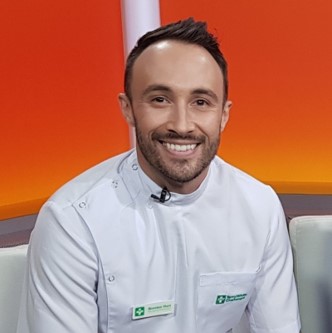 Patients in Phase 2a of the national COVID-19 vaccine rollout strategy should be advised to receive their influenza vaccine now, so that they can wait the requisite 14–day interval between vaccines.
Mr Hart said the ATAGI statement had been a useful resource to help patients make informed decisions about when to receive their influenza vaccines.
'This year we've focused on helping people get their head around the practicalities of having three vaccinations – two COVID-19 and one influenza,' he said.
'We are recommending that patients in [later COVID-19 priority groups] consider getting the influenza vaccine as soon as possible, so they can have their two [AstraZeneca] COVID-19 vaccines, if they plan on having them, 12 weeks apart.'
Advice on Flucelvax Quad®
As mentioned in the ATAGI statement, a new cell-based influenza vaccine, Flucelvax Quad®, has been approved by the Therapeutic Goods Administration (TGA) for delivery this year, although it will not be funded under the National Immunisation Program (NIP). 
'We will be administering the Flucelvax Quad®, with stock expected to arrive in stores next week,' Mr Hart told AP.
'But a key action point for us is how pharmacists can have proactive conversations with patients  around choice in influenza vaccinations.'
To facilitate this, Mr Hart said point-of-sale material with the wording 'ask us about your flu vaccination choice' has been displayed in TerryWhite Chemmart pharmacies.
Promoting influenza vaccine availability
Pharmacists preparing to roll out the influenza vaccine in the coming weeks should ensure their promotion of vaccine services aligns with Therapeutic Goods Administration (TGA) guidelines.
According to the TGA, all vaccines are classified as prescription-only medicines which cannot be advertised to patients, unless through the use of government issued materials.
The addition of factual information to these materials is allowed, including details about locations and logistics such as timings and booking appointments. 
The placement of government-issued materials should not promote any take-home messages through their proximity to other advertising. Trade names, manufacturers, active ingredients and comparisons between the effectiveness or price of vaccines should not feature in these materials.
It must also not be implied that harm will come to patients who do not receive vaccines, and no misleading therapeutic benefits of vaccines should be promoted. Vaccine messages should not trivialise or contravene public health policies, and should not incentivise patients to receive the service.

When it comes to advertising influenza vaccines specifically, the TGA recommends including:

the type of vaccine provided e.g. trivalent or quadrivalent

that influenza vaccines are free to people from high-risk groups identified in the NIP Schedule, such as Aboriginal and Torres Strait Islander people, pregnant women, people with certain medical conditions and patients over 65

that people from high risk groups should first seek advice from their GP before obtaining the service.
COVID-19 vaccines and influenza
While some patients have questions about when they should receive the influenza vaccine this year, Mr Hart said most were seeking advice related to COVID-19 vaccinations, including about the safety and efficacy.
'Patients want to know when we are offering it, when they should get it and what they need to know about it,' he said.
'But the key message for patients is to remember that COVID-19 and influenza are two very separate and different viruses and diseases, so it's important that they remain vaccinated against both.'
Meanwhile, pharmacists including PSA member Christopher Hidayat, an emergency medicine pharmacist at Westmead Hospital, continue to receive the first of their Pfizer COVID-19 vaccinations.
Mr Hidayat received his first dose last week and posted it on social media, praising 'the hard work of scientists, researchers, government officials, doctors, nurses, pharmacists, pharmacy technicians, clerical staff and others' who made it happen.
For more information on influenza vaccines in 2021, refer to PSA's online refresher course containing the Annual Immunisation Update which will be available before the end of March.