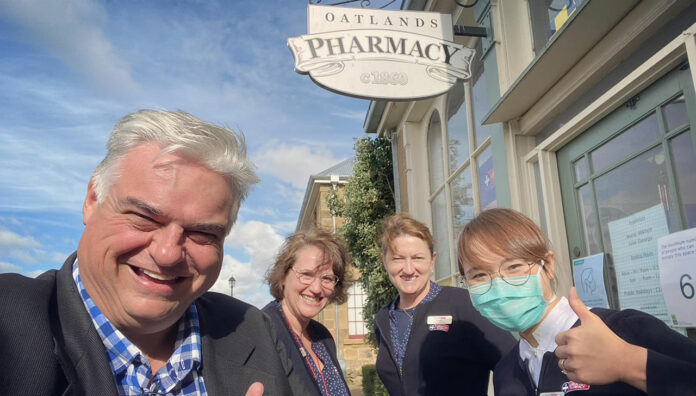 Pharmacists displayed a united front last week, reaching out to local government members and other healthcare professionals about pharmacist remuneration.
Held on 17 March, Thank Your Pharmacist Day and PSA's National Advocacy Day of Action successfully raised awareness about pharmacists' tireless efforts to protect Australians and the need for better remuneration.
From local government members visiting pharmacies to high-profile Ministers posting messages of support on social media, there was plenty of buzz generated about the importance of pharmacists to their communities.
Federal Minister for Health Greg Hunt and Western Australian Premier Mark McGowan both highlighted the integral role of pharmacists as frontline healthcare professionals during the pandemic, including being instrumental to the COVID-19 vaccine rollout and supplying rapid antigen tests.
Queensland Deputy Premier Steven Miles also showed his support, visiting 11 pharmacies in the Murrumba area after being contacted by PSA's Queensland Branch President Shane MacDonald MPS, who explained how pharmacists had been overlooked and undervalued.
Securing political support
Tasmanian Member for Lyons Brian Mitchell visited Oatlands Pharmacy to say thank you to the team, including pharmacist Ilwoo Park MPS.
'Fingers crossed that our chat can add small bits to securing [the] pharmacy workforce so all Australians, especially rural communities, can get safe and effective medications and pharmacy services in a timely manner,' Ms Park said in a social media post.
When ACT Liberal member Nicole Lawder visited Capital Chemist Wanniassa on Thank Your Pharmacist Day, PSA's 2021 Intern of the Year Erin Cooper MPS took the opportunity to explain what pharmacists have achieved, and why they should be acknowledged for all the effort they put in – particularly over the last 2 years.
'[Ms Lawder] was very grateful for everything that we do, and said that she also believes we should be [better] remunerated for our services,' Ms Cooper said.
Ms Cooper also engaged Labor MP David Smith via email and social media posts, questioning the fairness of paying pharmacists less for the same vaccination services. He acknowledged on Twitter that this needs to shift.
Many friends and colleagues have gone above and beyond, extending hours to open up more COVID-19 vaccination appointments. It's not fair that we're being paid less than half that of other vaccinators. @PSA_National #thankyourpharmacist @DaveSmithMP pic.twitter.com/z2nV3DTLB6

— Erin Cooper (@misserin_c) March 17, 2022
'It feels pretty good to know our voices [are being] heard,' she said. 'Maybe if we continue to advocate for ourselves, that will [help to] increase our remuneration. The more we push, the more we will be heard and, hopefully, some changes will happen.'
While Ms Cooper said there was great value in having events like the Day of Action where the profession comes together as a whole. 
'That is really important to help push forward the issues we are experiencing,' she said. 'Often a larger, wider voice can create more traction at those higher levels.'
While acknowledgement of the issues is the first step, Ms Cooper would like to see more from the government.
'Having heard from members from both sides of Parliament who agree [with us] hopefully means that change is made,' she said. 
'The ultimate goal is action, not just words.'
Raising awareness in healthcare
Aged care pharmacist Julian Soriano MPS said coordinated advocacy days give pharmacists the opportunity to showcase their achievements outside the profession
'A lot of people that follow me on Twitter might not necessarily be pharmacists, [they] might be doctors or nurses,' said Mr Soriano, who is based in Tanunda in South Australia's Barossa Valley. 
'[Pharmacists are] very good about telling each other that we do a good job, but demonstrating that [to others] is where we're going to have the biggest reach and impact.'
Mr Soriano, who posted on Twitter about how pharmacists are underfunded for vaccine services, used this discussion to generate awareness about the issue among GPs.
We had great success rolling out our covid-19 vaccinations at our RACF through an onsite pharmacist. Unfortunately, this service is underfunded, reducing its viability across all RACFs. empowering pharmacists would have significantly improved our vaccine rollout! @PSA_National pic.twitter.com/Z0Dpw70mNG

— Julian Soriano (@JulianSoriano3) March 16, 2022
'At the nursing home I work in, we're currently organising how we're going to roll out our flu vaccines and potentially future COVID-19 vaccines,' he said.
'The lack of funding for flu vaccines meant that we can't do it for the GPs here.' 
Mr Soriano explained that failure to fund services like pharmacist vaccinations also affects other healthcare professionals.
'I'm in a rural area, so resources are limited and GP time is quite scarce, so it's just another thing that they have to do,' he said.
Along with increased fees for pharmacy services, Mr Soriano also thinks it would be beneficial to charge through the Medicare Benefits Schedule for services such as case conferencing.
'Case conferencing is something we do regularly at the nursing home, and we've had really good success with it,' he said. 
'Because I'm employed here, I'm obviously paid for that time, but the majority of pharmacists aren't going to be paid for a case conference if they attend one.'