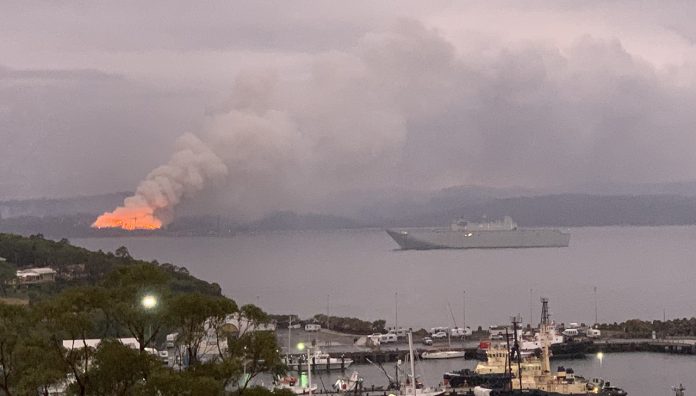 Tales of heroism and sacrifice by pharmacists have poured out of fire-affected areas in the catastrophic fires and smoke hazes that have ravaged multiple states, killed at least 23 people and razed more than 1500 homes. 
In Eden, New South Wales' most southerly town, supplies had to be flown in via helicopter, Eden Pharmacy spokesperson Sam Odgers MPS said.
'We are having a terrifying and devastating experience in this region with homes at risk along with wildlife and national parks destroyed or under threat,' he said.
'With the road closures and bush fires threatening homes we have had limited number of staff members available to work to serve the community and prepare medicines for our local aged care facilities.  
'But the support has been overwhelming – we don't feel like we are working on our own.'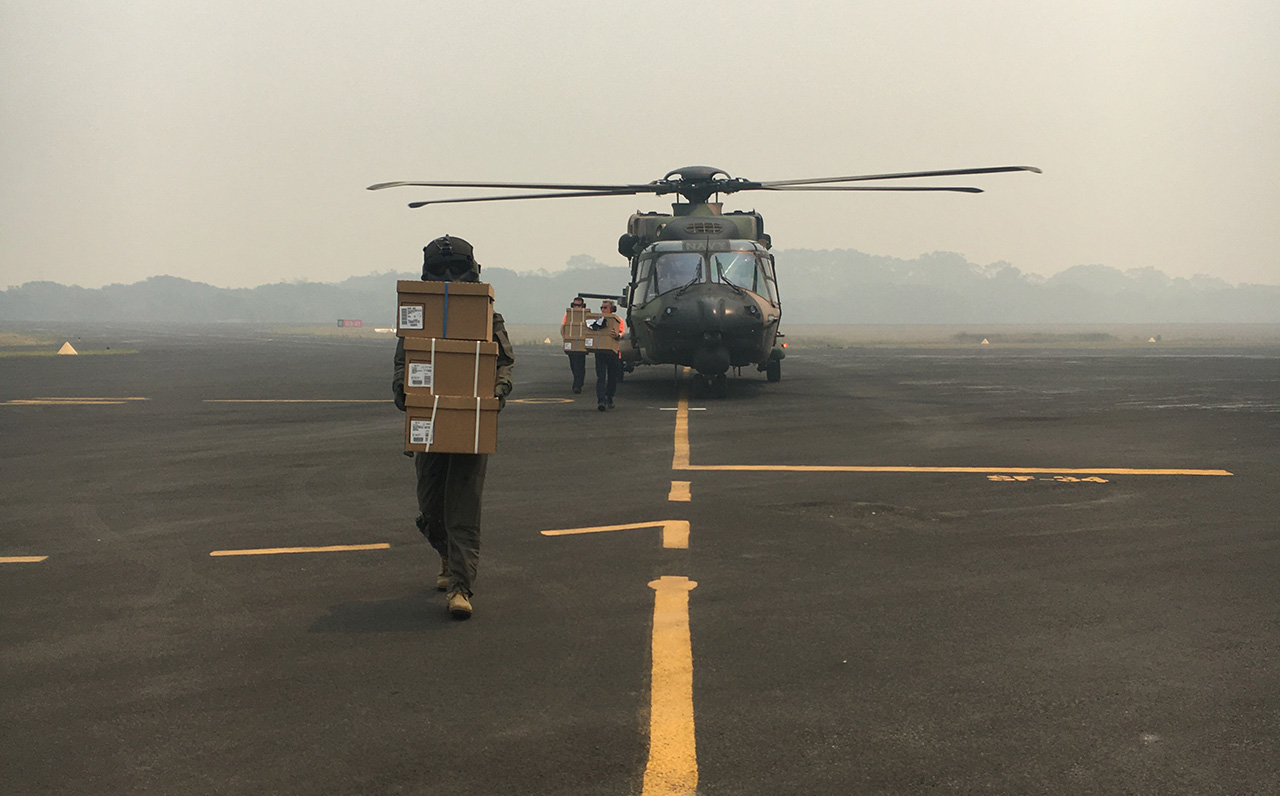 In Narooma, 130 km north of Eden, the team at Narooma Pharmacy, part of the Capital Chemist Group, set up a makeshift pharmacy at the evacuation centre at the Narooma Leisure Centre. 
Managing Partner Danielle Campbell MPS and her colleagues loaded a ute with pharmacy supplies such as nappies, masks, asthma relievers and other medicines. At the evacuation centre, the team set up a table and was joined by a local GP who wrote scripts while Ms Campbell dispensed them, writing labels by hand.
Galvanising communities
Pharmacist Raj Gupta has been at the frontlines, making sure the community in the small New South Wales south coast town of Malua Bay can access essential medicines.
'The concern at this time is to make sure people can be helped, that we can fulfil their requests,' Mr Gupta told SBS of fellow residents who had lost their homes and all their medicines, and needed immediate help.
Patients often flee their homes in a disaster without taking their ID, money or medicines, said Queensland University of Technology researcher and registered pharmacist Dr Kaitlyn Watson. Pharmacists often have to rely on the goodwill of patients and consumers during tough times and hope to be paid later. 
But Mr Gupta trusts his community.
'There's been no power, there's been no communication [so] we can't take payments, but that's not much of a concern. People will come back and pay. They are very honourable people.'
Former PSA NSW Branch Councillor Linda Badewitz-Dodd MPS, the pharmacist owner of Dodd and Dwyer Merimbula Amcal Pharmacy, said in a crisis it's important pharmacists lead with empathy. 
'People would come in and I'd say to them: "Which do you want first, a hug or your drugs?"'
While Merimbula is still an official evacuation zone, Ms Badewitz-Dodd, her business partner Tania Dwyer, and their team are supporting not only their local consumers but people from other evacuated towns including Eden and Bermagui.
'A small community like ours is amazing in a crisis,' she told Australian Pharmacist.
Over the intense period before and after the New Year, more than a week passed without a stock delivery.
'People needed an absolutely astronomical amount of reliever medication – well beyond our normal stock levels,' she said. 'The smoke was so bad that people who had even a slight breathing difficulty were needing reliever medication,' she said.
Those in her community, went above and beyond to help, she said.
One Merimbula doctor was in Canberra and called Ms Badewitz-Dodd to offer assistance. The doctor bought out all the P2 and N95 face masks in local hardware stores because Merimbula didn't have any.
'I also contacted Andrew Topp MPS… [Group Business Manager] of Capital Chemist Group in Canberra. I told him how we needed reliever medication,' said Ms Badewitz-Dodd. 
'He rang around to all of his [pharmacies] and then jumped in the car to pick everything up. Then he got in touch with our local doctor who had collected all the masks and he got everything to us that day.'
Once the emergency supplies were delivered by Navy helicopters and planes they had to ration medicines.
'We were rationing inhalers to one per family. If a family had three kids who were asthmatic, we only gave them one because if a family comes in who needs one and I've got to tell them I don't have an inhaler for them, how bad is that? The worst thing for me would not being able to help someone,' she said.
Hitting home
At Culburra Beach, east of Nowra, Culburra Pharmacy owner and NSW Pharmacy Guild President David Heffernan MPS has had the devastating task of balancing his professional obligations with personal tragedy. He recently lost a friend to a cardiac arrest while he tried to save another friend's apple orchard from the fires. 
But that hasn't stopped Mr Heffernan from helping, including collecting items to donate to those in need.
'The fire was bearing down and ash was falling from the sky. I've never seen anything like it,' Mr Heffernan said.
This week, with another heat wave predicted for the weekend, the two biggest priorities for Heffernan and his community are reconnecting the power and accessing medical deliveries.
A lot of pharmacies remain open, but it's very hard to operate without power, he said. While some couriers are allowed to deliver vital items through fire-affected zones, not everything gets through.
'There's been some amazing stories, like people delivering supplies via jet-ski,' Mr Heffernan said. 
'And a lot of pharmacies that are having cash/EFTPOS issues are essentially running like a charity – not because they feel forced to, but because they feel it's the right thing to do. It's quite humbling to see all of this in action.'
Pharmacists affected by the fires can contact can contact PSA for support at bushfires@psa.org.au or Pharmacist Support Services.