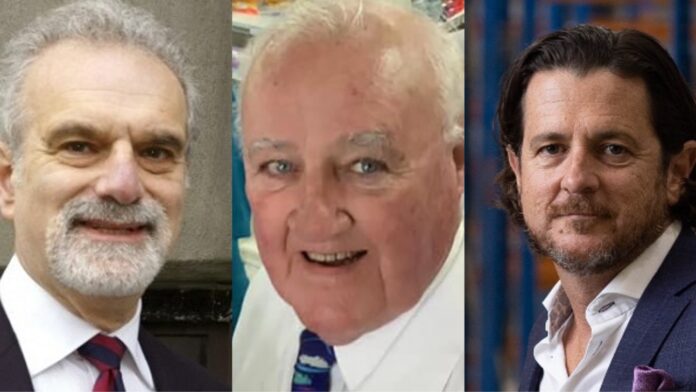 From aviation, to education and entrepreneurship, these three pharmacists from different walks of life have received King's Birthday honours.
The distinguished pharmacists and PSA members were recognised for their contributions to the pharmacy profession and community.
Here's a look at their outstanding careers.
Pharmacy and aviation
Kerry Schiemer OAM MPS always wanted to be a pilot. But at the age of 16, he was told by his career advisor at Sydney's St Joseph's College that flying was the only career he couldn't have.
'Because I was colourblind, I was told I'd never get a commercial pilot's licence,' he said.
Instead, Mr Schiemer was offered an apprenticeship at a pharmacy in the Newcastle suburb of Wallsend. 
'After three days working there, I knew I always wanted to do this job,' he told Australian Pharmacist this week.
Despite owning several pharmacies throughout his 60-year pharmacy career and introducing medicine reviews to the Tomaree Peninsula, Mr Schiemer was eventually able to live out his aviation dreams. 
'When I finally got a pilot licence, at the urging of all my friends at the Royal Newcastle Aero Club, it was really gratifying,' he said. 'Then they encouraged me to get an instructor rating and become an honorary instructor. The joy of teaching and all those years has just been wonderful.'
As a longstanding contributor to both the pharmacy profession and aviation, Mr Schiemer was recognised with a Medal of the Order of Australia. 
'I feel so humbled to be recognised by my magnificent country for my efforts. I hope I helped more people as a pharmacist than I did in aviation,' he said.
'Mr Schiemer's tireless efforts and exemplary service reflect the very essence of our profession. We are proud to see his contributions recognised with this prestigious honour,' added PSA National President Dr Fei Sim.
A lifetime service to education
Associate Professor Louis Roller AM FPS has been an educator and mentor for generations of graduates from Monash's Faculty of Pharmacy and Pharmaceutical Sciences. 
His time at the faculty from 1963 until 2008 included 5 decades of teaching and a wide variety of academic and administrative roles including Head of the Department of Pharmacy Practice, Associate Dean of Teaching, and Course Director of the Bachelor of Pharmacy program.
He's also an established author, penning a large volume of articles, letters and book chapters over the years, including as a major contributor to various editions of the Australian Pharmaceutical Formulary and Handbook and the Therapeutic Guidelines: Antibiotic and Oral and Dental. 
A/Prof Rollers' commitment to education has continued post-retirement through his involvement in Courage to Care. The school volunteer program creates awareness of the dangers of discrimination, racism and prejudice through education to challenge attitudes and behaviours.
Dr Sim highlighted A/Prof Roller's invaluable contributions to the advancement of pharmacy education and his tireless efforts to improve the standards of pharmacy practice.
'A/Prof Roller's exceptional dedication to education and governance has had a profound impact on the pharmacy profession for decades,' she said. 'His passion for knowledge-sharing and commitment to excellence is truly commendable.'
Innovative pharmacy practice
Brett Clark AM MPS has always had good business sense. '[After graduating] I worked in medical centre pharmacies for a number of years before we opened four greenfield pharmacies across South East Queensland,' he told AP. 
In 1999, as the internet was taking off in Australia, Mr Clark saw an opportunity to create an online pharmacy.
'Together with Jeff Wasley and Gary Nipperess, I opened ePharmacy in 2000, which grew and evolved into a number of ePharmacy Superstores,' he said.
A few years later, in 2004, Mr Clark met Mario Verrocchi and Jack Gance of Chemist Warehouse. 'We decided to join their group with our stores rebranded as Chemist Warehouses, with ePharmacy becoming the overarching online model for all our brands,' he said.
Because of his success, Mr Clark is a firm believer in giving back to the community.
'Working in the not-for-profit space in community health, the arts and sport allows me to give back via philanthropy, leadership and advocacy to areas I'm passionate about, and helps me achieve a fulfilled and balanced work/life balance' he said.
'Mr Clark's entrepreneurial spirit and unwavering dedication have transformed the landscape of community health. His excellent leadership and dedication to serving others have left an indelible mark,' added Dr Sim.
While there has been significant disruption in the pharmacy profession of late, Mr Clark has a message for those worried about the future of pharmacy.
'If you accept this is the new norm and continue to challenge how you run your business and what your value proposition is, you'll have a good chance to prosper,' he said. 
'I have the luxury of being involved in a number of industries and I still believe pharmacy is the best space to be in.'